February 22-28, 2006
home | metro silicon valley index | the arts | visual arts | review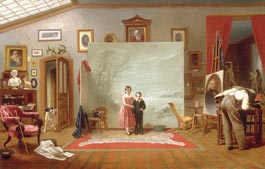 Posing For History: Thomas LeClear's 'Interior With Portraits' (1865) emphasizes the artificial staging that 19th-century artists used to depict children.
Growing Pains
A new show at Cantor Arts Center tracks 19th-century ideas about children in high art and popular culture
By Michael S. Gant
THE OTHER DAY, I saw a man wearing bib overalls with the cuffs rolled up and no shoes. He had it all, except for a piece of straw sticking out of his mouth at a jaunty angle. In just about every particular, except heft, this man replicated The Barefoot Boy, poet John Greenleaf Whittier's ode to a cocky country kid "with cheek of tan!"
A Currier and Ives lithograph of The Barefoot Boy is part of American ABC: Childhood in 19th-Century America, the new show at Stanford's Cantor Arts Center, an exhibit that brings together pop-culture ephemera and high art—everything from Winslow Homer paintings to Uncle Sam's ABC Book and Grandma Ease's New Pictorial Bible—to explore the way children served as both subjects and symbols in the 1800s, a time when the young nation itself grew from childish ways to young adulthood.
The (white) country boy, with his "turned-up pantaloons," represented America's confident conquest of the New World by free men itching to cast off Old World authority. In his popular painting Snap the Whip (1872), Winslow Homer captures the exuberance of a group of boys at play in the fields of democracy, dashing barefoot across a meadow in front of a homesteader's cabin against a deep cloud-raked sky. The apotheosis of this theme turns up in Eastman Johnson's Boyhood of Lincoln (1868), in which the martyred president is shown as a lad studying his schoolbook by the light of a large fireplace—no doubt after a day of healthful outdoor chores.
In the same vein, but at the other end of the artistic spectrum, stands F.W. Guerin's commissioned studio photo Country Boy Fishing. A chubby youngster with an impossible mop of thick blond curls poses with a prop fishing pole in front of a painted backdrop of a lake. Even a cosseted mama's boy (and that's just what this kid looks like) could be imagined as a bumpkin in paradise.
This idealized notion takes an uneasy turn in a genre devoted to exposing the ills besetting rootless urban boys. Here is Johnson again with a Civil War-era portrait of a lonely, soot-covered Young Sweep, who wears no shoes because he can't afford a pair. He could be an American version of the pitiable Jo, the chimney sweep in Dickens' Bleak House—proof that the industrial revolution could leap the Atlantic from Britain's satanic mills to downtown Manhattan.
David Gilmour Blythe, a self-taught (although by no means naive) artist, specialized in the lost children of the immigrant-filled big cities in works like A Match Seller (1859) and The News Boys (1846-52), in which two paper hawkers in tattered suits trade coins while one smokes a hand-rolled cigarette. Although Blythe sought sympathy for his subjects, he often depicted them as mischievous rather than miserable, and they are sometimes so rotund that they seem to anticipate the balloon-faced figures in Fernando Botero's paintings.
Blythe's idealized urchins are contrasted in the show by some of muckraker Jacob Riis' late-19th-century photographs of tenement kids sleeping huddled over steam grates in alleyways. The photos look staged to the modern eye, but Riis, who wrote the influential crusading polemic How the Other Half Lives, prompted a number of social welfare reforms.
The images of children outside the mainstream—in particular African Americans and Native Americans—are especially burdened with sociological context. Images of black children bleed uneasily into images of black adults acting in childish ways.
The practice of rendering African American children as objects of humor served racist purposes, and even a painter as talented as Homer can't avoid caricature in his Army Boots (1865), in which two escaped slave youths working as servants for Union troops are seen as lazy shirkers. Despite its stereotypical title, The Watermelon Boys (1876) shows that Homer could put a white youth and two black youths on an equal footing, doing justice to their individuality.
Unintentionally, the most intriguing images of African Americans are two early photographs—one an ambrotype and the other a daguerreotype. These mirror-surface portraits of dignified black children dressed up for the camera are visible only when seen at exactly the right angle. Move just a bit, and the children twinkle out of sight—a sober thought for Black History Month.
The portraits of Native American children vacillate between the anthropological studies of George Caitlin and some appalling kitsch. California artist Grace Carpenter Hudson's Little Mendocino (1893) achieved fame at the Columbian Exposition in Chicago, drawing huge crowds to her painting of a squalling Pomo infant trussed up in a blanket. As Claire Perry reveals in the catalog that accompanies the show (Young America; Yale University Press), Hudson hired "squaws" to work as domestics, and while their babies where out of sight, the painter would contrive to make them cry in order to enhance the piquancy of the pictorial moment—the same urge can be seen today in the market for grotesquely lifelike collectible baby dolls with tears rolling down their cheeks.
An unadorned photograph from Wichita taken in 1898 shows a Native American mother, who appears to be near starvation, holding her emaciated baby. The picture, although posed, is starkly unaestheticized; it puts the lie to Hudson's papoose pandering.
The gender gap looks less daunting than the racial divide. One instructional pamphlet designed to inculcate young ladies with the domestic virtues ("Mama, may I sew today?" asks a lesson called "The Good Girl" in The Eclectic First Reader) has the benefit of a quaint woodblock illustration. John George Brown's Resting in the Woods (Girl Under a Tree) from 1866 is a gorgeous study of a melancholy young woman stopping in the woods, her shaded face set off by dappled background sunlight.
Of all the objects in American ABC, the one that stands out unburdened by the weight of history is Thomas Eakins' lovely Elizabeth With a Dog. Eakins frequently worked with nude models (and was embroiled in a controversy over their use in one of his classes) to create an erotic charge. Here, however, he concentrates on a fully dressed young woman sitting on a parlor rug intently holding out a treat for an obedient poodle standing on its rear legs.
The triangular shape of the girl's outfit rises from a jet-black skirt splayed across the floor to a deep crimson blouse to a white fur cap. The red in her garment is expertly matched with the red of the dog's collar. Her face is full of concentrated attention. She is a commanding figure wholly absorbed in her task and indifferent to whatever assumptions the viewer might bring to the scene.
American ABC runs through May 7 at the Cantor Arts Center, Stanford University. (650.723.4177)
Send a letter to the editor about this story.