February 22-28, 2006
home | metro silicon valley index | movies | current reviews | film review
Cinequest 2006
San Jose's film festival reels from the sublime to the outrageous in 12 days
By Richard von Busack
FROM THE SUBLIME to the sublimely awful—from the comedy of Buster Keaton to the tragedy of the half-baked indie film. Cinequest has it all and more and more—and yet still more. In 12 days and hundreds of screenings, the 16-year-old San Jose film festival (March 1-12) offers up a world of movies.
Cinequest Schedule: Cinequest 2006 theaters and showtimes.
Highlights
Film From Farthest Away: Milk & Opium (March 8, 7:15pm; Mar 9, 7:30pm, both at Camera 12). Whatever its quality, this movie has come all the way from New Delhi—1,200 miles more distant than its nearest competitor, Taiwan's Falling ... in Love (March 3, 12:15pm, March 6, 7pm, March 7, 2:30pm, all at Camera 12).
Best Businessman on the Warpath: Just about any given weekend in downtown San Jose is an open-air production of Businessmen Gone Wild—"They act worse than any punk rocker I ever saw," said a barfly friend. Yet William H. Macy's Edmond Burke, protagonist of David Mamet's Edmond, will lord it over even the worst of them. Macy, returning to Cinequest on March 11, 4:15pm, at the California Theatre, introduces the film adaptation of Edmond, directed by Stuart Gordon. Macy plays a bad exec who goes on a walkabout through nighttown, acting out his ugliest impulses until the police get their hands on him. Advance word has this as Mamet at his most pessimistic and Macy at his most electrifying.
Best Predator Impersonator: At the Maverick FX panel on March 3 meet a person who tried to beat up Batman. Dragon Dronet, of Renegade Effects group, appears with his wife and partner, Wanda Piety, to explain the art of critter-hatching. Dronet has worked on many science-fiction and fantasy films. Among his lesser-known credits is playing Left Predator in the fan-made short film Batman: Dead End—claimed by Kevin Smith himself to be the most accurate of all Batman films. The dialogue for this short is very much worth reading on the IMDB. When it comes to the game of "You started it!" "No, you did!" the Caped Crusader and the Joker really can out-argue any toddler. Also appearing is Ron Thornton, an artist whose work has been extensively featured on Babylon 5. What with the Maverick Spirit Award presentation for Battlestar Galactica regular Edward James Olmos, the area geek contingent will not go unserved at Cinequest.
Most Lost in Translation Title: Runners-up: Shark in the Head (Czech: Zralok V Hlave); Who the Hell's Bonnie and Clyde? (Hungarian: A Miskolci Boni Es Klajd). Winner: Symbiopsychotaxiplasm (English: Symbiopsychotaxiplasm).
Most Buzzed-Over: Freedom's Fury (March 3, 7:15pm, March 5, 3pm, both at Camera 12). As the old axiom goes, "Water polo is the dodgeball of the sea." This feature tells of the "Blood in the Water" finals at the Melbourne Olympics in 1956 when Hungary found itself facing the team from the nation that had just sicced its tanks on Budapest. Also: Far Side of the Moon and Dare Not Walk Alone.
Most Must-See Tech: 35mm digital cameras from Panavision/Sony, Dalsa and ARRI at the "Innovations in Shooting Film" session on March 4.
Best Title at Screenwriting Competition: Adam Balsam's Blood-Sucking Leeches and Flesh-Eating Maggots. Wanna bet it's about a young man coming of age on a Manitoba wheat farm, though? The winner will be announced on March 2 at Cinequest's The Day of the Writer, which is just too Bert I. Gordon to resist: "HEAD FOR THE HILLS! HIS CHECK IS LATE, HE'S BLOCKED! WILL YOU SURVIVE ... THE DAY OF THE WRITER?"
Strangest Host Trend: San Jose public defenders onstage. In an endeavor to get more street-wisdom in our crime melodramas, Robert G. Phelps, deputy public defender, hosts the "Murder, Molls and Mouthpieces" section of the Day of the Writer ("CLICK CLICK CLACK SANG THE KEYBOARD OF DEATH! IT WAS THE LAST SOUND THEY EVER HEARD ... ON THE DAY OF THE WRITER!"). And Mary J. Greenwood, Santa Clara County's first female public defender, is the one grilling Edward James Olmos when he arrives for his Maverick Spirit Award.
Best Place to Give Your Honest Opinion of Your Film: Cinebar. This friendly yet soulful bar only sounds like a cinéaste's watering hole. Rest assured that its working-class exterior repels candy-asses. At its spacious bar, you'll be able to give your honest opinion of some would-be Welles' blood, sweat and tripe without looking over your shoulder.
Our critics cast their eyes on the documentaries and features at Cinequest.
Our reviewers are Metro staffers Richard von Busack (RvB), Michael S. Gant (MSG), Stett Holbrook (SH), Steve Palopoli (SP) and Claire Taylor (CT), plus independent San Francisco film critic Jeffrey M. Anderson (JMA). Stay tuned next week for more coverage of the screenings and special events at Cinequest.
The films take place in San Jose at C12 (Camera 12), SJ-Rep (San Jose Repertory Theatre) and CAL (the California Theatre). For up-to-the-minute changes and additions, see www.cinequest.org. (Full Disclosure: Metro is a major sponsor of the festival.)
* = Recommended
Special Events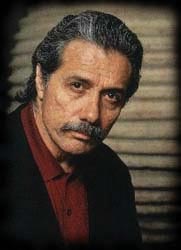 Edward James Olmos Maverick Spirit Award The incomparable Latin gravitas of this craggy veteran actor, producer, director, musician and activist has aided countless movies. Olmos was up for the 1989 Oscar for playing hero math teacher Jaime Escalante in Stand and Deliver (one of the best blackboard-jungle opuses). In 1992, working from a script by semiundergrounder Floyd Mutrux, Olmos created the gangster movie American Me—a berserk if often too-much picture about 30 years of criminal life in L.A. (The scene of how the heroin gets into the slammer, choreographed to War's "Slippin' Into Darkness," was brilliant; the prison rape scene, on the other hand, was too much for even the hardy.) Reports had it that Olmos had to go into hiding because of threats connected to this film. In recent years, Olmos has been playing Commander Adama on the revived (and improved) Battlestar Galactica and has made a new film, Walkout, the story of pioneer Chicana activist Paula Cristostomo. San Jose public defender Mary J. Greenwood will be interviewing Olmos after he receives the Maverick Spirit Award. A sneak screening of Walkout is also promised. (RvB) (Mar 12, 3pm, CAL)
Opening Night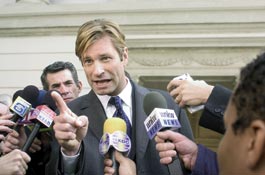 * Thank You for Smoking (U.S.; 92 min.) A vintage comedy that counters both the piousness of the anti-smoking crusades and the lethal cynicism of the tobacco industry. Aaron Eckhart plays a spokesman for a pro-tobacco think tank in Jason Reitman's adaptation of Christopher Buckley's novel. The cast includes Robert Duvall as a julep-marinated tycoon, William H. Macy as a needling senator, Rob Lowe as a reptilian talent agency boss and Katie Holmes. Holmes is a little too sly for the part—a more open-faced leading lady might have done the job more effectively, and don't believe the hype about the sex scenes. Eckhart is in the right role at last. He has untrustworthy stubble, and he can't conceal a glint in his eye, like a fox soothing the occupants of a hen house. (RvB) (Mar 1, 7pm; CAL; party afterward at the Paragon Restaurant at the Hotel Montgomery)
Documentaries
Andrew Jenks, Room 335 (U.S.; 89 min.) Andrew Jenks takes viewers into the world of assisted-living facilities by checking himself and two friends into a Florida care home—a place where ambulances are a part of everyday life, and a power outage can prove deadly for those kept alive through machines. The people he meets during his 36 days there are characters—candid and frank about their thoughts and feelings, each with a tough spirit and individual outlook. But even the spunkiest can break down and express that their lives are both a blessing and a curse, that their friends and family have all long-since passed, that the only things worth living for are helping and entertaining those surrounding them (and watching Jeopardy or playing nightly games of Bingo). Though the production value is far from a Spielberg blockbuster and the boom mics are often in plan sight, the humanity and heart behind the film more than make up for the lack of technical prowess. (CT) (Mar 4, 2:15pm, C12; Mar 5, 3:30pm, C12)
* Back Home (U.S.; 53 min.) Back Home is likely to be one of the most powerful, disturbing, haunting and ultimately moving films you will ever see. The documentary chronicles the experiences of J.B. Rutagarama, a young man who fled Rwanda's 1994 genocide as a boy. After witnessing the slaughter of his countrymen firsthand, Rutagarama barely escaped thanks to the help of his family and lots of luck. But many of his family members, friends and neighbors were not so fortunate. He ended up in England where he was adopted by two journalists whom he had befriended while they were covering Rwanda's civil war. After creating a new life in England and later in the U.S., Rutagarama is drawn back to his country to search for his lost family and to confront his country's genocidal rampage. In an intensely personal style, Rutagarama, who directed the film, recalls the horror that beset his country. Yet once back home, he's able to find joy, hope and reconciliation, both personal and national. (SH) (Mar 4, 4:45pm, C12; Mar 5, 2pm, C12)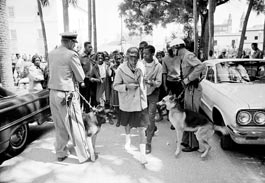 * Dare Not Walk Alone: The War of Responsibility (U.S.; 73 min.) Jeremy Dean's scant 73-minute documentary covers a lot of impressive territory. Using archive footage, text, scratchy old audio recordings and new interviews, he tells the story of St. Augustine, Fla., and its many civil rights marches, protests and attempts at integration during the 1960s. Dr. Martin Luther King Jr. appears in recently discovered footage. The shocking turning point is when motel owner James Brock poured acid into a swimming pool filled with demonstrators. (Dean actually scores an on-camera interview with Brock.) But more than just a historical record, Dean continues his tale on into the 21st century, looking at many locals who today only see two options: hip-hop stardom or jail. He even films inside a church that only recently opened its doors to blacks. (JMA) (Mar 4, 2pm, C12; Mar 5, noon, C12)
* God and Gays: Bridging the Gap (U.S.; 90 min.) See story. (Mar 6, 7:15pm, C12; Mar 10, 9:30pm, C12)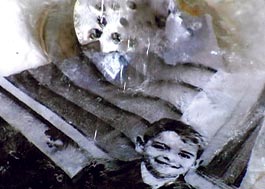 Hand of God (95 min.; United States) "I'm not a sheep anymore." Sacramento's Paul Cultrera earned his loathing of the Catholic Church the old-fashioned way: by being repeatedly molested by his priest. The Massachusetts cleric/pedophile was moved from one parish to another by friendly higher-ups. The director and producer is Paul's brother, Joe Cultrera, described as "a sad little man" by one pitying priest. Because Joe once lent his talents to make fundraising films for the church, he feels more than just fraternal fury at the abuse and coverups. Occasionally, the film swerves into Hard Copy-level visuals (a ceramic altar-boy doll crushed in a vise is tooo muccch). Still, it's a brutal story of what Paul calls "corrupt businessmen sitting on top of the evil empire." (RvB) (Mar 11, noon, C12; Mar 12, 4:30pm, C12)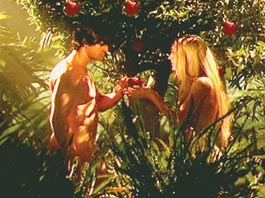 The O Tapes (U.S.; 91 min.) A verbally, rather than visually, explicit documentary on the female orgasm. Having said that, the female ejaculation scene may be too funky for the lily-livered. (You're given plenty of warning to duck.) The hot-button (snicker) topic is analyzed by gal-on-the-sofa interviews, from bus driver to Yoruba priestess to this scary woman who wears a Supergirl suit for a living, the why and wherefore I know not of. Guests also include Dr. Carol Queen and filmmaker Candida Royale. The myriad interviewees sigh over the problems of achieving in real life what Meg Ryan so loudly faked onscreen. ("I think I had one in '94," says one subject, softly.) The morals: (1) the lack of consensus is the only consensus; (2) men might be better off with impotence than with a sprained tongue; and (3) women's genitals are as beautiful as lovely spring flowers (claro!). Who can object? And yet at times, the film is marred by a silliness and an earnest sex-educational tone. (RvB) (Mar 11, 2:30pm, C12; Mar 12, 10am, C12)
Features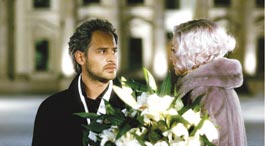 About the Looking for and Finding of Love (Germany; 107 min.) Glossy, insipid neoclassical piffle that pastiches the legend of Orpheus and Euridyce. A famous rock-star called Venus (Alexandra Maria Lara, much better in Downfall than she is here) divorces her male Svengali, called "Mimi" (Moritz Bleibtreu). Mimi heads for the Aegean, where he kills himself with Metaxa and sleeping pills. In Hades, he ministers to the dead, but he can't get his lover (or her thin little voice) out of his mind. Very perfume-commercially, with blowing draperies, gold satin sheets and a deluge of music that's worse that Sarah Brightman. (RvB) (Mar 8, 9:15pm, CAL; Mar 11, 12:15pm, C12)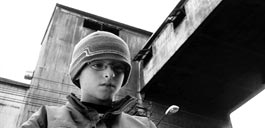 Addison's Wall (U.S.; 61 min.) This 60-minute black-and-white feature effortlessly balances heartfelt drama with flights of fancy, rigid interior chambers with gorgeous, expansive clutter. After his father's suicide, 9-year-old Addison (Colton Lasater) and his mother (Ritah Parrish) move to a small town to start over. Addison, who has stopped speaking, attracts the attention of the school bully. Only his father's blanket, tacked to the wall in his new room, offers any solace; beneath its folds, he scribbles on the wall his secret desires. Director David Waingarten coaxes powerhouse performances from his cast, especially Parrish, whose nearly infinite patience runs its course and gives way to affecting emotional neediness. Waingarten's Twilight Zone-like screenplay intelligently wrings a queasy, devastating beauty from almost nothing at all. (JMA) (Mar 4, 4:45pm, C12; Mar 5, 5:15pm, C12)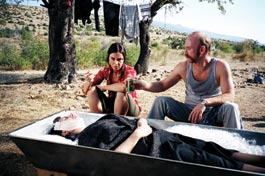 Bal-Can-Can (Macedonian co-production; Serbo-Croatian with English subtitles; 89 min.) Reportedly the most popular film in Macedonian history, this broad, bawdy comic epic resembles Emir Kusturica's Underground, but with less satirical barb, as well as Jean-Pierre Jeunet's Amélie, but with zero adorable characters. Darko Mitrevski's Bal-Can-Can steers toward the bulbous, the sweaty, the loud and obnoxious—humanity in its overcooked state. The film tells the tale of two "blood brothers" separated by fate during war in the 1950s. Years later, their sons meet when one helps the other out of a jam. Jokes about frantic, dim-witted grownups toting around (and eventually losing) a dead granny wrapped in a red carpet may require a good deal of tolerance—even from Three Stooges fans—and the characters' constant chattering results in an inordinate number of subtitles. (JMA) (Mar 7, 7pm, CAL; Mar 9, 7:15pm, C12)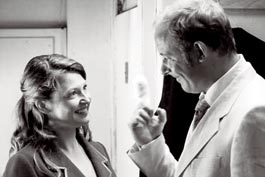 The Big Day (Denmark; 90 min.) A farce about a wedding planner, Anne (Louise Mieritz), who tangles her career with her love life. Her agency, "The Big Day," lands the high-profile wedding of popular TV chat-show host Anders (Nikolaj Steen). Trouble strikes when Anne and Anders hook up. In a subplot, Anne's boss deals with his closeted homosexuality. Fans of product placement will be delighted to see that the Copenhagen IKEA looks just like the one in East Palo Alto. A highlight of this inoffensive but flavorless potential crowd pleaser is the scenes at Tivoli Gardens, where the Danes enjoy their hard-earned summer. (RvB) (Mar 3, noon, C12; Mar 7, 9:15pm, CAL; Mar 9, 5pm, C12)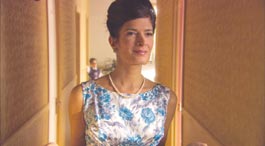 * The Far Side of the Moon (Canada; 105 min.) About the old problem of the mundane eclipsing the celestial. A fortyish, perennial grad student, slightly arrogant and slightly ridiculous, makes a living doing telephone sales. He finally identifies the source of his angst: a childhood spent during the space-exploration age, with its broken promise of a bright future. When he hears of SETI's plan to send a short film from Earth into deep space, he decides to chronicle his own life on videotape. This is a soulful movie, irresistible to anyone who feels left behind by life. Director/writer Robert Lepage has the dual role of both the Montreal shirker and his up-and-coming gay brother. My Life as a Dog made a collage of parental loss and space travel, and some of the magical touches here recall Amélie's flights of fancy. Yet many of Lepage's own touches are just as original: the way Anne-Marie Cadieux almost pantomimes the idea of a gentle, lost mother; the way Lepage turns the snow-covered Plains of Abraham into the lunar surface or changes a Laundromat's steel washing machine into a space capsule. (RvB) (Mar 2, 3pm, C12; Mar 6, 4:45pm, C12)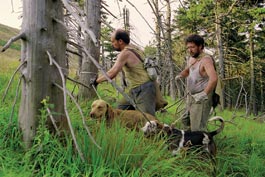 Fatherland—A Hunter's Diary (Czech; 97 min.) The male scions of a rich family (with wives in tow) go back to their roots at an old ancestral hunting lodge deep in the mountains. After a slow beginning full of ominous hints, the men embark on a ritualistic expedition tracking down and branding some underground humanoids known as "skeleters"—part of a long tradition, apparently. The cagey family retainer and his sullen son skulk around the crumbling estate muttering about things that should remain unknowable to outsiders. A clutch of truculent rustic locals add oddly humorous asides. Something very sinister is afoot (check out the weird meals, the omnipresent flies landing on everyone's faces and the sacrificial basin in the basement), and the trek through the rainy, mossy woods evokes genuine dread (director David Jarab does it the Carpathian vampire way), but the film doesn't quite live up to its promise, dissolving into a head-scratching climax. (MSG) (Mar 2, 5pm, C12; Mar 6, 2:45pm, C12)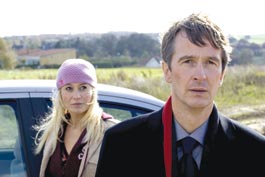 Flies on the Wall (Denmark; 92 min.) A journalist/filmmaker named My Larsen accepts a dubious offer by a political party to make an honest documentary about a regional mayor with big ideas. A simple assignment soon turns to deep intrigue as My falls for the mayor and uncovers a tax-skimming scandal. The thriller end of the film doesn't quite resolve itself satisfactorily, but the use of multiple perspectives imparts a sense of complexity straight out of Coppola's The Conversation. My's hidden-camera footage is combined with the surveillance images of a disgruntling co-conspirator who is making his own record of the ongoing coverup. (MSG) (Mar 6, 2:15pm, C12; Mar 7, 9:30pm, C12)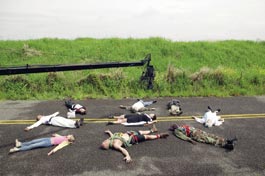 Freedom State (U.S.; 54 min.) Cullen Hoback's film suffers from an acute case of the quirks, from which it may never recover. Krystal (Megan Murphy) decides that her normal, boring life is insane and checks herself into a mental-health home. But when she receives several signs that the apocalypse has occurred, she rounds up the other patients and loads them onto the short bus, looking for adventure and survivors. Director Hoback frames everything in jokey long shots, and a constant, bouncy score reiterates how odd everything is. The overall effect, however, is that no human character ever emerges from the happy delirium. The patients represent the usual lineup of Vietnam vets and Star Trek nerds, and the film's distant gaze nullifies Krystal's potentially tingly new love affair. (JMA) (Mar 9, 7:15pm, C12; Mar 11, 4:45pm; C12)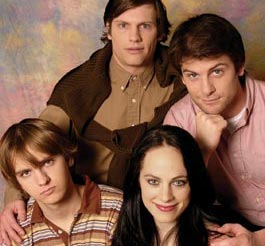 * The Hamiltons After Wolf Creek and Hostel, it's easy to think you have this movie pegged when you see a woman trapped in a basement in the pre-title sequence. You couldn't be more wrong. Though the film is a bit more amateurish than it would like to be, and the acting is uneven, the question of what is really going on in this debut feature from the Butcher brothers is clever enough to sustain you until you warm to the characters. You may guess the whole thing before it is revealed, but you can't be sure, and in any case you have to admit that this story of an all-American family that appear to be killing strangers and burying them in their basement is a pretty good horror drama, not to mention a well-conceived and well-written satire of everything from reality TV to Six Feet Under. By the way, the Butcher brothers, Josh and Isaac Epple, got their name from being actual butchers in San Francisco, not because they made a "meat" movie. This is promising work from Bay Area talent. (SP) (Mar 3, 7:15pm, SJ-Rep; Mar 4, 10pm, SJ-Rep)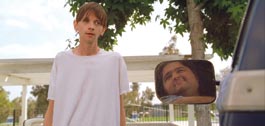 Little Athens (U.S.; 103 min.) Yet another tale of twentysomething angst and boredom, Little Athens constantly echoes films like Dazed and Confused and Go without ever seeming to have a point. Co-written and directed by Tom Zuber, the film covers 24 hours in a small Arizona town, telling four separate stories about a dozen troubled characters. Everything coincides at a party. Several of these miscreants share virtually the same personality traits, and because they're spread so thin, very little is ever emotionally resolved. Instead, we're supposed to care about a stolen bag of drugs, who's cheating on whom and where a social disease came from. Jill Ritchie, D.J. Qualls, Jorge Garcia (Hurley on Lost) and Shawn Hatosy are among the most recognizable players. (JMA) (Mar 3, 9pm, C12; Mar 4, 6:45pm, C12; Mar 9, 12:30pm, C12)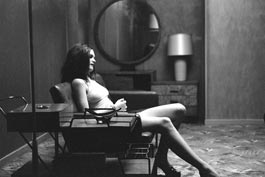 Next Door (Norway; 75 min.) Even if you watch some pretty extreme stuff, it is unlikely that you have ever seen a sex scene as fucked-up as the one in this Norwegian thriller. We're talking blood on the face here, and worse—not in any way for the squeamish, especially those who think they're going in for a cute little arthouse "psychological" thriller. Admittedly, it's hard not to be drawn to this Polanski-like tale of a man whose girlfriend has just left him when he gets himself wrapped up with two seductive but totally weird women who live next door. It quickly becomes clear he is no match for them, but what exactly do they want from him and why? The action is exciting as the questions pile up in the first half, but the answers are predictable and leave too many silly loose ends. Effectively disturbing? Yes. But rather than resonating with the ideas it's been building for most of the movie, the resolution just seems like the cheap and easy way out. (SP)(Mar 7, 9:30pm, C12; Mar 10, 11:30pm, C12)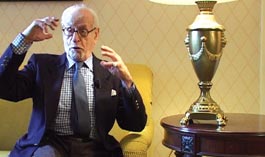 * Once Upon a Time in the West (1969; Italy) A masterpiece. Sergio Leone successfully blends operatic aspirations with the good-guy and bad-guy Western plot. As the pinprick-pupiled hired enforcer, Henry Fonda is the most frightening villain in cinema history (either him or Mitchum in Night of the Hunter anyway). Charles Bronson, with an unusual gentle, pursed smile, is Harmonica, the cryptic antihero who plays the movie's four-note theme. As in Leone's earlier For a Few Dollars More, the music fails to stir the killer's memory until his last moment of life. Playing the rich widow for whom Fonda and Bronson contend is Claudia Cardinale—in Leone's lens, her face, hair and body are a symphony of shades of brown. Don't miss the opening sequence, where a squeaking windmill and the inhuman beauty of Woody Strode's cast-iron face are all part of a cinematic aria about the preciousness of water on the wide, blank desert. Dry as the scenery is, it's hard to watch without moist eyes. It shows with a documentary—Sergio Leone—My Way of Seeing Things—about the director. (RvB) (Mar 8, 7:30pm, C12; Mar 9, 7:15pm; C12)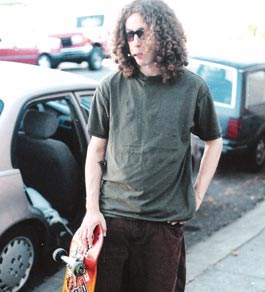 * Scared New World (U.S.; 58 min.) A gem. Chris Brown directs this tale of three Oakland housemates with a sure touch for rhythms of life, silences, quiet spaces and the way in which humans cross paths. A failed writer/substitute teacher (Yahn Soon) and a single parent/drug dealer (Lena Zee) sometimes mingle in each other's business—and very often mind their own. A new roomie (voluptuous, oversexed French chick Fanny Ara-Herms) moves in, but Brown sidesteps the predictable "She changed their lives" baloney and easily folds her into the already ebbing and flowing life pulse. The three make and lose friends and significant others, but mostly they just pass the time, arguing, exchanging pleasantries or simply watching one another. A turntable-fueled score adds just the perfect layer of kooky melancholy. (JMA) (Mar 8, 9:30pm, C12; Mar 10, 5pm, C12)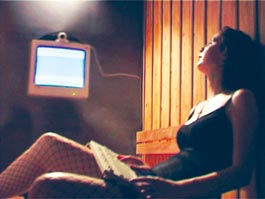 Seven Heavens (German; 92 min.) Johann (Christoph Bach) is taking classes, learning to " lose his ego," and goth girl Jenny (Daniela Schulz) strips for a webcam. They meet sporadically, and the film randomly flipflops to events within the various times and places, often repeating snippets of scenes or phrases. Filmmaker Michael Busch apparently wishes to capture a mysterious feeling of déjè vu, but instead the result is frustratingly self-aware—the dream-state becomes too literal. The murky Seven Heavens is consistently out of focus, almost always too dark or too grainy and slightly shimmery, as if a wind were ruffling the movie screen. Whether or not these were stylistic choices—and what they're supposed to mean—remains a mystery. (JMA) (Mar 2, 9:15pm, C12; Mar 4, 9:30pm, C12)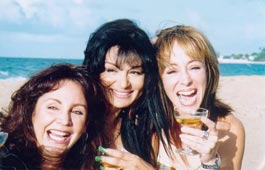 Winning the Battle (Spain; 93 min.) Also known as Las Combatientes, the film begins as three different women—strangers with nothing in common—rise to start their busy days. We learn practically nothing about them, other than the fact that they're busy; everything is expository. Coincidentally, they meet in a doctor's office and each learns that she has breast cancer. Together, they go on a tropical vacation and remember how to appreciate their lives. Director Sonia Valentin proceeds as if the power of the disease itself will take care of all her cinematic and dramatic needs and that she need do little else to move the picture forward or engage her audience. Winning the Battle is the very epitome of the traditional "disease-of-the-week" movie. The pungent, melancholy score doesn't help. (JMA) (Mar 7, 9:15pm, C12; Mar 9, 5:30pm, C12)
Send a letter to the editor about this story.