February 22-28, 2006
home | metro silicon valley index | silicon valley restaurants | review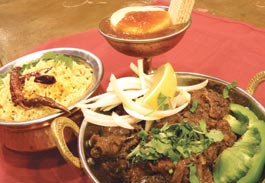 Photograph by Felipe Buitrago
More Than a Name: In dishes like this, 'Southern Spice' is a promise. Or if you're a spice wuss, a threat.
Spice World
Mountain View's Southern Spice is Indian food on the edge
By Stett Holbrook
IT MUST be hard to open a new Indian restaurant in Silicon Valley. The field is already crowded and it's often hard to distinguish one restaurant from the rest. Most Indian restaurants serve the same old stuff—tandoori meats, curries, naan, saag paneer, korma. To make a splash, a new restaurant is better off offering something different, something you can't get elsewhere.
Despite its staid exterior, Mountain View's Southern Spice goes well beyond tikka masala. The restaurant, which is connected to a Holiday Inn Express off El Camino Real, specializes in the fiery, intensely spiced food from Andhra Pradesh, a coastal state in southern India on the Bay of Bengal. There are only a few restaurants in the South Bay that serve this kind of food, and I'm becoming a big fan.
Co-owner Phani Bodd opened the restaurant in November with two partners, with the goal of offering authentic Andhran to appeal the Silicon Valley's sizeable south Indian population. I haven't been to India so I can't vouch for the food's authenticity, but I can say it's quite good.
Southern Spice is more than a name. It's a warning. I've got a pretty high tolerance for spicy food, but the food here pushed me to the limit. Many dishes don't knock you over the head with capsicum heat right away, but build a slow smoldering fire in your mouth that's soon a full-blown conflagration. There's no warning from the servers or little chile pepper icons on the menu to give you a heads-up. This isn't food for the faint of heart or timid of palate.
That said, the food is more than just heat. Beneath the sinus-clearing burn are the lovely, multilayered flavors of spices that make Indian food so addictive.
Kodu vepudu ($9.95), also called chicken fry, is a good place to start your introduction into Andhran food. The bone-on thigh meat arrives in a small copper pot suffused with the aromatic flavors of ginger, garlic, onion and chiles tempered by a little tomato. In the pot, it doesn't look like much, but it's an intensely flavored, succulent dish. In addition to the chicken vepudu, the various pulusu (a richer, currylike version of vepudu) dishes are also winners. Try the goat pulusu ($10.95). Lamb is common in most Indian restaurants, but I was pleased to see goat on the menu here. Like the chicken, it's served on the bone. This makes for some messier eating, but leaving meat on the bone imparts a richer, more flavorful dish. All of these dishes are quite spicy. Hottest of all was the royyala (prawn) pulusu ($12.95).
From the vegetarian menu, I loved the malai kofta ($8.95), lentil and vegetable dumplings and house-made cheese in rich and buttery terra cotta-colored sauce that helped put out the fire.
Ulli pakodi ($3.50), an onion fritter, is a good starter. The onion is dipped in a garbanzo bean batter and fried crisp and light. It's good with a dab of the mint and tamarind sauces served with it as well as the more unusual ginger-based dipping sauce.
Although I didn't get a chance to try it, Southern Spice touts its Hyderbadi-style chicken and lamb biryani (Hyderbadi is the capital of Andhra Pradesh). Available Friday-Sunday, the multilayered dish cooks for about three hours.
Southern Spice's food sets it apart and so does its décor. The restaurant appears to have borrowed some of its art from the Holiday Inn next door. The mishmash of seascapes with crashing, backlit waves and overwrought landscapes are straight out of the museum of late '70s cheesy motel room art. The rambling dining room also has those white Christmas lights that are supposed to look like icicles dripping all over the place. And at the back of the restaurant is a bar with a flowing, dark-wood entry that gives it a vague tiki lounge feel. In spite of the eclectic décor, the restaurant has white tablecloth and glass-topped tables and is clean and neat.
Service is uniformly friendly, but language can be a barrier and waiters will sometimes disappear for long gaps of time.
While Southern Spice specializes in Andhran food, the restaurant offers a number of more familiar dishes such as tandoori chicken, rogan josh and chicken vindaloo. But I suggest exploring the Andhran specialties. Where else are you going to find food like this while gazing upon a painting of a wave crashing in the foreground of the Golden Gate Bridge?
---
Southern Spice
Address: 2700 W. El Camino Real, Mountain View.
Phone: 650.948.0123.
Hours: Lunch 11am-2:30pm Mon-Fri and noon-3pm Sat-Sun; dinner 5-9:30pm Sun-Thu and 5-10pm Fri-Sat.
Price Range: $6.95-$15.95.
Send a letter to the editor about this story.