February 22-28, 2006
home | metro silicon valley index | columns | live feed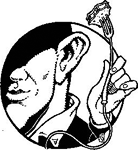 Live Feed
Strike Breaker
By Stett Holbrook
MY SON IS on a hunger strike. I don't think that he's protesting living conditions at home or making a political point, it's just that at 16 months old he's not interested in food right now.
Sure, he'll eat some crackers and Pirate's Booty here and there, and he sucks down bottles of milk like they're filled with Kool-Aid, but as for real food, fruit, vegetables, pasta, potatoes—he's not having any of it. "No, no, no," has become his stock response to almost everything I set before him.
It didn't used to be this way. As the son of a food critic, he's been to dozens of restaurants and has been exposed to all kinds of food. His first restaurant was Salang Pass, an Afghan restaurant in Fremont my wife and I took him to when he was about 5 weeks old. He didn't eat any of the food because he was still nursing, but I'd hoped I had planted the seed of adventurous eating. And for a while he was game. He never liked puréed carrots, strained green beans or any of that jarred baby food he was supposed to like. Instead, he ate things like grilled sardines, Brussels sprouts, guacamole, mashed potatoes, duck confit and sautéed chard. He ate what we ate.
I checked in with my mom and she said I wasn't a particularly good eater when I was his age. I came running when she said we were having pancakes for dinner (a once-a-month treat) or when she was making fudge, but other than that food didn't excite me the way it does now.
It was only years later, in junior high school when I lived with my dad and step-mom, that I opened my eyes to the world of food. My dad was a great cook but a slow cook who favored a long cocktail hour. Some nights, dinner wouldn't be on the table until after 10pm. Tired of waiting to eat, I took over the cooking on many nights and decided not only what we were eating, but when. I've been happily cooking and eating ever since.
As for my son, I suppose I could give in and try serving him some of the sugar-packed, low-nutrient kid food that lines grocery store shelves. But I believe if my wife and I continue to cook and eat good, fresh, unprocessed food he'll come around. It's like reading. A child is going to be more interested in books if the shelves at home are filled with books and he sees his parents reading them.
So I'm holding firm during this hunger strike. Sooner or later, he's going to want some real food. And when he does, I'll be ready with the sardines and Brussels sprouts, and maybe a little fudge as well.
Send a letter to the editor about this story.