February 22-28, 2006
home | metro silicon valley index | movies | current reviews | film review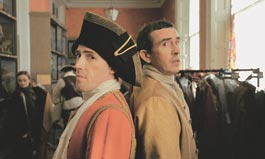 Photograph by Revolution Films/Picture House
Sterner Stuff: Rob Brydon (left) and Steve Coogan goof on the 18th century in Michael Winterbottom's 'Tristram Shandy: A Cock & Bull Story.'
Breech Birth
Michael Winterbottom wrestles Laurence Sterne's unfilmable 'Tristram Shandy' to a cinematic draw
By Richard von Busack
AH, MICHAEL Winterbottom—often depressing, sometimes half-baked, always tenacious. The British director has tried everything: serial-killer liaisons (Butterfly Kiss), sober-sided Thomas Hardy adaptations (Jude), small-camera erotica (9 Songs) and visionary sci-fi (Code 46). His best movie, 24 Hour Party People, borrowed energy from the Manchester music explosion and included the most apropos use of Boethius' The Consolation of Philosophy since A Confederacy of Dunces. Winterbottom struggles courageously in the underfunded British film industry. He is politically evolved and certainly sensitive, and he works his wintery bottom off. So it seems tragic that his films are so rarely worth seeing twice.
His meta-adaptation of Tristram Shandy epitomizes the drifting, unsatisfying technique that's kept his work from catching on outside of England. Winterbottom's Tristram Shandy: A Cock & Bull Story offers a behind-the-scenes look at the making of a fictional film version of Lawrence Sterne's The Life and Opinions of Tristram Shandy, Esq. (published 1759-67).
Trying to sum up the novel is a sucker's game. Essentially, Sterne wrote a bildungsroman about an unborn baby, told with discursion upon discursion and suffused with the anecdotes. Sterne picked up the style from Don Quixote. With elisions, blackouts, eccentric typefaces and untrustworthy narration, Sterne paved the crooked path for postmodern lit. But like Joyce's Ulysses—a novel deeply indebted to Sterne—the book tastes better in small sips than great draughts.
In Winterbottom's experiment, the film set for this reveals a clash of egos among the actors. The star of the movie to be is one "Steve Coogan" (played by the real-life English TV celebrity Steve Coogan), who has the twin roles of Tristram and Tristram's father, Walter.
Coogan—a dangerously supercilious alumnus of the school of Peter Cook—plays himself as a poltroon: vain, on the make and scandalous. He has been found out regarding something that happened with a lap dancer named Hedda Gabler. (Was it at a titty bar called "A Doll's House"?) Coogan's sweet-tempered girlfriend (Kelly Macdonald) has come from London to the set with their new baby in tow. But Coogan is too distracted by the filming to notice her, and he is jealous of his co-star Rob Brydon, whom he tries to undermine.
Properly, this film of and about Sterne's ultrarambling book dawdles. Winterbottom comically shuffles through the bad ideas an adaptor would have, including building a foam-rubber uterus from which Tristram narrates the story of his birth, nude and upside down. I'm sorry to say there is a joke about "a womb with a view."
Without underlining it, Winterbottom explains that trying to force Tristram Shandy onto a movie screen is like trying to bonsai a redwood. And he correctly guesses that if such a costume film became troubled the director would beef up the spectacle, trying to stage a Mel Gibson-size re-creation of the Battle of Namur. (This battle was the "hobby horse" of Tristram's invalided Uncle Toby: the obsessive, defining moment of his life.)
For a time, Winterbottom has it both ways. He struts England's stuff, shooting at nine different stately homes, but he also criminally assaults Masterpiece Theatre. Coogan's brand of facetiousness works reliably. Although neither is given anything to do, Shirley Henderson (as an addled maid) and Gillian Armstrong (just seen on Masterpiece Theatre's Bleak House) look appealingly demure in their antique outfits.
Outside its frame, the movie is sporadically amusing. Inside the frame, the humor is gusty and high-pitched. The repeated period scenes of Shandy's mother (Keeley Hawes) screaming in childbirth aren't screamingly funny. The thwacking ugly sex scenes exemplify the British commedia dell'arte style, an art in decline ever since Monty Python disbanded. (The Pythons could have done quite a Shandy adaptation; imagine John Cleese as Uncle Toby.) The film is a hodgepodge, a Critic's Special meant for an audience that finds the chaos of moviemaking the most hilarious of all subjects. Certainly, there is a structure under the chaos. Sterne was enlightened enough to suggest that the male business of war and the female business of childbirth were shared agony that brought the two halves of the world together.
The melancholy, gracious presence of Stephen Fry reminds us of the civilizing power of nonsense. In his cameos as a curator and as Pastor Yorick, Fry suggests the immense curiosity of Sterne, in both sense of the word. Still, the film is like a party at which interesting people gather and yet don't click. Winterbottom's multitude of interests kept him from having any ruling passions. Rarely repeating himself, unclassifiable in terms of themes, Winterbottom is the new Stephen Frears—a talent who handles a number of subjects without leaving much trace of personality on any of them.

Tristram Shandy: A Cock & Bull Story (R; 94 min.), directed by Michael Winterbottom, written by Martin Hardy, photographed by Marcel Zyskind and starring Steve Coogan and Rob Brydon, opens Friday.
Send a letter to the editor about this story.