February 22-28, 2006
home | metro silicon valley index | the arts | stage | review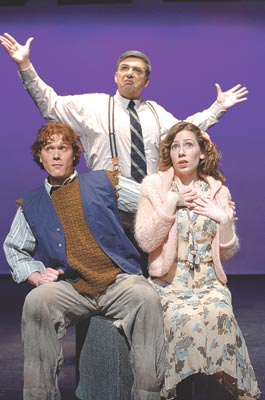 Photograph by David Allen
Waterless World: Robert Brewer (left), Mike Padilla and Alicia Teeter lament the dry days of 'Urinetown.'
Toilet Humor
Foothill Music Theatre opens the comic floodgates with 'Urinetown'
By Marianne Messina
A HERO'S DREAMS, a lover's idealism, all presented in laughable forms with unlikely delivery—that's how Foothill Music Theatre's clever production of Urinetown skates the fine line between pulling at the heart strings and laughing at itself. Throughout the show, the enjoyable song-and-dance man David Curley acts as Officer Lockstock (yes, his sidekick is called Barrel) as well as the narrator who breaks into the story to dialogue with little Sally (Jessica Lynn Carroll in pigtails and knee socks): "They'll learn more about the water shortage in scene two," he tells Sally. "Nothing can kill a show more than too much exposition."
Lockstock's narration and Mark Hollmann's deliberately pitiful lyrics piece together the amazing premise. In the opening number, we learn that a law has been passed against peeing anywhere but in the public "amenities" (privately owned). Caldwell B. Cladwell (Mike R. Padilla), the owner of the private company Urine Good Hands, sings about the "stink years," when knowledge of the limited water supply drove the world into chaos. Cladwell restored order with his public pay-to-pee system, giving his company the motto "We will keep the pee off the streets and the water in the ground."
At Amenity no. 9, Ms. Pennywise (Linda Piccone) collects the toll using the heroic Bobby Strong (Robert Brewer) as her strong arm. But Bobby soon meets and falls in love with Cladwell's daughter, Hope (Alicia Teeter). The plot follows the path of all good star-crossed lover tales to the end of Act 1. Though the plot-bare beginning of Act 2 suffers from filleritis, as though book writer Greg Kotis was drunk on Mark Hollmann's ability to reference other musicals, the story picks up a bit toward the end.
The youthful adventurousness of Foothill's production comes through in creative surprises, such as when the ghost of Bobby's father appears, and stagehands spray him with billows of "fog" from aerosol cans. When Bobby starts a toilet uprising, the pee-prohibition protesters hold up placards reading "Give Pee a Chance" and "Viva Bobby."
Kurt Landisman's lighting design helps create a stark atmospheric shift going from the lowlife city streets to the UGC boardroom high up in the "gleaming tower on the hill." The dingy brick front of Amenity no. 9 has an ultraviolet glow, lit from behind, for a dingy, eerie mood. The UGC office is lit from the front in whites and mauves, and in this relatively bright light, diamonds glitter from watchbands and earrings. To that, costume designer Julie Engelbrecht added diamond glove ornaments and diamond-studded hair ties for a dazzling opulence. And she matched the sleek, cold white/silver/black wall in the black, gray, and white of Cladwell's three piece suit.
Hope tells Bobby to follow his heart, a theme that gets tormented in lyrics throughout the play. Bobby sings of two hearts beating as one, "aortas and arteries all intertwined." Making fun of typical romantic tropes, the graphic heart imagery culminates when Bobby calls it "a muscular organ," pun intended. Even with all the silly language, Hope and Bobby's love duet on the staircase (OK, industrial ladder), is touching, in part because of their beautiful voices—Brewer's, high ranging and sweet; Teeter's, rich in tone and, as she proved in a later gospel number, nimble and rangy.
But love isn't the only hackneyed theme that Urinetown breathes new life into. Follow your dreams, look to the sky, dare to be innocent ("I'm not afraid of people, everyone has a heart" says Hope). Even in spite of its merciless parody of sappy American truisms, Urinetown starts to make it clear that a musical's success does not come from a touching or plausible story. It comes from something the audience already carries, or hopes to carry, or remembers carrying in their viscous, venous, blood-pumping hearts.
Urinetown, a Foothill Music Theatre presentation, plays Thursday-Saturday at 8pm, Sunday at 2pm (with an added show March 11 at 2pm) through March 12 at Foothill Playhouse, Foothill College, 12345 El Monte Road, Los Altos Hills. Tickets are $10-$24. (650.949.7414)
Send a letter to the editor about this story.