02.25.09
home | metro silicon valley index | movies | current reviews | film review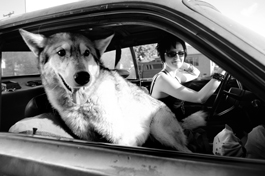 A werewolf is a girl's best friend in 'Audie & the Wolf.'
Cinequest Features
All About Dad
(U.S.) It's a familiar story: Immigrant parents in America struggle to raise their children in accordance with the old ways while their American-raised, MTV-watching kids chafe under their parents' old fashioned beliefs. All About Dad updates the story and tells it through the eyes of a Vietnamese-American family in California. The dad in the title is Mr. Do, a humorless and strict Catholic who wants his kids to grow up exactly as he sees fit. His children have other ideas. While some of the plot devices are thinly veiled and predictable, writer and director Mark Tran and the film's excellent cast manage to revisit the universal story with a freshness and humanity that should resonate with audiences, native born and immigrant alike. (SH)
Feb. 28 at 4pm and March 6 at 9:30pm at San Jose Rep.    
Audie & the Wolf
(U.S.) B. Scott O'Malley's fun but forgettable horror/comedy is a werewolf movie with zombies thrown in for some added gore. It has the unusual premise of a wolf that turns human during a full moon due to an ancient Indian curse. This low-budget film doesn't try for special effects that it can't pull off and instead uses gallons of fake blood to amuse the audience. The film is more comedy than horror as our hero John Doe (Derek Hughes), who can't remember anything about himself, tries to prove that he is human and not an animal while repeatedly failing to subvert his baser instincts, and eats people, who then proceed to come back to life and antagonize him. Best line: "If she didn't want to be eaten she shouldn't have been made of meat." (CW)
Feb. 28 at midnight at Camera 12 and March 3 at 9:30pm at San Jose Rep.
Blue Road
(U.S.) This is the sort of film that begs directors to stop trying to emulate Sofia Coppola. Ever the meticulous observer, only Sofia Coppola can do Sofia Coppola well (most of the time at least ...), and combining lingering, melancholy camera shots with a dreamy atmospheric score does not a good film make. Blue Road comes off like Lost in Translation 2: Road Trip. In a film touted as the romantic "journey of a lifetime," there is nothing transcendent about two emotionally inept people traversing the American Northwest, screwing and bickering at every Motel 6 along the way. Against the background of Mt. Rushmore and the Grand Canyon, you can tell that director Oliver Cukor was going for an intimate tone poem but instead came up with a cliché. As road movies go, I'd rather watch these two do something remotely interesting (driving off a cliff a la Thelma & Louise is a good start) then have to listen to them emotionally masturbate onscreen as to how profoundly unprofound their relationship is. The landscape shots are pretty though. (JF)
Feb. 28 at 9:30pm and March 2 at 7pm at San Jose Rep, and March 3 at 2:30pm at Camera 12.
Capers
(U.S.) Give an E for effort to this pocket-size version of It's A Mad Mad Mad Mad World. In Brooklyn, a much-loathed pawnbroker (Phyllis Somerville) owns a safe that's targeted by three separate gangs: a team of "moolies" (black gangstas led by the one-name actor Leon); a group of Sidney Lumet–style mooks; and a brother-and-sister act of half-Russian/half-Arab thieves. The biggest joke in Julian M. Kheel's film is that each team is given a different visual style: the Lumet gang appears in a scratched '70s print, and frames keep getting caught in the gate; the gangstas are seemingly acting out one music video per scene; and the Russkies are filmed in somber black-and-white. Blanchard Ryan and Dominique Swain play a team of cute FBI agents on the prowl, but Aysan Celik's Slavic femme fatale got all the laughs. (Leon looks like he's sort of had it with the gangsta-stereotypes. One keeps thinking he's made for better things. One has been thinking that for a long time.) Capers is affable enough, but somehow most of the jokes are more identification-gags than developed gags, as per Meet the Spartans–style "Look, we saw this movie!" jokes rather than anything that builds into comedy delirium. Often, Capers is like the most tasteful movie Troma never released. (RvB) 
Feb. 26 at 7pm at the California Theatre, Feb. 27 at 4:30pm at San Jose Rep and March 1 at 9:30pm at Camera 12.
Home
(U.S.) Marcia Gay Harden is a criminally underappreciated actress. Unfortunately, writer-director Mary Haverstick'sHome won't do much to change that. Hayden gives yet another intense and emotive performance as a woman dealing with the aftershock of breast cancer in rural Pennsylvania in 1969. But besides dealing with a cold, wounded husband who won't touch her (Michael Gaston) and an obnoxiously precocious child (Eulala Scheel), Hayden's Inga has a penchant for crushingly terrible poetry, which makes up much of her narration. Lines like "Something's growing inside me. I think its name is life" would be a 10-yard penalty even in a Hallmark Hall of Fame TV movie, which this often resembles. Hayden never lets on that she knows she deserves better, but I have a feeling she wouldn't want to go Home again. (SP)
March 4 at 7:15pm and March 7 at 9:30pm, both at Camera 12.
Lifelines
(U.S.) This first film from 25-year-old writer/director Rob Margolies explores one day in the life of a deeply troubled family. We meet the Bernsteins over breakfast—three kids (each of whom displays a specific brand of intense hostility) and the parents they openly loathe. In the initial scenes, the family's vulgar animosity feels comic, from 12-year-old Spence's temper tantrum, which lands him in handcuffs, to 16-year-old Meghan's cruel, faux-adult attacks against her mother and sibs. But soon after the Bernsteins arrive at the family therapist where Mom and Dad announce plans to divorce, and Dad makes a not-so-shocking confession, the dark comedy abandons its sense of humor. Watching Lifelines might have been an unbearable ordeal, but the film is saved by fine performances from an excellent cast, which includes the doe-eyed, twitchy Jane Adams (Kansas City) as the mother, the elegant Joe Morton (Brother From Another Planet) as Dr. Livingston, and newcomer Dreama Walker as the astonishingly angry teenaged daughter Meghan. (EJ)
March 3 at 7:15pm at San Jose Rep.
New Brooklyn
(U.S.) Talk about anhedonia. Young Marta (Blanca Lewin), a Chilean girl looking for acting work in New York (the film is in Spanish and English), mopes around her run-down neighborhood. She wants her boyfriend from Chile to show up, but when he does, he's a total heel. Marta stays at a girlfriend's house, but the girl's brother is a violent thug who menaces Marta. Her movie work sucks, even though a nice boy wants to date her. She gets offered an equally dubious part in a bad off-Broadway play. One thing leads to another, and mousy Marta suddenly turns into Andrea Dworkin and attacks a guy at random on the subway (he was mean to his girl, but does that give Marta license to go all Bernard Goetz on him?). The direction is accomplished, with some wistful tracking shots through the crumbling blocks of Marta's chunk of Brooklyn, but one keeps wondering why Marta is so passive-aggressive. (MSG)
Feb. 26 at 7:15pm, Feb. 28 at 9:15pm and March 2 at 3pm at Camera 12.
Samurai Avenger: The Blind Wolf
(U.S.) This geeky postmodern take on the samurai film is not so much a pastiche of psychotronic swordfight movies as it is a pastiche of Quentin Tarantino's pastiche of those movies. In fact, it's so much like Kill Bill—right down to the black-and-white flashbacks—that even some of its fans are likely to wonder what the point is. But this modern-day story of a blind Japanese swordsman who has to battle the big boss's assassins on his quest for revenge takes itself less seriously—as in, not at all. One of the random bits of narration, for instance, lets us know: "He was an ordinary man. Happy marriage, happy family. A nightmare riding on the desert winds would change it all." That's about the tone of the whole thing, and it's too hammy and silly sometimes. But the over-the-top violence, gore and general sleaze are pretty damn entertaining. Triple impalements, exposed intestines and geysers of blood from severed limbs abound. Writer-director-producer-star Kurando Mitsutake had a small role on TV's Heroes, as White Beard. He seems to be having a lot more fun here, and it's pretty infectious. (SP)
Feb. 27 at 11:30pm at Camera 12 and March 3 at 9:30pm at San Jose Rep.
The Skeptic
(U.S.) An uptight lawyer (Tim Daley) inherits his aunt's crumbling mansion and suddenly starts hearing things that go bump in the night. Reluctantly putting aside his carapace of skepticism (hence the title—the film eschews subtlety), the lawyer enlists some local PSI Factor types to find out what secrets are really stored inside the haunted family "closet." Eventually, with the help of his psychiatrist (Ed Herrmann), the lawyer learns some painful truths about his abused childhood that he has been repressing all the way through law school and into a lucrative partnership. The scares are few and far between (this feature could easily be programmed on Lifetime), and the appearance of Jim Belushi is gratuitously annoying. (MSG)
Feb. 28 at 7pm at San Jose Rep, March 1 at 4:30pm at the California Theatre and March 3 at 5pm at San Jose Rep.
Two Million Stupid Women
(U.S.) On the night of her birthday, Melissa catches her boyfriend cheating on her. So like any sane and rational person she decides to go on a cathartic quest to have all her old flames humiliate and reject her in one night, thereby giving her a clean slate. The film is a train wreck, and I never fully understood why Melissa decided she had to do this to herself. And the three main characters (Sarah Hall, Katy Stoll and Mark R. Gerson), who are supposed to be best friends, are just horrible to each other. Even the most die-hard of chick-flick fans will probably be turned off. (CW)
Feb. 27 at 6:45pm, March 1 at 9pm and March 4 at 5pm, all at San Jose Rep.
Wake
(U.S.) Good Bijou Phillips, cast off thy nighted colors. Though she has appeared in a scad of horror films, Bijou's goth-hood doesn't even go skin deep, despite her all-black wardrobe. Her Meg Ryanish Carys Reitman (Reitman, as in Ivan, as in Juno) likes to attend funerals for social recreation, posing as one of the weepers among the real bereaved. Carys gets lucky at the first funeral that we watch her attend: she picks up a studly Texas veterinarian named Tyler (Ian Somerhalder). Unluckily, Tyler is the fiance of the deceased, and the engagement ring he gave the dead girl accidentally ends up in Carys' possession. And the family starts to wonder if Carys didn't kill the dear departed to get her mitts on the fiance. Wake is wheezing, unsprung farce, with one incident per scene. And the allegedly wacky references (Attack of the Killer Tomatoes, for instance) are decades out of date. Perennial casting director Ellie Kanner works from producer-turned-writer Lennox Wiseley's script, which soon pushes the film from black comedy into soap opera. Jane Alexander has a small role as Carys' mother in denial. Danny Masterson has the wacky best-friend part. (RvB)
Opening night gala, Feb. 25 at 7pm at the California Theatre, with a party afterward at Billy Berk's and Mezcal.
Send a letter to the editor about this story.