02.25.09
home | metro silicon valley index | movies | current reviews | film review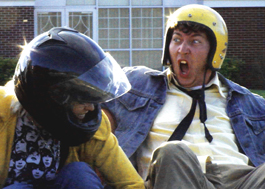 'Billy Was a Deaf Kid' delivers some honest hostility.
The Critics Speak
Metro's reviewers skim the cream of this year's feature films
Another Man
(Switzerland) In the scheme of things, it's probably bad enough being a film critic; it's far worse to be a poseur at the trade. This acid Swiss comedy has it all: rancor, full frontal nudity and rich black-and-white photography of the remote, snowy Vallée du Joux. In the remote countryside, François Robin (the Henry Rollinsish Robin Harsch) is a diffident expert on medieval French poetry who takes over the local weekly shopper's film review section. Too bad for him that his first assignment is the difficult Last Days by Gus Van Sant. Having no idea of what to write, François plagiarizes word for word from a particularly intellectual film journal. Soon, this word-robber is styling himself as an intransigent film critic, hitting the press screenings in nearby Lausanne. He seduces Rosa Rouge, a coldly formidable but big-breasted local cinéaste (Natacha Koutchoumov). He may not know anything about movies, but fortunately François is one of those people whose silences are mistaken for evidence that he possesses a greater intelligence than the chattering classes can offer. Director Lionel Baier (Stupid Boy, Stealth) was once a film programmer at a small art house and is probably getting a little of his own back. But the references to Chabrol don't shame what we're watching. And Robin is a newspaper heel worthy of Billy Wilder's Ace in the Hole. Elodie Weber is very dryly amusing as the bratty yet bovine lady that François leaves behind. Buñuel (et al.) star Bulle Ogier has a cameo playing herself. This is absolutely not for people who can't stand films about bastards and bitches. (RvB)
Feb. 26 at 7:15pm and March 7 at 9pm, both at San Jose Rep.
Billy Was a Deaf Kid
(U.S.) Irritating but unquestionably serious underground movie, a plotless record of aimlessness in a deserted s mall Utah town.  It's about the attraction and repulsion between a couple: 27-year-old Archie (co-director Rhett Lewis) and his 24-year-old friend Sophie (Candyce Foster), who conduct themselves with the most infantile modes of expression seen since Lars Von Trier's The Idiots. The first half involves some horsing around with an abandoned couch, serving as both soapbox-racer and boat. Archie's brother, the title character–probably mute, definitely inert–functions as a kind of chaperone. He keeps the two from connecting in this either unconsummated or unconsummatable relationship. In Foster, directors Rhett and Burke Lewis have found a new Greta Gerwig. Billy Was a Deaf Kid is a real theater-clearer, let's be plain; and some scenes dubbed in with music are there clearly not as an aesthetic choice but because the sound or the line readings didn't work. But there's some honest hostility in this picture that deserves not to be met with hostility in turn. (RvB)
Feb. 28 at 7pm, March 2 at 9:15pm and March 5 at 2:15pm, all at Camera 12.
The Caller
(U.S.) The Caller plays as a noirish, emotional mystery that holds your attention to the end as you try to knot the threads together. The film pairs Jimmy Stevens (Frank Langella), an energy company executive with a guilty conscience, with Frank Turlotte (Elliott Gould), a cranky private detective who is drawn into a drama that ultimately connects him to Stevens and his own past. While some of the actors like, Laura Elena Harring (David Lynch's Mulholland Dr.) seem to be plot devices rather than fully formed characters we care about, The Caller in the end is a haunting, high-style rumination on the persistence of memory and how we meet death. Which all sounds terribly depressing, but the film manages to offer a bit of redemption amid the gloom. (SH)
March 1 at 7pm at the California Theater.
The Compassionate One
(Russia) A simple, absurd misunderstanding drives a charming Russian comedy about a provincial cop whose life is turned upside down when a visiting Buddhist monk declares him to be the next Dalai Lami. The profane, world-weary Starlei (Alexander Seridenko) doesn't believe it, but everyone else has a vested interest in maintaining the illusion, at least temporarily. Sent into hiding in a provincial village, Starlei discovers himself committing acts of random kindness. The real find here is Timur Bokanacha as Spytsin, the cop's immediate underling. With a seriously receding chin, huge eyes, a bowl haircut and a physique that makes Don Knotts look like Arnie, Bokanacha, wearing a prow-brimmed hat that threatens to engulf his head, is a gifted comedian with a streak of persistence belied by his fumbling fawnishness. In the best scene, Starlei and Spytsin take in a historical pageant in the local town–complete with drunken locals playing historical figures and a comely chorus line of scimitar-wielding babes, it plays like Waiting for Guffmanovsky. (MSG)
Feb. 27 at 2pm, March 1 at 8:45pm and March 3 at 8:45pm, all at Camera 12.
Dancers
(Denmark) It is a universal truth that women are drawn to bad boys. When beautiful blonde dance teacher Annika (Trine Dyrholm) inexplicably starts pursuing smarmy electrician Lasse (Anders W. Berthelsen), his criminal past seems to be the guy's only pulling factor. With greasy hair hanging in his face and a penchant for violent outbursts, viewers are left wondering why Annika even bothers with this guy after the first failed date. Perhaps it is the hot sex, or the fact that she is bored out of her skull, cloistered in her mirrored dance studio all day, but Annika falls hard. Shot entirely from Annika's perspective, Dancers follows her turbulent romance and general breakdown as details of Lasse's real history start to surface. The film's gentle, muted cinematography is sprinkled with some wonderful, intense moments, but the relationship between the protagonists needs some more development. Dance fans will delight at the plethora of dance scenes and the spangly outfits, even if the romance doesn't prance as it should. (JF)
Feb. 26 at 9:15pm at Camera 12, Feb. 27 at 4:30pm at Camera 12 and March 3 at 2:15pm at Camera 12.
Esther's Inheritance
(Hungary) From the Sándor Márai novel of the same name comes an atmospheric afternoon at a secluded estate in the countryside, overlooking a lake. Esther is remembering when her ex-lover, Lajos, dumped her 20 years earlier and married her sister. Lajos is a "genius of lies," a theatrical charlatan, a waste case, but someone who still holds power over Esther, or so she contemplates. Now he is returning to the estate with his entourage. What does he want? she wonders. The movie follows the book closely in its elegant, moody, yet simple language. Lajos comes across as the washed-up player he is, while Esther succeeds as someone grappling with old issues. Will she be able to adequately read the dude? Whatever happened to his marriage anyway? The man is a tramp, capisce? Cousin Lulu, who lives with Esther, is a rock and she knows all, but no one seems to know what Lajos is really after. He does seem to reel Esther in with those ever-so-seductive exploits. The surprises and plot twists await, and not until the very end do we find out who capitulates with whom. Author Márai has been compared to Gabriel Garcia Marquez and was originally exiled from his homeland following World War II. His books were never translated into English during his lifetime. (GS)
Feb. 26 at 3pm, Feb. 28 at 8:30pm and March 2 at 4pm, all at Camera 12.
Firaaq
(India) If I say this is a better movie than Slumdog Millionaire, that's just a matter of minority opinion. I feel a lot firmer saying that this presents a far smarter analysis of Hindu/Muslim strife, the engine of Slumdog's story. Actress-turned-director Nandita Das has created an impressive drama about the aftermath of the recent bloodbath at Gujurat. What we're accustomed to think of as a solid line between the ancient religions turns out to be something more like Sarajevo; there are connections and intermingling everywhere. Here, several different people pick up after the carnival of arson, murder and rape. At the high end of the food chain, we see looted-out storekeepers–an affluent couple in a mixed marriage–heading for Delhi, where things are calmer. Husband Sameer (Sanjay Suri) conceals his Muslim last name to try to avoid prejudice, but the shame is getting to him. Meanwhile, an ailing Sufi musician, an orphan, a taxi-driver and an oppressed, self-mutilating wife try to cope, as a group of half-bright locals try to glom onto the spoils. Das' film seems deeply researched, and the connections never seem forced. (RvB)
March 5 at 7pm and March 7 at 4:30pm, both at the California Theatre.
The Friend
(Switzerland) Swiss actor Philippe Graber has an endearing, buttoned-up, bug-eyed innocence about him, akin to Bud Cort in Harold and Maude (but sans the faux-suicidal tendencies). In The Friend, you just want to just reach out and give his character, Emil, a big hug as he digs himself deeper and deeper into a hole. This coming-of-age tale was the official Swiss offering for Best Foreign Film at the Academy Awards, and you can see why. Milquetoast Emil travels by bus to a smoky bar every night to hear Larissa play her guitar and sing earnest tunes, but he never can work up the nerve to get off the bar stool and have a conversation with her. But when Larissa approaches him with a strange request, Emil gets caught up in a lie that he doesn't really understand until it's too late. Showing how much a gray area the truth really is, director Micha Lewinsky gives The Friend a sensitive touch that results an unpretentious heartfelt tale about the nature of loss and unexpected love, all tinged with refreshing dark humor. (JF)
Feb. 27 at 9:45pm at Camera 12 and March 2 at 9:30pm at the California Theater.
Johnny Mad Dog
(France, Belgium, Liberia) Seems like everyone under 18 wields a machine gun in this in-your-face realistic depiction of the civil war in Liberia. The film follows the missions of several violent child warriors rampaging through villages, raping TV newscasters, pillaging everything in their paths and leaving an all-out trail of carnage wherever they go. The general, named "Never die," leads the chant: "You are the death dealers, rebels. This war is our war. Free your heart. Fight the war as a soldier. After the revolution you will get your benefits." Shoot-'em-up violence is a game for these kids, it seems. They know no other. Caught in the crossfire, literally, is a young girl, along with her brother, both of whom are just trying to avoid trouble. Some of the child actors in the film really were juvenile soldiers in the war, so their performances come off as truly authentic. A brutal, uncompromising work. (GS)
March 2 at 6:45pm at Camera 12 and March 7 at 9:30pm at the California Theatre.
The Last Lullaby
(U.S.) Based on the Max Allan Collins short story "A Matter of Principle," this beautifully understated crime drama is class from the get-go. Tom Sizemore's sleepless hit man Price follows some punks, kills them and takes the girl they kidnapped–and then helps himself to the ransom. Word gets around, and when the father of the kidnapped girl needs a woman whacked, he tracks Price down; despite his retirement, Price agrees to do the job. In one of Chandler's novels, Marlowe described Hemingway as someone who repeated things until they sound good. Sizemore does that too, as if he had a spot of hardness of hearing or he liked repeating the dialogue, which is artlessly artful: "This small talk is so ... small." Now with a widow's peak and some heft to his neck, Sizemore is getting to look like Bogart, and his underplayed, almost whispered performance is a new mode of acting for him. Director Jeffrey Goodman gives this compelling gunman's tale a handsome look. It was filmed in Shreveport but has a northern prairie's chill and loneliness. Sizemore's chaotic offscreen life is a matter of record, but the results may be what count; life has slowed him and beat him up a bit, and he's tougher-looking for it. (RvB)
March 7 at 7pm at the California Theatre and March 8 at 1:30pm at Camera 12.
Lightbulb
(U.S.) An iridescent comedy-drama about high school best friends who are always one bright idea away from inventing the next, must-have novelty. Even though the closing of strip-mall megastores and the loss of jobs dominate the headlines, this film proves the power of American ingenuity. Based loosely on the real-life experiences of Michael Cram (writer and producer), this rags-to-riches tale is especially poignant in light of the current economic situation. Lightbulb mark's Cram's first try at screenwriting, but his message comes through loud and clear: By working hard, and having a sense of humor, it's possible to persevere to achieve the American dream. (AF)
March 5 at 7:15pm at San Jose Rep and March 7 at 7:15pm at Camera 12.
The Necessities Of Life
(Canada) Baffin Island, 1952: an Inuk (Inuit) hunter named Tivii (Natar Ungalaaq) is picked up by a hospital ship, tested, transported and quarantined for tuberculosis in a Quebec City hospital. Almost totally isolated, he first tries to escape and then to commit suicide. Finally, he encounters an orphan boy, Kaki (Paul Andre Brasseur), who understands his language; the child helps him communicate with the white doctors keeping him captive. Ungalaaq is excellent in the lead role: both in mute scenes as he sinks into himself or when telling Kaki a ghost story, using a cats-cradle as a prop. Ultimately, this very sad and very formal drama is a little too polished to really get under your skin. Still, this is a handsome, honorable work. Through immaculate art direction, the film achieves its desired effect of making the white man's world seem cluttered, frightening and repugnant, compared to the way Tivii remembers his land. (RvB)
Feb. 27 at 7:45pm, March 1 at 1:45m and March 2 at 4:15pm, all at Camera 12.
Truffe
(Canada) This fantastical, retro-futuristic French-Canadian film takes place in a world where Montreal's economy is based solely on the mining of subterranean edible fungi. Residents burrow deep into the ground in search of truffles, including Charles and Alice, a married couple who run a small diner with the proceeds. But when Charlie's talent for finding these lumps of black gold is discovered by an evil cooperation hell-bent on monopolizing the trade, Alice must fight to save her husband from becoming another drone in the machine. Filmed in silvery black-and-white, director Kim Nguyen's Truffe successfully presents an imaginative dream state reality where weird, unsettling whimsical elements mix with normal, everyday urban activities. The plot's moral against the dangers of consumerism and greed is subtle enough to not take away from the film's stunning, consuming visuals. You'll never be able to think of mink stoles the same way again. (JF)
Feb. 28 at 7:30pm and March 2, both at 9pm at Camera 12.
Send a letter to the editor about this story.