02.25.09
home | metro silicon valley index | movies | current reviews | film review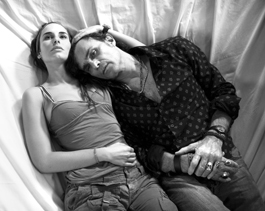 The Chameleon King hits the road in the Mexican drama 'Euforia.'
Foreign Affairs
Features from around the globe add an international flavor to the festival
Euforia
(Mexico) The road movie may be the easiest cinematic method to knit up the various classes and regions in Mexico; the most artistically successful Mexican film of the past few years, Y tu mamá también, made its mark partially because it boasted the pleasures of a voyage. Alfonso Corona's Euforia, not inY tu's league, takes you on a trip with an under-the-gun former rock star, Pat Corcoran (Humberto Zurita): "Morrison was the Lizard King; I am the Chameleon." At present, though, Pat is washed up and is cruising with a much younger girl (the Karen Blackish Ana Serradilla), who is looking for her own roots. An obese plug-ugly and a priest who can't keep to his vows show up as other motivators, and while Guanajuato and Queretaro look lovely, this chameleon's angst might not merit a whole movie. Another question: Pat is so much younger than the rest of his band that it's hard to get a bead on what he was doing with them: Was he Morrison, then, or more of a Craig Chaquico? (RvB)
March 4 at 6:45pm, March 5 at 6:45pm and March 8 at 4pm, all at Camera 12.
Historias Extraordinarias
(Argentina) This long two-parter (a little over two hours for each half) by Argentine director Mariano Llinds charts the seemingly unrelated stories of three nondescript characters (so nondescript, they are named, a la Kakfa, by letters of the alphabet). In leisurely fashion, we learn about a man who comes into possession of a dangerous dossier connected to an infamous crime; a bureaucrat who stumbles into the obscure animal-smuggling ring of his predecessor; and a man hired to photograph the remains of a failed water-development project. The tales are mostly narrated, with only snippets of dialogue here and there. In a sense, the film is like reading a discursive novel (an effect doubled by the non-Spanish speakers needing to read the subtitles rather than just listen to the narrator). To avoid the inevitable question "Why couldn't I stay home and read the book?" Llinds varies the visuals considerably, sometimes using tracking shots, sometimes assembling rapidly changing stills like a computerized slide show and sometimes ratcheting between color and black-and-white and playing games with sound effects and music. The air of knowing yet coy mysteriousness ("We will learn more about X's adventures, but first we must tell you about what H was up to at this time ...") keeps pulling you along, although the payoffs to the three stories aren't exciting enough to justify the equivalent of two full feature films. Animal lovers beware, the second half begins with a scene about a dying lion that may be hard to take. (MSG)
Feb. 28 at 11am and March 4 at 7:15pm, both at Camera 12.
How to Be ...
(U.K.) Robert (Twilight) Pattinson's many fans will want to catch him playing a shoegazing London reject who bores everyone in his life, except for the Canadian therapist (a beatific Powell Jones), whom he imported for a cool 5,000 pounds. Those who don't care about Mormon vampires will be given more food for their apathy after watching this overproduced adult-big-baby exercise. Pattinson plays Art, a depressed would-be musician whose parents, girlfriend and best friend have had enough of his whining. While he describes himself as "another destitute child of Thatcher's Britain," Arthur isn't at all a have-not, possessing enough money for both therapist and a bitchen Camaro. Director Oliver Irving plays his humor so close to the vest that you'd almost think of Bill Forsyth if the film were at all funny in any way. Though many young men have gone through this depressed and depressing stage, How to Be ... is a strangely uncompelling film. Rebecca Pidgeon is free of the novacaine David Mamet used to shoot into her; she's lively enough that we see her side of the problem, even though she's supposed to be a heartless bitch in a metallic suit. (RvB)
Feb. 28 at 7:15pm and March 2 at 7pm, both at the California Theatre.
The Market
The minute we see a woman in traditional garb standing in the back of a moving truck and singing the narration near the beginning of The Market, it's obvious that something unexpected is going on in this tale of black-market capitalism in Turkey. Perhaps most unexpected of all is the way British writer/director Ben Hopkins' satire on the free market—broken down into a microcosm here with the Byzantine schemes of one Turkish trader, Mihram (Tatanc Ayaydin)—is not exactly an indictment. Yes, everyone is corrupt, and exploitation is everywhere, but ironically the flip side is embodied by Mihram himself. A reluctant drunk and partially reformed crazy dreamer, he gets involved with all the wrong things for all the right reasons. Ultimately, he's out to get medicine for children, and make money in the process, and Ayaydin gives such a likable performance that he becomes capitalism's friendly face. But his misadventures are so entertaining, and the people he meets along the way so interesting, that regardless of what message one takes home, The Market is worth the trip. (SP)
Feb. 26 at 7pm at Camera 12 and March 1 at 2:15pm at the California Theatre.
A Police Romance
(France) For some time now, the French have had a lock on offbeat, interesting thrillers, from La Femme Nikita to District B13. A Police Romance seems at first to be something along those lines, but the gritty backdrop of high tension in the line of duty is just a backdrop for exactly what the title promises: a romance between the young Parisian officer Jamil (Abdelhafid Metalsi) and his superior officer, Emilie (Marie-Laure Descoureaux). There are some suspenseful and even shocking moments, but even the action scenes have a little too much of a low-budget art-film feel to put this up there with the best of the French resistance to standard crime-movie fare. (SP)
Feb. 27 at 10:15pm and Feb. 28 at 4:15pm, both at Camera 12.
Send a letter to the editor about this story.