02.25.09
home | metro silicon valley index | movies | current reviews | film review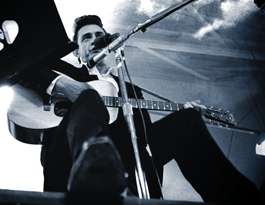 'Johnny Cash at Folsom Prison' charts the birth of outlaw country.
True Stories
A strong field of documentaries brings a dose of reality to Cinequest
Crude Independence
(U.S.) From the get-go, the slow, brooding score and ponderous pace of Crude Independence clue you in that all doesn't go well when the oilmen come to Stanley, N.D. While the ensuing oil boom alters the small agricultural town in profound ways, the documentary is more than a tale of big oil vs. an unsuspecting small town. Director Noah Hutton, who also wrote the film's haunting music, does a subtle but effective job of painting the bigger picture of how the global demand for oil, changes in the agricultural economy and the fragility of small-town values all come into play. While Crude Independence gently questions whether the oil windfall is a blessing or a curse, it raises more existential questions about what one needs to be happy and how money changes people and places. As the oil and money flow, everyone's hands get a little bit dirty. (SH)
March 7 at noon and March 8 at 3:30pm, both at Camera 12.
Garrison Keillor: The Man on the Radio in the Red Shoes
(U.S.) Gently guiding an eclectic, eccentric ensemble of singers and performers through the down-home radio variety show A Prairie Home Companion for more than 30 years, Garrison Keillor has served as a godlike presence to his longtime listeners. Lacking a story arc, the documentary Garrison Keillor: The Man on the Radio in the Red Shoes is less of a biopic and more of a collection of ruminations on the life and personal philosophies of this pragmatic comedian, writer and radio host. Onscreen, Keillor looks like an Al Hirschfeld caricature. His giant fuzzy caterpillar eyebrows and floppy neck make it obvious why Keillor stuck to radio, but his down-comforter of a baritone drives home the man's genius for observation and pitch-perfect nostalgia. Unfortunately, the film neglects many details of Keillor's personal life, including anything vaguely controversial. Staying on the comfortable but shallow surface, the film focuses on the backstage goings-on at his show and the corn-pone popularity of a man whose dedicated radio following still tunes in every week to hear him spin tales of the fictional Lake Wobegon. (JF)
March 3 at 7:15pm and March 7 at 6:45pm, both at Camera 12.
Gotta Dance
(U.S.) This sweet documentary by Dori Berinstein will inevitably draw comparisons to Young @ Heart, the senior-citizens chorus whose YouTube video version of the Ramones' "I Wanna Be Sedated" led to a 2007 film. Gotta Dance is the hip-hop-dance version of the same idea: old people proving the adage that "age is just a number," backed by a soundtrack of contemporary music. The story is custom-made for the Warm-Hearted Documentary category: The New Jersey Nets halftime-entertainment division comes up with the idea of a senior-citizens dance troupe—"The NETsationals"— and puts out a call for dancers over 60. Over the course of 90 minutes, we follow a cast of characters as they compete for a slot, rehearse and take the court—where they become (ahem) a sensation. As it happens, pretty much every one of these seniors is a remarkable human being, each with a poignant or funny story, and their triumph is indeed uplifting. What's maybe more surprising—they end up making a pretty damn good hip-hop dance crew. (EJ)
Feb. 28 at 10am, March 6 at 6:45pm and March 8 at 2:30pm, all at Camera 12.
Heart of Stone
(U.S.) Beth Toni Kruvant's documentary about a Newark, N.J., school redefines the concept of surviving high school. At Weequahic High, gangs rule all. Students pass through metal detectors to attend class, the principal wears a bulletproof vest and hallway fights between warring gang members are a common occurrence. The documentary chronicles Ron Stone, the intrepid principal of Weequahic High, and his personal mission to restore the school to its former academic glory. The most compelling scenes are of Stone's one-on-one chats with gang leaders of the Bloods and Crips and the dedication of the older, Jewish and younger, African-American alumni who are devoted to raise money for scholarships. Kruvant's gritty documentary is a powerful example of how inner city high schools can turn themselves around by following Stone's unconventional lead. (AF)
March 1 at 7:15pm, March 3 at 7pm, both at Camera 12; and March 5 5pm at San Jose Rep.
Johnny Cash at Folsom Prison
(U.S.) This inspiring, troubling documentary concerns the historic concert on Jan. 13, 1968. The film records the background of an immemorial pop cultural moment—the birth of outlaw country—but it also delves into issues of rehabilitation and guilt. At the time, Cash was a tormented musician overcoming his drug habit. The Folsom concert had the aspect of a publicity stunt. The record company was unenthusiastic. Cash was playing at the Northern California prison mostly because of his early success with a rewritten version of Gordon Jenkins' tune "Crescent City Blues." Visually, Johnny Cash at Folsom Prison adds as much as possible to very little existing footage, along with autobiographical audiotapes recorded by Cash. Sometimes animation fleshes out the visuals, as in a rousing cartoon version of Shel Silverstein's hanging ballad "25 Minutes to Go." The film also follows two of the men in attendance. One was the singer and convict Glen Sherley, composer of "Greystone Chapel" and later a resident of Monterey County. Meanwhile, Folsom alumnus Millard Dedman, now a peaceable elderly man, is chronicled in his new life—while being shadowed by his dangerous old life. (RvB)
Feb. 26 at 5pm at San Jose Rep, Feb. 28 at 9:30pm at the California Theatre and March 6 at 12:15pm at Camera 12.
Killer Poet: The Double Life of Norman Porter
(U.S.) Susan Gray's documentary explores the life of a convicted murderer from Massachusetts who escaped from prison after serving 25 years of his double life sentence. After his escape, Norman Porter spent 20 years in Chicago, making a life for himself as the acclaimed poet JJ Jameson. The documentary explores his duel existence. On one hand, he is a murderer who shattered the lives of two families. On the other hand, he is a beloved poet who established a day-care center at his local church. Through tearful accounts and fond memories, Killer Poet poses an uncertain question to audiences: Who is this man really? The cold-blooded murderer or thoughtful poet? Can the two co-exist? (AF)
March 1 at 2:30pm at Camera 12, March 2 at 5pm at San Jose Rep and March 6 at 2:15pm at Camera 12.
Rocaterrania
(U.S.) This fascinating documentary uncovers a significant artistic talent. Elderly, white-bearded Renaldo Kuhler has spent most of his life creating in drawings and text a mythical country called Rocaterrania, located on the border between Canada and New York. His fantastical visions depict a brightly tinted blend of Russian, Serbian and Jewish influences with touches of Middle Earth whimsy. The visuals come with ledger books full of written mythology, including a fully fleshed-out alphabet for Rocaterrania's language. In some ways, Kuhler style resembles that of another obsessive outsider artist, without so much of the creepy sexuality centered on young girls. Kuhler, however, is not exactly a true outsider artist; his considerable skills were put to mainstream use in his day job as a scientific illustrator at a natural history museum; and he clearly must have learned something about design from his father, Otto Kuhler, a famous industrial designer responsible for streamliner trains in the 1930s. Kuhler's parents were cold and unyielding, and when they took their sensitive teenage son to live on a remote Western range, he retreated into his imaginary world, using it to deflect his psychological traumas. If he had been born a decade later, Kuhler might have found his way into print earlier—it is easy to imagine him working side by side with R. Crumb (Kuhler draws lots of muscular, big-thighed women in the Crumb mold) at Zap comics. Filmmaker Brett Ingram has done a great surface by bringing Kuhler's hidden universe to light. (MSG)
Feb. 28 at 2:30pm, March 2 at 7:15pm and March 3 at 12:30pm, all at Camera 12
Rock Paper Scissors: A Geek Tragedy
(Canada) Toronto brothers Doug and Graham Walker cooked up the idea of a rock/paper/scissors championship and watched this practical nonjoke take on a life of its own. Soon, the media beast had it in its belly (with Rolling Stone reporter Ken Hegan, Ellen DeGeneres and Conan O'Brien adding some digestive acids). And yet the money never seemed to come through, even as bigger and scarier sponsors decided to help out the "phenomenon." If (as Orwell put it) it's hard enough seeing what's at the end of your nose, it's even harder to imagine some media conglomerate trying to sell you what's right at the end of your wrist. For a while, watching Rock Paper Scissors, you're baffled: elaborate mirthless hoax or just completely uninteresting idea? The confusion continues with the documentary's emphasis on the rising profile of the hot new game of rock, paper, scissors as well as fishy-sounding champions such as "Master Roshambollah" turning up for interviews. By the time this idea becomes a lager-sponsored cable-broadcast bimbo-fest you don't know who to mourn for. Sitting and watching this really dull documentary induces self-pity enough, though. (RvB)
Feb. 26 at 9:30pm at San Jose Rep; Feb. 28 at 12:15pm and March 8 at 5:15pm, both at Camera 12.
Salute
(U.S.) Forty years ago, San Jose State University track and field runners Tommie Smith and John Carlos raised their black-clad fists in the air at the Mexico City Olympics as a silent protest against a racially divided America. What many people forget is that there was another person on the podium stand who stood in solidarity with Smith and Carlos: silver medalist Peter Norman. Salute, written and directed by Matt Norman, Peter's nephew, chronicles the strength and courage of the Australian sprinter and the controversy spawned when he wore an "Olympic Project for Human Rights" pin. Upon his return to Australia, he was left to face an angry country alone as the media ostracized him and he was shut out of the sport of track and field indefinitely. When the Olympics reached Sydney in 2000, his actions once again came under fire as the organizing committee failed to include Norman in any of the festivities. Comprised mostly from interviews with Smith, Carlos and Norman himself, Salute explores how a simple act can completely transform lives and inspire new generations of Olympic athletes. Local interest: The documentary features scenes of from the unveiling ceremony of the Smith and Carlos Statue at SJSU. (AF)
Feb. 28 at 12:15pm, March 1 at 11:30am and March 3 at 4:30pm, all at Camera 12.
Send a letter to the editor about this story.