02.18.09
home | metro silicon valley index | movies | current reviews | film review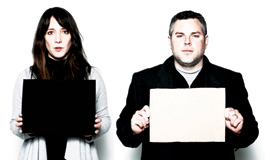 WITCH HUNT: A documentary by Dana Nachman (left) and Don Hardy (right), plays at Cinequest on Feb. 28 at 4:30pm at the California Theatre and on March 7 at 6:30pm at the San Jose Rep.
Hunt for Justice
'Witch Hunt,' a powerful documentary by local directors Dana Nachman and Don Hardy, chronicles the swift sword of injustice in an infamous child-abuse case
By Richard von Busack
DOWN IN Bakersfield, they have a saying: "Come on vacation, leave on probation." The city, surrounded by swaying horsehead oil rigs and spinach fields, is a bit of Texas transplanted into Southern California. And Bakersfield is known for Texas justice.
In the mid-1980s, an ambitious DA named Ed Jagels made a name for himself by prosecuting what was called a "sex ring": a group of molesters who were passing children around among themselves.
When the smoke cleared, seven locals went to jail—justice was done. Except that it wasn't, and the overturning of this series of cases is the story of Witch Hunt, a documentary showing at this year's Cinequest. With this powerful historical drama, local directors Dana Nachman and Don Hardy could duplicate the success of last year's Dear Zachary; and like Dear Zachary, the documentary will be shown on MSNBC in the near future.
The model for Witch Hunt is Errol Morris' investigative documentaries, complete with the close-ups on inanimate objects, presented as mute witnesses: a shimmer of water for a swimming pool, land- and cityscapes of the Bakersfield surroundings, and the chipped enamel paint on jailhouse bars. Witch Hunt also comes with the marquee value of executive producer Sean Penn, who narrates this straightforward account of the Kern County trials and their aftermath.
Brenda and Scott Kniffen were sent to prison for more than a decade for a crime they did not commit.
Eventually, then–California state Attorney General John Van de Kamp prepared an 80-page report on the insufficient training of the Kern County investigators and the holes in their evidence. But this report came only after seven defendants were sentenced to literally hundreds of years in jail for alleged child molestation.
Among these prosecuted innocents was John Stoll. Stoll was two years divorced and seeing his son, Jed, on weekends. One evening, he woke up to find the Bakersfield police in his bedroom, searching for evidence. The cops charged Stoll with at first three, and then two, counts of molesting his son. Later, as the police interviewed neighborhood kids who had hung out with Jed, the counts of molestation increased.
Some of these former children are interviewed in Witch Hunt, and they describe being coached by social workers. Victor Monge, one of the former children in Stoll's neighborhood, tells the camera that the police "asked the same questions over and over and over until you tell them what they want to hear."
Allen Grafton, another friend of Jed's, says of the Bakersfield police, "They hated it when we said nothing happened." And Carla Modahl, at the time a child picked up for questioning on a related molestation case, says, "They promised me no one would get in trouble or go to prison."
Meanwhile, Jagels, the seven-time re-elected district attorney of Kern County, still declines to answer any questions about this massive frame-up.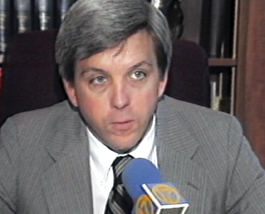 Kern County District Attorney Ed Jagels pursued the case with extreme zeal.
Legal Zealots
Cookie Ridolfi, a law professor at Santa Clara University and director of the Northern California Innocence Project, claims that the Kern County case was exactly what this documentary titles it: "This was a witch hunt. It was hysteria. These charges were baseless and manufactured, and the community was revved up."
Directors Hardy and Nachman work for NBC Channel 11, KNTV. "We did a documentary on Bay Area victims of 9/11," Dana says, discussing the genesis of the film. "We drove around a lot together, talking about film and our aspirations."
According to Hardy, the pair "didn't start thinking about a documentary on this matter until we interviewed the Santa Clara University branch of the Innocence Project. And that's when John Stoll told us that he was just the tip of the iceberg."
The two worked on the documentary for four years on a nights-and-weekends basis, editing on a coffee table. "Dana had two kids during the making of the film, and I had a full-time job," Hardy recalls.
Why were these purported molesters singled out by the Kern County justice system?
"Everybody asks that," Dana tells me. "There wasn't much rhyme or reason. They were parents, just normal people. They each had some problem that brought the attention of the authorities. John Stoll and his wife had a custody battle, and he alerted child-protective services as part of it. Overzealous social service workers were a lot of the problem."
As for why the Kern County district attorney went through with it: "Ed Jagels," Nachman explains, "ran for DA against a judge who he claimed was light on sex offenders."
Stoll and the other convicted persons in this so-called "sex ring" of child abusers never received a change of venue. Even after a hunger strike in jail, Stoll and his fellow accused couldn't get the FBI to intervene in the case.
Nachman comments: "It's almost hard to believe, but the defendants didn't take it all seriously. As John says, 'You can't convict me of what I didn't do.'"
In Witch Hunt, Scott Kniffen, one of the accused, says that when the police showed up, "I thought it was one of those joke-grams."
Stoll was offered a plea bargain if he confessed to molesting his son and several other children. He decided to go up the river rather than falsely confess to something he didn't do. Ultimately, Stoll spent the longest amount of time in prison, all for a crime he didn't commit.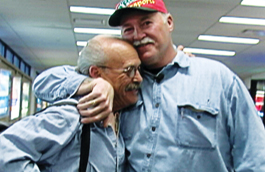 John Stoll and Jeff Modahl, who both spent more than 12 years in prison for crimes they did not commit, meet again on the outside.
The Price of Innocence
As Witch Hunt describes it, the Innocence Project did the research that freed Stoll. There are 50 Innocence Projects in the United States, informally connected. Ridolfi sits on the national board of the project; she also serves on the California Senate Commission on the Fair Administration of Justice.
Ridolfi praises the accuracy of Witch Hunt and says that her own involvement in the Stoll case started when a colleague told her about it: "A lawyer she knew had worked on a few of the companion cases to John Stoll's trial, and this lawyer had gone broke. But in the course of the research, she had interviewed related cases, including some of the accusing boys, who were now grownup men. There are amazing stories. One of the former boys started to cry and brought out a poem he wrote when he was in school, titled 'Who Am I': 'Who am I? / I told a lie / I sent an innocent person to prison.'"
Getting Stoll released was an expensive effort, which makes one wonder how the Innocence Project survives economically in these hard times. "With great difficulty," Ridolfi answers, mentioning a fundraising and awards dinner on April 16 in San Francisco (see Justiceforalldinner.org for details).
"In John's case, we started in 2001," Stoll explains. "In fact, we started right at the same time that California had just begun Section 1405 of the state Penal Code, deciding that a certain amount of money would be set aside for DNA testing. While John's case was going on, California had one of its early budget crises. The state was going broke, while we were in the throes of John's hearing. We were flying people around on our own credit cards and racking up tons of bills.
"I was a public defender for years," Ridolfi continues, "and I really knew what was going on in the trenches. There are just terrible nightmare cases out there. When DNA evidence started being done, people couldn't deny it anymore. Since then the criminal justice system has been turned on its head."
Penn Pal
Sean Penn's name helped get this incredible tale of injustice out from the pack of documentaries. Nachman says, "When we were doing a documentary about the 9/11 victims, one friend of ours said that his friend Sean would be interested in it. We began to realize that 'his friend Sean' was Sean Penn.
"Actually, with our other documentaries, we used no narration. We try not to use it. But for Witch Hunt, we tried to write something Sean Penn would be interested in saying. For about two years, we had heard secondhand 'He's going to do it; I think he's going to do it.' After a while, we got Sean Penn's assistant's number and talked to her once a week."
Nachman continues, "We sent Sean a cut of the film. Of course, right after we sent it, we wished we hadn't sent it because we weren't sure it was perfect. We had to drive up from the South Bay to hear if the film had gone over. And we were late for the appointment. We were caught in traffic on 19th Avenue thinking, Sean Penn is watching our movie right now, and he's going to hate it."
"He's gonna punch us in the face!" Hardy recalls exclaiming. "So we called Sean's assistant, and she was crying, going, 'This is awful!' At first we're thinking, she hates it! But it turns out she was moved to tears by it."
"Ever since then," Nachman adds, "Sean Penn has been the most gracious person to us and to the people in the film. He came up to Toronto to the film festival to show his support. I can't say enough positive things about him."
Nachman and Hardy are especially pleased that the falsely accused Marcella Pitts has come out of the shadows in order to be interviewed for Witch Hunt
Nachman explains that "at the Toronto Film Festival, Marcella Pitts and her daughter turned up. We were so thrilled they were there. ... Marcella and Rick Pitts were interviewed in silhouette in Witch Hunt because they didn't want their faces to be seen. And there Marcella was onstage, fielding questions!"
A Twisted Era
Before we bask in warm feelings about justice done at long last, it's best to consider that a new flare-up of this kind of madness could occur at any time. Take the enthusiastic reception for the fictional film Taken, which asserts that 17-year-old American girls in Paris can be snatched away and auctioned off to slavering Arabs. That sort of willing suspension of belief might be stretched to include organized child-abuse rings and the charges of satanic rites that come out when children are supposedly molested by parties of adults.
The Kern County trials were a part of a twisted era. Hardy has a theory: "There's something about the 1980s that brought it out; the Kern County case was actually before the McMartin [preschool molestation] case, but it seemed like a coincidence. The early 1980s were the beginnings of 24-hour news networks. This started more coverage of these cases. And then the real-life Atlanta child murders popularized the idea."
Frances Hill, an expert on the Salem witch trials and author of A Delusion of Satan, says, "It was caused by the combination of social workers' growing fear of child abuse, with evangelical Christians' terror of satanism ... [There was] fear and disapproval of women's growing independence and willingness to put their children in day care while they worked outside the home. Debbie Nathan and Michael Snedeker's book Satan's Silence: Ritual Abuse and the Making of a Modern American Witch Hunt argues this point with great force and credibility. "Thankfully, there are no longer any trials taking place of people charged with satanic abuse, as far as I'm aware; the epidemic has run its course. But I believe there are still some innocent people in prison, falsely convicted in the '80s and '90s."
The ritual child abuse cases of the 1980s are mostly forgotten today. True-life books helped spread the fear. It is claimed that Victoria, British Columbia, was the first hotbed of satanic cult and child torture rumors. In the internationally famous Michelle Remembers by Lawrence Pazder and his patient Michelle Smith, the authors claimed that satanists were holding black masses in a suburban Victoria cemetery during the mid-1950s.
Less known is Dr. Beatrice Sparks' even earlier book, Jay's Journal (1979). The author of Go Ask Alice presented what was purportedly a teen suicide diary, rich with kitten sacrifice, voodoo wanga and severed bull pizzles, all taking place somewhere in America's Great Basin. That Jay's Journal, like Go Ask Alice, was actually fiction, was only revealed in tiny print on the book's copyright page.
Satan's Underground: The Extraordinary Story of One Woman's Escape by Lauren Stratford was a later account of cults at large. At the end of her book, Stratford mentions the Kern County case as an example of satanist child abuse. Stratford takes out of context a part of Van de Kamp's report. There, the state district attorney described the badly collected evidence. In Stratford's view, this doesn't exonerate the defendants. Rather, she writes, "Many ritually abused children will probably continue to suffer abuse because they were not believed."
Unprovable but wildly believed rumors of satanic child abuse spread over the United States in the 1980s. For six years, Los Angeles County tried to press more than 200 counts of child molestation against the family-run McMartin preschool in Manhattan Beach. Michelle Remembers authors Pazder and Smith met with the children, who were accusing their teachers of strange rituals, sex with giraffes, scary hot-air balloon rides and travels down toilets into secret catacombs.
In Maplewood, N.J., the testimony of children sent a teacher to jail for allegedly baking excrement pastries and instigating nude games of "Duck, Duck, Goose." In Malden, Mass. (not very far from the real Salem), children told tales of a mysterious clown who did things to them. Local television and newspapers tended to report the district attorneys' sides of these cases. On national television, Geraldo Rivera assured his audience in 1987 that there were more than 1 million satanists in America.
FBI Agent Kenneth V. Lanning studied satanic ritual abuse for years. His labors could be summed up in one sentence, coming from a parent he interviewed: "I believe what my child needs me to believe."
At the end of years of fruitless search, Lanning notes that "poorly documented or misleading claims about one in three children being sexually molested, the $5 billion child pornography industry, child slavery rings and 50,000 stranger-abducted children are not uncommon."
The Innocence Project's Ridolfi says, "There wasn't anything in particular about the 1980s. These kind of things happen all the time. All through history are various outbreaks of this kind of hysteria, based on lack of education and fear. The only other thing specific to the time was a lot of ignorance about interviewing techniques with children of suspected molestation. In a lot of these cases, the interviews were not done in the correct way."
Dana says, "I have a 3-1/2-year-old daughter, and the truth is that you can make a 3-1/2-year-old say anything."
Hardy finishes, "People want to know how this can never happen again, and it motivates people to be a part of the solution. At screenings of Witch Hunt, we've been approached by people who work in day care. They say, 'You've articulated our fears—you don't know where it's going to come from, and as soon as the allegation is made, you're in big trouble.'"
Send a letter to the editor about this story.