02.25.09
home | metro silicon valley index | silicon valley restaurants | review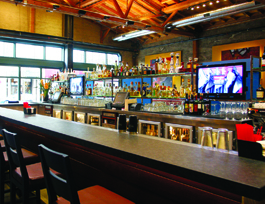 Photograph by Felipe Buitrago
BOTTLE ZONE: Reposado's bar boasts an extensive selection of tequilas.
New but Well-Aged
Reposado brings upscale nuevo Mexican cuisine to Palo Alto
By Stett Holbrook
THESE ARE good times for Mexican-food lovers who like to venture beyond the same old rice and beans. Silicon Valley has more than its share of taquerias and Mexican restaurants, but the offerings are stubbornly familiar—tacos, tortas, burritos, enchiladas, chile verde and chile rellenos, good stuff to be sure, but a narrow slice of what Mexican food has to offer. Happily, that situation is changing.
There are a few lonely outposts of regional Mexican cooking in Silicon Valley like Estrellita in Los Altos, Consuelo's Mexican Bistro in San Jose and Vive Sol in Mountain View, but they've been few and far between. Or at least that was the case. El Tule and the more upscale Mezcal have brought Oaxacan food to San Jose, and the Oaxacan Kitchen has done the same for Palo Alto. Now there's Reposado.
Reposado opened almost two months ago in the cavernous space formerly occupied by Cafe Verona. Rob Fischer, owner of the Palo Alto Creamery in downtown Palo Alto and the Stanford Shopping Center, is the man behind the restaurant, and it is new territory for him. The restaurant offers modern, refined Mexican food served in a lively setting.
The restaurant is easily one of Palo Alto's most striking. The soaring, exposed beam ceilings make the dining room feel at once industrial and inviting because of the warm colors, wood accents and dramatic light fixtures. There's a beautiful bar and cozy booth seating on one side and spacious table and banquette seating on the other.
The large group table has the best seat in the house between the bar and the glassed-in open kitchen. There's also a loftlike second dining room up above for private events and overflow dining. Upstairs is also where you'll find the men's room. Women don't have to travel so far.
The menu wisely takes classics of Mexican cuisine and several lesser-known dishes and gives them a smart, urbane spin. While some might quibble with the downtown flourishes and fancy ingredients, I think they make sense. For an upscale  "ethnic" restaurant like Reposado, there's a danger in offering food that's too traditional, because chances are there is a mom-and-pop joint in a lower-rent neighborhood that serves food that's just as good for a lot less money.
Take, for example, the tacos. A trio of tacos goes for $9.75, not cheap for Mexico's quintessential street food. But Reposado justifies that higher price with upmarket preparation. The carne asada is made with grilled and marinated skirt steak that's enrobed in a bittersweet, almost chocolaty ancho chile salsa, avocado cream and salty cotija cheese. 
The fish tacos are served with grilled rather than fried fish of the day that's been steeped in a tangy achiote and citrus marinade. It's topped off with a rather mild habañero salsa and chipotle-spiked mayo. I like taco-truck tacos as much or more than the next guy, but these upscale, nontraditional tacos have their place, too. Not so good, however, was my carnitas taco. While it was packed with plenty of porcine flavor, it was as dry as toast.
Reposado has a wide-ranging list of starters. For me, guac is like sushi. It's either really good or very bad. Reposado's made-when-you-order-it guacamole ($8.75) is very good.
Prawn ceviche ($10.50) is a winner. Shrimp marinated in lime and cucumber juice are served in a tall glass with grilled pineapple, avocado and serrano chiles.
Because it's made with tequila-spiked guajillo chile butter, the cayo de hacha y camaron (seared scallops and shrimp, $10.75) is particularly rich, but that didn't stop me soaking up the last drop of sauce with the slices of toasted bread.
The sopitos ($9.75) are a trio little masa cakes topped with a few bites of well-prepared beef, pork and chicken paired with the appropriate salsas. This would have been another winner if it weren't for the heavy and dense masa.  
From the list of "platos fuertes" or entrees from the dinner menu, the chuleta de Borrego en pasilla ($24.75) is a standout. Wonderfully tender Colorado lamb chops are coated with a velvet mole made with pasilla chiles.
The pollo rostisado con pipian ($16.50) would have been a great dish of Mexican comfort food had the chicken not been dry. The nutty pumpkin seed sauce and red rice were spot-on though. 
The biggest surprise on the menu was the spectacularly delicious torta de elote ($6.75). It's a cheesecake of sorts but it's made with mascarpone cheese and sweet corn and a graham cracker–like crust. The result is an ethereal dessert that leads with rich yet light-textured cheesecake and then reveals the earthy, sweet flavor of the corn after a second or two. In a land where crème brûlée, molten chocolate cake and tiramisu are the despotic rulers of dessert menus, this was a stunner. Good but a few notches down was the Azteca chocolate cake ($6.75), a small, moist cake with a hint of cinnamon.
I'd think that with a large labor pool to draw on Reposado would have a more seasoned staff, but the servers' level of competence varies widely. Some are smooth and professional while others are stumped by simple questions and fumble about like they're never worked in a restaurant before.
Although the restaurant opened in early January, I'm told a list of their 30-plus tequila selection is still in the works. With a name like Reposado, which means "rested" and is a grade of tequila that refers to its age, they should do a better job of promoting their namesake spirit. Reposado's prodigious tequila selection is one of their strengths, but you wouldn't know that unless you walked up to the bar and eyed the many bottles like I did.
Time's up. Give us that list. And I want tasting notes, too. If no one else wants to write them up, I'd be willing taste my way through. It would be a trip worth taking at a restaurant that is helping to elevate Silicon Valley's Mexican food scene.
---
Reposado
Address: 236 Hamilton Ave., Palo Alto.
Phone: 650.833.3151.
Hours: 11:30am–10pm Mon–Thu, 11:30am–11pm Fri–Sat and 11:30am–9pm Sun.
Cuisine: Mexican.
Price Range: Entrees $16.50–$24.75.
Web: www.reposado restaurant.com.
Send a letter to the editor about this story.