02.25.09
home | metro silicon valley index | movies | current reviews | film review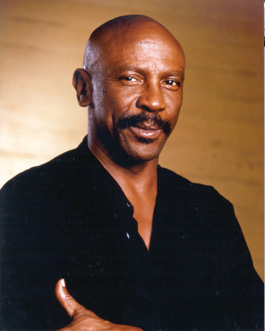 OFFICER MATERIAL: Lou Gossett Jr. became famous for his hard-as-nails military man in 'An Officer and a Gentleman.'
Sweet Lou
Cinequest Maverick Spirit Award winner Lou Gossett Jr. brings new film to festival
By Richard von Busack
THE ACTOR Louis Gossett Jr. co-wrote one memorable antiwar song, "Handsome Johnny"; as played by Richie Havens, it was a celebrated moment at Woodstock, a 1969 outdoor concert full of "people listenin' to Mick Jagger and badmouthing our country ..." as Gossett's most famous character would put it about 13 years later. Gossett also starred in a sci-fi antiwar parable, Enemy Mine, as an alien whose aggression had an understandable reason: the male alien was pregnant. So it's ironic that Gossett's best-known role is as a no-nonsense gung-ho military man, Gunnery Sgt. Emil Foley in 1982's An Officer and a Gentleman. Gossett's Oscar-laureated soldierly bearing was parlayed into four different Iron Eagle movies, where he created and reprised the role of "Chappy" Sinclair, another figure of toughness and probity. Starting off in the 1961 film version of Lorraine Hansberry's A Raisin in the Sun, Gossett worked with some noted directors: George Cukor in Travels With My Aunt, Hal Ashby in The Landlord and John Boorman in that director's most obscure film, Leo the Last. Gossett is a solid comic actor; he was quite funny in a memorable Paul Bogart comedy Skin Game, which was unsuccessfully peeled off into a TV pilot with the less suggestive title Sidekicks. Gossett and James Garner posed as a slave and his master, all the better to fleece Southerners; this good-time, bad-taste comedy anticipated Blazing Saddles by a few years.
Gossett appears at Cinequest with his new film, The Least Among You, based on a true story of a man arrested after the Watts riots and sentenced to serve some time in a white seminary. At the seminary, the angry young man meets a janitor (Gossett) who is trying to conquer his own alcoholism. Gossett's more than merely commanding presence, even in humble roles, suggests that alcoholism wouldn't have a chance. This Maverick Spirit event includes a screening of the movie and a Q&A session with Gossett.
Also worth noting at Cinequest is Canary, with a Cronenberg subject approached by the South Bay's avant-garde filmmaker Alejandro Adams (Around the Bay). Canary is a gore-free speculative fiction film. With a cast of some 50 characters, including the director's young daughter, Adams darts around a near-future organ-harvesting scheme run by the Canary Corporation. We're lead through the various destinations by a dark, lone female figure (Carla Pauli). After immobilizing her subjects with an aerosol, she uses some sort of noninvasive green goo to get what she needs. An investigative news reporter finds one Canary employee (Galen Howard) who does understand what's going down. The reporter is opposed by his skeptical producer (David Menashe). Canary is a difficult film; a second viewing makes the control and intelligence clearer, as well as the keenness of the troubling humor. It helps that there are familiar locations, including the De Anza swap meet and the Christmas village in Cesar Chavez park. Blood and guts would have sold this film, but there's more than enough cold-blooded behavior on screen here.
LOU GOSSETT JR. appears Monday (March 3) at 7pm at the California Theatre. CANARY shows March 3 at 6:30pm and again March 7 at 4pm at San Jose Repertory Theatre. See Cinequest.org for ticket information.
Click Here to Talk About Movies at Metro's New Blog
Send a letter to the editor about this story.