02.25.09
home | metro silicon valley index | the arts | stage | review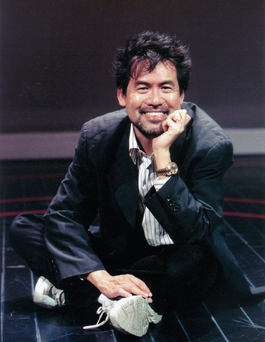 SATIRICAL EYE: Playwright David Henry Hwang contributes a serious comedy, 'Yellow Face,' to TheatreWorks' upcoming season.
On the Horizon
By Michael S. Gant
AS SURELY AS the cherry blossoms pop in February, the area's theater troupes announce their upcoming seasons—a kind of spring-into-fall phenomenon. On Monday, San Jose Repertory Theater unveiled the first full season under new artistic director Rick Lombardo, who is replacing longtime Rep leader Timothy Near. The six-play season begins in August with Shakespeare's As You Like It, which should give audiences a chance to see how Lombardo, late of Boston's New Repertory Theatre, interprets the classics.
Landscape With Weapon (opening Oct. 10) is the American premiere of Joe Penhall's political drama, directed by Kirsten Brandt. The play looks at the moral dilemmas that dog a man who proposes a great advance in military technology used unmanned drones—which sounds like it should have great relevance to American incursions into Pakistan. As its holiday offering, the Rep reprises A Christmas Story, based on the popular movie. For 2010, the company presents Conor McPherson's The Weir, about the stories people tell in an Irish pub to ward off some harsh realities. The Fats Waller musical Ain't Misbehavin' complete with jazz band follows; the season wraps with the local debut of Melinda Lopez's Sonia Flew, a play about the fraught relationships in a Cuban-American Family. For details and ticket info, check the website at www.SJRep.com.
Last week, TheatreWorks held a day-long gala to trumpet its 2009–10 season, the company's 40th. The must-see play on tap looks to be David Henry Hwang's Yellow Face (opens Aug. 26), billed as a biting comic memoir about negotiating the fault lines of race in America. Hwang is best known for his play M. Butterfly. The season starts in mid-July with Tinyard Hill, a world premiere musical presented as part of the New Works Festival. In what looks like a bit of a strange choice for a holiday play, the company presents A Civil War Christmas by Paula Vogel. The play uses historical figures—Lincoln, Walt Whitman et al.—to bring to life Christmas Eve 1864 in Washington, D.C. Making the Civil War heartwarming—that's asking a lot.
Two interesting revivals of sorts are worth keeping an eye out for. Daddy Long Legs skips over the famous Fred Astaire movie and goes back to the original novel by Jean Webster for a brand-new telling of the story of an orphan girl and her distant benefactor; it's still a musical, but with a different spin. Also with cinematic echoes is To Kill a Mockingbird from the novel by Harper Lee, and indelibly etched on several generations of filmgoers by the performance of Gregory Peck as Atticus Finch. For details, check Theatreworks.org.
Also just out is the roster for next year's season at Opera San Josť. Jules Massenet's Manon leads the way, followed by Rossini's Cinderella, Mozart's perennial The Marriage of Figaro and Puccini's The Swallow. Stop at www.operasj.org for full details.
Send a letter to the editor about this story.