02.25.09
home | metro silicon valley index | columns | style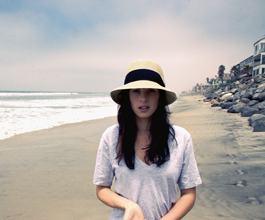 HAT TRICK: Straw fedoras by Brixton (center right) and Gucci (top right) make a gallant statement, while plumed headwear, such as an Alex and Ani barrette (below) or a Jennifer Ouellette headband (right), has a more girlish appeal.
Style
Hat's Entertainment
By Alexis Mendoza
THE DEFINITION of hats has changed. Women today are finding it hard to walk out the door without adding a little something to their 'do. Glittering headbands, fedoras and feather clips have all made their appearances on some of Hollywood's most fashionable starlets. The likes of Lindsay Lohan and Ne-Yo have been caught on and off the red carpet donning some fabulous headgear. Ne-Yo even rocked a hot fedora on the red carpet at this year's Grammy Awards.
Winter is a great time of year for hats, but summer tresses need not feel left out. The word "hat" seems to have taken on a whole new meaning as more and more intricate chapeaux are assuming the definition. Walk into any Urban Outfitters these days, and you'll find all kinds of vintage-look headwear, such as clips or hatlets with mesh to drape over the face.
Thick, knit watch caps slung low on the head have become a popular option for both men and women. Johnny Depp and the Olsen twins have been sporting this boho chic look for some time now. As for the summer, even dull hairdos are in luck. Native American–inspired head wraps with feathers are perfect beach material to keep salt-drenched tresses from looking like dreads. Tanning on the beach has never been more enjoyable than with a large floppy brimmed hat shielding delicate faces from harmful UVs.
The addition of head accessories can glam up any outfit, even nightwear. Pull back a section of your hair and hold it up with a bejeweled feather clip that'll keep the attention near the your face. As with any style, wearers beware—there are some hats out there just waiting to ruin your look. Before walking out the door, make sure you can clear low door frames and keep from scaring children.
A trip to Paris only costs $75 with the purchase of a simple red beret from Bop Basics, found only at shopbop.com. Head accessories can be found at low prices at stores like Anthropology and Forever 21. There, buyers will come across an array of little clips and hair bands that can give an outfit the edge it needs.
For fashionistas who want more unique toppers, up-and-coming designer label Alex and Ani has just the right thing. This line dots fabulous headbands and barrettes with enough jewels and feathers to keep any audience fixated.
A fedora these days is becoming a throwback staple item to pair with casual outfits. Both megacouture houses like Gucci and small designers like Brixton are coming out with these simple, wear-with-anything hats. Brixton's fedora selections can be found at www.swell.com for $40 or less. Gucci has a straw fedora, ideal for women who want to add a masculine touch to their attire, but it will set you back about $300.
A beautiful black-velvet leaf headband from Jennifer Ouellette is an excellent extra for any outfit. Dress up a LBD or make a T-shirt and jeans look more pulled together with this chic piece, which can be found at www.shopstyle.com for $75.
An ostrich-feather caplet, also from Jennifer Ouellette, is a unique and gorgeous way to glam up a outfit for the evening. It's light-catching ostrich feathers are sure to add some sparkle to undone hair. This headband can also be found at www.shopstyle.com for $75.
Send a letter to the editor about this story.