02.27.08
home | metro silicon valley index | movies | current reviews | cinequest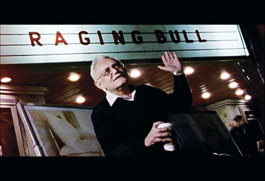 Mardik Martin stars in documentary about his screenwriting career.
What's Up, Docs?
Cinequest's documentaries range from local history to political speculation
By Michael S. Gant
SOME FASCINATING documentaries at Cinequest show just how far—and how wrong—filmmakers can go with the nonfiction genre. One tried-and-true tactic is to introduce us to someone we really would like to know. If that means lots of static talking-heads footage of friends and family, then so be it. If the anecdotes are good enough, nobody notices. Another approach is to go experimental and use the conventions of the genre to expose society's foibles and hidden truths.
In the first category, Cinequest veers from the engrossing Mardik: From Baghdad to Hollywood and Broadcast Cowboy to the near vanity project Quincy Coleman: It's All in the Song. The subject makes all the difference. Probably only hard-core film historians recognize the name of Mardik Martin. An Armenian born in Baghdad, Martin grew up watching Hollywood musicals and dreaming about America. He moved here in 1958 and enrolled in the NYU film school.
When he met a student named Martin Scorsese, a grand collaboration was born. Martin co-wrote Mean Streets, New York, New York and Raging Bull (he also co-wrote Ken Russell's Valentino, but no one holds that against him). Hollywood beckoned, but Martin could never gain any traction, finally succumbing to drugs. Eventually, he found redemption teaching film at USC.
Martin, alive and kicking, is a natural-born raconteur. He relates his life with a sense of humor hard won through years of bitterness and regret. It helps that Scorsese provides a host of memories about his old pal. Ramy Katrib and Evan York's film is marred only by some gimmicky bridging animations.
David Washburn's Broadcast Cowboy (part of Shorts Program 4) shows how to craft a nearly perfect personality portrait in only 20 minutes. (Prolixity can sink a musical documentary, witness another Cinequest entry, Les Paul—Chasing Sound, reviewed on page 38). The film recalls the career of a Bay Area original. Stephen McSwain, a.k.a. Dude Martin, formed a Western swing band in the 1930s. During World War II, workers from the local shipyards flocked to hear Martin and his boys perform at a Richmond dance hall. Later, Martin took to the airwaves, broadcasting an early TV variety show on KLX, atop the Tribune Tower in Oakland.
Broadcast Cowboy is local history done right. Before national networks dominated the medium, regional TV shows could generate niche stars. (One of the interviewees is just such a nicher: Shorty Joe, who led a '50s San Jose outfit known as the Red Rock Canyon Cowboys, which could be heard on KLOK.) Martin certainly had talent, as the amazing clips show: he was an aw-shucks-handsome type in snappy rhinestone shirts who could pick lively and joke with audiences. A jump to L.A. never really panned out, and Martin ended up doing late-night TV commercials. Washburn's documentary gives Martin his due without overstaying its welcome.
And then there is Quincy Coleman: It's All in the Song. Coleman, the daughter of actor Dabney Coleman, decides that since her brother and sister have successful music careers, she should have one, too. This unabashed chronicle of her fight to the top (the top being two songs on the Waitress soundtrack) shows us the struggles of any young musician—the nights on the road, the small crowds, the confounding refusal of the world to take notice. We might care if only ... if only Coleman didn't have a brittle quality in her singing voice and wasn't so anxious about finding fame. It's great that she volunteers at a local vets hospital, but it doesn't take the edge off her self-absorption. Filmmaker Jaime Gomez keeps zooming in and out of extreme close-ups and tracking wildly while the interview subjects are trying to talk. Maybe the film is a subtle satire on ambition, but I get the impression from the shoutouts in the credits that it is a labor of love.
The Danish film AFR and the American entry Karl Rove, I Love You demonstrate that faking it can be justified. Both films score political points in the guise of "real" documentaries. Karl Rove, I Love You, by Dan Butler and Phil Leirness, starts with the intriguing notion that Rove was the ultimate character actor in the Bush administration, just as real-life character actor Butler is on TV (Bulldog on Frasier) and in movies (too many to count). The conceit is that Butler, appalled to learn from his liberal friends how powerful Rove has become, wants to star as Rove in a one-man play.
The more Butler learns about Rove, however, the weirder he becomes. Much to the dismay of his pals, Butler begins to fall for Rove. In a series of increasingly deranged videotaped messages, Butler confesses his political shift. Lots of funny bits (including long-distance footage of a meeting between Rove and Butler and warnings about the unexplained fate of the director) are undercut as the film drags on for about 30 minutes too many. The real problem, though, is timing. The film is set in 2004; now, after Rove's departure, it feels like ancient history.
Some familiarly with Danish politics will help viewers orient themselves to AFR. Looking very much like a genuine news story, the fictional AFR posits that the real (and alive) prime minister of Denmark, Anders Fogh Rasmussen, has been assassinated by his estranged gay lover, a punk anarchist. It's Death of a President with less forensics and more political bite.
Mixing real footage of Rasmussen with extremely convincing actors playing his allies and detractors, even his grieving wife, director Morten Hartz Kaplers wants to urge an alternative-universe future on the conservative prime minister. Influenced by punker Emil's ideals, Rasmussen becomes a reformer who wants to abolish poverty (shades of W's recent visit). An African activist praises Rasmussen as "the Gandhi of our time," while the PM's conservative backers shudder: "He was trying to unite the socialists of Europe—madness!" It is hard to imagine an American filmmaker getting away with this kind of "What if?" piece about the president. After having to defend those Danish cartoons that sparked violent protests in the Muslim world, the Danish authorities probably have no choice but to swallow hard and take it. The director nails the point home with an opening quote from Rasmussen himself about free speech.
Mardik: From Baghdad to Hollywood shows March 2 at 4:30pm and March 4 at 9pm, both at Camera 12; and March 7 at 4:30pm at San Jose Rep.
Broadcast Cowboy shows in Shorts Program 4, March 1 at 6:45pm and March 2 at 9:30pm, both at Camera 12.
Quincy Coleman: It's All In The Song shows March 1 at 5:15pm at Camera 12.
Karl Rove, I Love You shows March 8 at 5pm and March 9 at 2:45pm, both at Camera 12.
AFR shows March 2 at 1:45pm and March 9 at 2:45pm, both at Camera 12.
Send a letter to the editor about this story.