02.27.09
home | metro silicon valley index | movies | current reviews | cinequest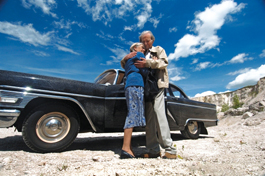 Konyec
(Hungary) What to do when you are in your 80s and can't pay the utility bills? Maybe it's time to take up a life of crime. Konyec follows an elderly Hungarian couple, Emil and Hedi (Emil Keres and Teri Földi), hounded by collectors, and their exploits robbing banks and subsequently living the high life. The side story of the officers chasing the octogenarian crooks gets in the way of the main plotline, but overall the Konyec presents a sweet alternative to the standard image of life's final years—one about letting go and finding youthful joy in spending time with the one you love. (CT)
Feb. 28 at 2:15pm, March 5 at 9:30pm and March 6 at 7pm, all at Camera 12.
Les Paul—Chasing Sound
(U.S.) The problem with biopics about influential people who are still alive is that they tend to play like an overextended Lifetime Achievement Award presentation. The 86-minute Les Paul—Chasing Sound! could easily be cut down to a half-hour show without shortchanging the now 92-year-old inventor of multitracking, overdubbing and solid-body electric guitars. With no dramatic arc, the film focuses on the best parts of Paul's life, from his days as a young country, hillbilly and jazz guitarist through his hit-making years with Mary Ford. Cameos by acolytes like Tommy Emmanuel, B.B. King, Tony Bennett, Ahmet Ertegün and Kay Starr do little to deepen the story, but they certainly drive home the point that Paul's genius and innovations blew many minds back in the day. (MC)
Feb. 28 at 9pm, March 3 at 2:30pm and March 4 at 9:15pm, all at Camera 12.
Mars & Venus
(Norway) Directors: Enough with the cheesy film narration! Ida and Matthias (Pia Tjelta and Thorbjřrn Harr) are a young married couple with two children, and through every stumble and tension-filled moment, in comes the voice of their young son, clinically reciting lines likely straight out of Men Are From Mars, Women Are From Venus (hence the movie's not-so-subtle title). What redeems this film by Eva F. Dahr is spot-on acting and a story line revolving around the all-too-common slow-coming avalanche of misunderstandings and human error that typically leads to divorce. (CT)
March 2 at 6:45pm, March 8 at 7pm and March 9 at 3:30pm, all at Camera 12.
Miscalculation
(Hungary) For the troubled individuals in Miscalculation, reckless ego becomes their biggest adversary. Shot in Budapest, the film unfolds in surreal a Kafkaesque gray and brown palette of depression and bureaucracy. Hoffman Jr. (Máté Haumann) sits at the dinner table every night listening to his egotistical, supermarket-owning father lecture endlessly on wine, music and gourmet cooking. Alienated and hopeless, Hoffman Jr. decides to join a local radical political group preparing to topple the corrupt government. Meanwhile, a secret government service known only as the "Mezzanine" is on the hunt for subversives. The three cops that run the Mezzanine share a cold, cruel belief in superiority, perceiving every citizen as a potential threat to their organization. When Hoffman Jr. tells his father he wants to become a revolutionary, Hoffman Sr. fears for his son's safety and hatches a plan of his own. All is not what it seems, though, and what started out as a game becomes a dangerous and toxic mix-up for everyone involved. Ultimately, director János Vecsernyés' film is a statement on how those in power invent their own struggles and become the cause of their own demise. (JF)
Feb. 29 at 4:30pm, March 2 at 11:30am and March 4 at 2:30pm, all at Camera 12.
The Night of the White Pants
(U.S.) In this loose-limbed Texas comedy, Tom (Michael Clayton) Wilkinson plays a millionaire patriarch with a bad heart who is losing his company and trophy wife. He embarks on a journey to the end of the Dallas night with his daughter's (Selma Blair) punk-rocker boyfriend (Nick Stahl). Both the Texans and the punks are surprisingly polite. The notion that punk and bidness can get along is suspect, but Wilkinson is so charismatic and Stahl so likeable that if the audience squints, they can see a rough comedy of manners. (DH)
March 6 at 7pm and March 8 at 9:30pm, both at the California Theatre.
Once Upon a Time Maria
(Mexico) "Mexican movies are so bad," the main character's mom laments in Once Upon a Time Maria01111111i>. "All those movies they make full of sex and cursing ... and drugs, how awful!" Naturally, Mexican writer-director Jesus Magana Vazquez places this scene in his movie containing all three. On top of that, the character's son also happens to be an aspiring Mexican film director. That's the kind of cheeky and distinctly Mexican humor that makes Vazquez's film fun. In order to enjoy it, though, one has to almost completely ignore the story, which has Our Hero (Tonatiuh, played by Julio Bracho) swimming in women named Maria. Or maybe that's not their name. It's not possible to know when Vazquez sets Tonatiuh up as a completely unreliable central character who doesn't know when he's dreaming or if the women he's talking to are or aren't there. It's also hard to keep the Marias straight on first viewing, though it's not such a big deal on the second. The choppy linear structure, which occasionally repeats scenes with slight variations, adds to the confusion, which unfortunately blunts whatever emotional impact Vazquez intended with his themes of loss, love and loneliness. But the sex—wow. Did I say this movie contains sex? It's more like it is sex, and when it burns with physical intensity and playfulness it's pleasant eye candy, if not a whole lot else. (SP)
Feb. 28 at 4:15pm, Feb. 29 at 9:15pm and March 2 at 9pm, all at Camera 12.
A Perfect Match
(Belgium) The chilly winter atmospherics of Ghent, Belgium, form the backdrop of this lonely tale of retired widower Leopold Vossius in search of a new wife. Normally, he sits around in his studio making etchings of dead trees while his bombastic housekeeper takes care of the place. When she decides to leave, Leopold's zonked-out neighbor Julien kick-starts him on the Internet path to a new wife, only to find Leopold on dates with a menagerie of hysterical women, only one of which seems to be the right one at first. Then everything changes when a new young housekeeper moves in to tend to Leopold's everyday routine. The emotions take over, and a small backstory with Leopold's estranged Scrabble-addicted son emerges. Loneliness, longing and loss all wonderfully intertwine in a love story that keeps you until the end. (GS)
Feb. 29 at 9:30pm at Camera 12; and March 2 at noon and March 3 at 9:30pm, both at the California Theatre.
The Reject
(Serbia) This bizarre, pretentious Serbian film has a gambling addict named On fired from his job as a banker and pursued by mysterious sinister types in black. Director-writer Milos Radivojevic likes to work with co-producer Svetozar Cvetkovic, who stars here as On, and it's easy to see why. He is an effortless actor whose expressionistic face and understated delivery make him extremely watchable. Unfortunately, this time the material is not; in fact, it's practically nonexistent. This is the kind of film where many Meaningful Looks are exchanged, the kind that seem to say "Aaaahhhhh" even though there's absolutely nothing to say "Aaaaahhhh" about. On meanders through his own story, getting caught up now and again in what are apparently dream sequences—it's hard to say for sure, but neither does it matter all that much. Aside from some nice landscapes in the second half, it's all pretty much talk. Characters blather on about the sorry state of the world and each other, but with lines like "This is the night of mediocrities," it can hardly be called deep. The mysterious pursuers are the only thing that moves the film along, and the need for some kind of explanation is the only reason to stick around for the finale. Don't get your hopes up. (SP)
March 1 at 7pm, March 2 at 4pm and March 5 at 2:30pm, all at Camera 12.
*Ruby Blue
(U.K.) Shows like To Catch a Predator make the hunt for potential child sexual abusers seem more like a distorted game than a public service. As such, it's surprising to see an uplifting film like Ruby Blue take on the issue. Bob Hoskins plays Jack, a man whose long-suffering wife has just died. His son rejects him, and neighborhood hoodlums harass him. In a modern-day English town, Jack spends his gray, depressing days brooding and boozing around his neglected house, unshaven, dejected and self-hating. The sun starts to shine, though, when an attractive older French woman and a precocious little girl befriend him. Jack slowly begins to come out of his shell and help those around him. But when the little girl suddenly goes missing, the neighborhood starts to turn on Jack, believing that he had something more sinister in mind with their innocent friendship. The highlight of writer-director Jan Dunn's drama is the lead. Hoskins is able to show more frustration and emotion in the act of throwing pieces of a tuna sandwich off a pier than most actors could summon in a full-on tirade. Ruby Blue shows how a community can come together to help someone, and then just as easily turn on him when paranoia comes into play. With charm and quality acting, the film is ultimately able to remain positive and reassuring, even as it deals with such sensitive and loaded subject matter. (JF)
March 3 at 7pm at Camera 12, March 6 at 9pm at San Jose Rep and March 7 at 1:30pm at Camera 12.
Shelter Me
(France/Italy) Veteran Italian director Marco Simon Puccioni delivers a drama that rides on excellent acting and an understanding of the societal clashes and personality rifts that tear people apart. Returning from a trip to Tunisia, lesbian couple Anna (Maria de Medeiros, Pulp Fiction) and Mara (Antonia Liskova) discover an illegal Arab immigrant stowed away in the back of their car. Anis is desperate and alone in Italy. Anna, the wealthy co-owner of a company, decides to take the teenager into her home and give him a job. Though Mara, who works at Anna's factory, initially distrusts Anis, they eventually form a bond. Anis doesn't fully understand why the women live together, but Anna mothers him, and the three come to form an untraditional family unit. When Anna's mother publicly rejects their relationship and the death of Mara's father pushes her over the edge, the emotional fallout threatens to destroy everything the women hold dear. De Medeiros and Liskova give beautifully authentic and unforced performances, both as a troubled couple in love and as imperfect, complex individuals. (JF)
March 6 at 6:30pm and March 8 at 4:30pm, both at Camera 12.
Sherman's Way
(U.S.) Surprisingly funny fish-out-of-water tale. Uptight Yale law student Sherman (Michael Shulman), called too unyielding by his girlfriend, impulsively flies from his white-shoe law firm internship in Manhattan to see her in Napa. She is otherwise engaged, so he thumbs a ride with washed-up Olympic downhiller (James LeGros, in the kind of role Don Johnson once owned) and ends up in Lake County. Snappy banter ensues as Sherman learns to loosen up. He stops and smells the lavender in a Northern California that still exists in the popular imagination, where the weather is mild and people don't have to work much. The drop-out theme hints at many '70s films, and although Sherman's Way almost settles in Sentimentalville, the strong script and performances deliver an often delightful tour of the Golden State. (DH)
Feb. 29 at 7pm, March 2 at 4pm, March 5 at 4:30pm, all at San Jose Repertory Theatre.
The Silence Before Bach
(Spain) What Russian Ark tried to do for great-master paintings, The Silence Before Bach tries to do for the great-master composer. A series of wildly disparate scenes are connected by beautiful renditions of Bach's cantatas and fugues. Some moments offer visual complements to the music—in one of the best, a player piano on wheels spins in mechanical joy as it produces glorious sounds. Other scenes—a truck driver who plays Bach on the harmonica and a blind piano tuner at work—go nowhere. Some time-warp editing takes us from modern-day Bach re-enactors in his home-town church to historical scenes set in Bach's and Mendelssohn's time (supposedly the latter discovered the manuscript for the St. Matthew Passion). I agree that "Without Bach, God would be diminished," but the film remains a puzzle. A sequence in which music students pound away on their grand pianos recalls a delirious moment in the Gene Kelly/Frank Sinatra musical Anchors Aweigh, with young pianists going at it at the Hollywood Bowl in Busby Berkeley–style synchronization. Best Line: "My master would rather go through hell than have a Wednesday without breaded brains." (MSG)
Feb. 29 at 4:30pm, March 4 at 6:45pm and March 8 at 10am at Camera 12.
The Sinking of Santa Isabel
(U.S.) Allegedly a comedy, The Sinking of Santa Isabel barely floats in the genre; if anything, the film is a drama about coming to terms with loss. Four strangers become friends after Webster (strong newcomer Maclain Nelson) moves into his former childhood treehouse, now owned by a sweet elderly couple. As Webster becomes a fixture, his neighbors and postman are wrapped into his short-term world, which includes a rigid schedule of leaving the treehouse bunker for no more than one hour per day. However, the film lacks a strong core, seemingly hoping to attain Wes Anderson style and humor while the script drowns amid the task. (CT)
March 2 at 7:15pm, March 3 at 9:15pm and March 5 at 2:15pm, all at Camera 12.
Speed Dating
(Ireland) Hugh O'Conor delivers an appealingly lost portrayal of a poor little rich boy, aged 30 and hooked on speed dating. He deserves better than the globalized Irish stew of a script, however, which owes more to a homogenized Europe than the Old Sod. Ostensibly set in Dublin, the blandly overplotted Irish production veers from dating comedy (see the title) to quirky family comedy (think Harold and Maude) to lager-lad comedy to anglicized Mamet play (think Guy Ritchie). Neither very funny nor offensive, but wildly implausible, the film has a sweetness that derives from the interplay between O'Conor and his nurse (Emma Choy). (DH)
March 5 at 9pm, March 7 at 9:30pm, March 8 at 1:45pm, all at the California Theatre.
The Substitute
(Denmark) In a clever version of The Faculty, an alien beastie lands on Earth and turns into a terrifying blonde substitute teacher who wants to learn something about empathy, the one quality that humans have that the aliens don't. The sub, named Ulla Harms (the alternately formidable and seductive Paprika Steen), evinces nothing but contempt for the sniveling kids in her class: she has never seen "so many astonishingly untalented students;" they are "weak, sweaty little dumplings." In other words—all children left behind. The kids have various cares and woes in their home life but finally learn that altruism is almost as good as a death ray. Bonus points for a robot minister of education (aren't they all?) and the sight of Ulla suddenly growing lots of tentacles in order to solve some parent-teacher confrontations. Best Line: "Say goodbye to your last day on Earth." (MSG)
Feb. 29 at 7pm, March 1 at 9:30pm, March 3 at 9pm and March 4 at 9:30pm, all at Camera 12.
*Superheroes
(U.S.) Often effective and obviously well-researched bromance between a badly injured Iraq vet, Ben (Dash Mihok), and Nick (Spencer Treat Clark), a flighty kid with a video camera who proposes to document his life. The Nick Nolte–ish Mihok convincingly depicts the sufferings of a 30-year-old ruin, living at home, existing on pills and lamenting a busted marriage. A girl, Kelly (Kelly McAndrew), seems ready to be a romantic lead, and she's got a story of war and mutilation to tell. But she gets dropped from the film fast and hard; meanwhile, Ben and Nick start to grow so close, you wonder if writer-director Alan Brown is trying to tell us something. (The ending—the standard finale for gay romance, in films from the 1950s to Stonewall—is another possible clue.) I can't imagine the finish pleasing either vets or gay people, though. I could have done without the repeated cuts back to a studio where Nick's ex-girlfriend is training with a woman's dance troupe. It's probably meant as a visual contrast between female grace and male violence, part of the implicit protest of the heedless machismo indicated by the title. (RvB)
March 1 at 9:45pm at Camera 12, March 3 at 7pm at Camera 12 and March 4 at 5pm at San Jose Rep.
Three Priests
(U.S.) In theory, Three Priests is a timeless story of sibling rivalry, a genre occupied by heavyweights like the Bible (Cain and Abel), Steinbeck's East of Eden and Kesey's Sometimes a Great Notion. Living on a prairie, Jake Sands' sons are polar opposites—Dusty is the gregarious, thrill-seeking older brother, Joe the pensive introvert. When they fall for the same woman, all implausible hell breaks loose. Shot in bleak, high-contrast sepia tones, Three Priests looks like a long dream sequence, and sometimes the editing and pacing is a bit dreamlike—as in cluttered and utterly ludicrous. (MC)
March 1 at 7:30pm, March 2 at 6:45pm and March 4 at 2pm, all at Camera 12.
Treseta: A Story of an Island
(Croatia) A stark island, suffused with autumnal light, off the Croatian coastline is the dominant character in this often wordless film. Most inhabitants connect to the outside world through a supply boat that arrives once a day. Treseta is a card game, and an opening flashback shows a Treseta tournament in the island town hall. The hall is now ruined, as is a Treseta foursome reduced by the death of one player. The trio looks for a fourth, while the other inhabitants seem somnambulized by the past, some by the war. Yet they endure. Despite being dwarfed by their surroundings, the island residents show that petty human bickering can enlarge to fill any space, and a small boat's light can become hope made manifest. (DH)
March 5 at 9pm, March 6 at 2:30pm, March 7 at 9:30pm, all at Camera 12.
The Village Barbershop
(U.S.) The film's advertising graphics are meant to suggest Alexander Payne, which is a demonstration of ambition right there. Devoted fans of About Schmidt will be particularly fond of writer/director Chris Ford's modest charmer. It concerns a curmudgeonly Reno barber (John Ratzenberger, best known as Cliff from Cheers, but also a longtime voice actor at Pixar). Though his business is dying, and he has been solitary for years, he is rejuvenated by a young, pregnant hairdresser, Gloria (Shelly Cole, a regular on Gilmore Girls). She worms her way into his business and thence into his heart. In its attention to the business side of things, this movie has more in common with Lubitsch's The Shop Around the Corner than it does with Barbershop. Immaculate acting by the two principals—three principals, if you count Cindy "Ferris Bueller's mom" Pickett as an aging cocktail waitress—keep this film on track. The downside: like all intelligent comedy directors, Ford is trying to blend low-down and gentler comedy. And he doesn't seem to have much appetite for the low-end of humor (note the nervous way he stages a customer telling a dirty joke, as if he'd rather not hear such a thing). Cornpone acting among some of the minor characters is another drawback. Most of the time, The Village Barbershop is the little boutique movie at its finest; other times it's the little boutique movie at its most crowd-pleasing. (RvB)
Feb. 29 at 7pm at Camera 12; March 2 at 11am and March 3 at 9:15pm, both at San Jose Rep.
Unfinished Girl
(China) A sensational performance by Gao Yuanyuan anchors a sometimes baffling drama. Pale, rail-thin Xiao Ke (Gao) suffers from a terminal brain tumor. Before she goes, she wants to know the truth about what happened to her dead parents, and her top suspect turns out to be her brother-in-law, He Wei (Xu Zhang). Director Cheng Er favors long, chilly takes with a minimum of intrusive cutting, although he sometimes jams together scenes in a way that creates a confusion about the present-tense narrative vs. flash-forwards and flashbacks. But the heart of the film lies in the brutal showdown of recrimination and forgiveness between Xiao Ke and He Wei, which plays out with claustrophobic intensity. Gao (who starred in Shanghai Dreams, a Jury Prize winner at Cannes in 2005, and was cast in Jackie Chan's Rob-B-Hood, a popular 2006 Hong Kong actioner that didn't get stateside release) is a revelation. Beneath a wan exterior, she exhibits a steely resolve. In one magnificent long take, she delivers a fervent monologue, her eyes very slowly puff up with barely repressed tears as the camera relentlessly tracks in for a close-up that is both painful and hypnotic. (MSG)
Young People Fucking
(Canada) Titled with all the subtlety of a porno, this is an improvement over last year's Cinequest teen-fuck flick, The Boys & Girls Guide to Getting Down. Both films hang on a gimmicky narrative structure, organizing their subject matter into too many cutesy chapters, but YPF uses eight fewer, which means less spectus interruptus (apologies to Latin) and more action. YPF is also funnier, with better acting and a more sympathetic treatment of its chosen aardvarkers: "The Friends," "The Couple," "The Exes," "The First Date" and "The Roommates." And as commonplace as these types have become in popular culture, there are unexpected little bumps (and grinds) in each of the film's bedrooms. (MC)
Feb. 29 at 7pm at Camera 12 and March 4 at 7:15pm at San Jose Rep.
Young, Single & Angry
(U.S.) The four friends in Young, Single & Angry—essentially an L.A. Sex and the City on a shoestring budget—are neither that young nor that angry. Taylor (Sarah Blevins) turns 35 in Wendall's, a local watering hole where her friends Dot and Katy navigate that awkward age between sex kitten and cougar. Taylor devotes herself to a self-help book that frames the film. Kinky sex scenes punctuate the 3/8-life singleton crises, although director Richard Waterhouse confounds love and excrement in an inelegant bastardization of Yeats. The ending is an astonishing display of L.A. self-celebration. (DH)
March 6 at 9:15pm and March 7 at 4:15pm, both at Camera 12.

Reviewers: Jeffrey M. Anderson (JMA), Mike Connor (MC), Jessica Fromm (JF), Michael S. Gant (MSG), Don Hines (DH), Stett Holbrook (SH), Steve Palopoli (SP), Claire Taylor (CT) and Richard von Busack (RvB)
Send a letter to the editor about this story.