02.27.08
home | metro silicon valley index | movies | current reviews | cinequest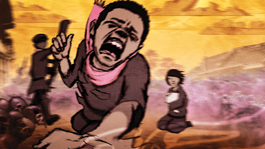 Rain Breaw's student short 'Underpass' switches between film- and graffiti-style animation.
Time Savers
A Guide to Cinequest Short Features
Shorts Program 2: Temptations
Uncommonly well-rounded and well-made batch of short feature films in a diverse range of styles and genres that still hold together with broad appeal. Eva Weber's British City of Cranes manages a certain documentary Zen via heavy machinery; Austria's Lucas Vossoughi disturbs and confounds with the bitter relationship (and spelunking!) drama Embrace; Mexico's Alejandro Lubezki rips the art world a new one in the satirical Flash Lesson. But the best short here—in fact, one of the best I've ever seen—is White Vans from Canada's Aren Hansen. Not only is it a revolutionary approach to microfilmmaking—gonzo documentary fantasy, maybe?—but it will make you think about stolen bikes like you never have before. In the end it feels more like a movement than a movie. (SP)
Feb. 28 at 4:45pm and March 1 at 9:30pm, both at Camera 12.
Shorts Program 3: Forward, Backward, Sideways
A hodgepodge of shorts that loosely fit into the realm of exploring ethical significance. The final two films in this collection are both strong moral lessons. Touting a skewed message of social consciousness, Sovereignty was written by Pulitzer Prize–nominated author Rolin Jones, who is also a writer and producer for the Showtime series Weeds. The black-and-white film starts out like a parody of the intro-sequence from Leave It to Beaver, complete with cheesy music and cookie-cutter wife Mrs. Elsbeth stepping out onto the porch of her flawless suburban home. Mrs. Elsbeth cheerfully converses with the camera as she tends to her flower garden, gossiping about her best friend and the peculiar new family that just moved in next door. The story's characters and tone grow more and more twisted as Mrs. Elsbeth's small, artificial existence is violated by the troubles of the world beyond her tulips. Giving a whole new meaning to the term "trailer trash," director Colin Cunningham's short film Centigrade is also quite good. A creepy thriller of the Twilight Zone persuasion, the film is successful at conveying an acute sense of panicked claustrophobia, even if Cunningham does overdue it on the "thump-thump" horror-movie sound effects and heavy breathing close-ups. (JF)
Feb. 29 at 4pm and March 2 at 2:15pm, both at Camera 12.
Shorts Program 4: Signals, Noise and Silence
The excellent documentary Broadcast Cowboy (see Documentary sidebar), about Bay Area swing legend Duke Martin, stands out in a strong program. The dry Icelandic comedy Rattlesnakes exposes a tiny midlife crisis when a middle-aged car salesman buys a pair of snakeskin boots and starts to change. He suggests a new slogan for his company: "Funky Cars." He jokes excessively with the customers. A flustered manager tries, obliquely, to settle him down: "Some people have to live their lives always on the lookout for snakes," he argues; but in Iceland we can wear any shoes we want. Wearily, the man succumbs to conformity and a pair of tennis shoes. Autumn Andel's Whisky Marine exposes a talented animator who brings to life images from Max Ernst's Beyond Painting. The story follows the mysterious life of the artist who found visual alchemy in the art of collage. Andel's technique is marvelous mix of life action and illustrated birds set free to fly. The British short Soft pins down a man and his teenage son in a small but intense moment in which the choice between resistance and violence must be made; the conclusion is unsettlingly open-ended. Less steady is Louis & Anne, a baffling French fable about a doctor, his way girlfriend and a strange experiment. Justin Kelley's ambitious Front looks like an update on 1979's Over the Edge. A group of bored kids, cut loose by divorced, distracted parents, hang out in a desert gully behind a stultifying suburban neighborhood. The details feel right, but ultimately, bored kids are boring, even when they start beating up adults. (MSG)
March 1 at 6:45pm and March 2 at 9:30pm, both at Camera 12.
Shorts Program 5: Rescue Me
The raw power of the shorts here make a powerful argument: that while there is no real commercial setting for short films, there should be. So many cinematic conventions go out the window, often to great effect. This collection rivets from the first scene in Morbido, which begins with an arresting shot of a man wearing his serious face, staring into a mirror, pressing a pistol to his temple. He lets it down, only to replace it with renewed determination. To say more would spoil it. In A Day's Work, Edward Feldman manages to make a profound statement about the universality of human emotions and empathy—succinctly, in under 10 minutes. Jurjen Blick's Oubliette takes advantage of the short form to play a little trick on you, and in doing so illuminates the strangely circular shape of a human life. The Danish film A Shadow of Doubt stitches together a sweet romantic drama with an exhilaratingly unpredictable horror film. All in all, a standout program not to be missed. (MC)

March 1 at 6:45pm and March 2 at 9:30pm at Camera 12.
Shorts Program 7: Life Lesson
The French film Tony Zear (directed by Valentin Potier) makes a clever plea for tolerance. A young man (Nicolas Clerc) with extra-large ears hides from the world in his sound-proof room until he meets a girl like him (Audrey Marney looking like Shelley Duvall in Popeye). The film manages to be both funny and touching, especially a family dinner in which everyone whispers. Kurt Kuenne's The Phone Book turns the L.A. phone book into a character-generating machine. Various types (a lonely man, a womanizer, a limo driver) intersect thanks to a fast montage of names, numbers and directory info, scored to a Kuenne's pounding classical soundtrack. The setup is intriguing, but the payoff isn't worth 20 minutes (although the coda punch line is pretty good). Scott Keiner's Sizzlean is a futuristic wasteland quest with four orphaned children searching the concrete L.A. River basin for their parents—Road Warrior for the footed-pajama set. The kid actors aren't up to the task, alas. Kari Nevil's heart is in the right place in her very short tribute to slain war journalists, Crickets, but the film is too obscure to resonate. A journalist meets a mystery woman in a green field that is probably heaven, and he recalls his last moments in Basra. A Native American boy (Lorrel Goings) tries to understand his cranky estranged father (Marvin Goings) in The Stone Child. The story is conventional, but the two leads (father and son, one presumes) are excellent. A superior acting pair (Jorge Palacious and Dimas Gonzales) also distinguish the Venezuelan entry, El Pasajero, about a disaffected rich guy who spends the night learning about life from a poor Caracas taxi driver. (MSG)

March 5 at 9pm and March 8 at noon, both at Camera 12.
Student Short Film Competition
There are two outstanding films in these student shorts that predominantly focus on young people discovering aspects of the world around them. The first, Small Avalanches, is based on a short story by Joyce Carol Oates. Thirteen-year-old Nancy (Katelyn Pippy) spends a hot, dusty afternoon hanging out at her uncle's gas station, preening and surveying passers-by. When an older man in a shiny blue convertible begins to follow her as she walks home, Nancy's naiveté and recklessness nearly betray her as she evades his advances. Director Gillian Munro gives her film an intense and acutely unsettling undercurrent, showing a young woman being seriously threatened or the first time in her life. The second notable picture is Mamitas, an account of a teenage wannabe ladies' man; while schooling his friends on how to pick up chicks, he discovers what he really finds important in life. Novice writer/director Nicholas Ozeki illustrates charm and a flare for natural direction in this humorous and sweet, if not safe, short. Though not as strong, Underpass switches back and forth between film- and graffiti-style animation; the story focuses on Sann, an angry young Cambodian Khmer Rouge survivor whose family takes in an undocumented worker, much to his disapproval. (JF)

Feb. 28 at 7:30pm and March 2 at 10:30am, both at Camera 12.
Send a letter to the editor about this story.