02.27.08
home | metro silicon valley index | silicon valley restaurants | review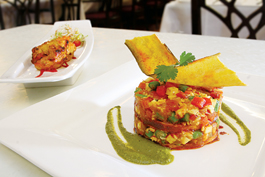 Photograph by Felipe Buitrago
PANEER WITH NO PEER: Roasted paneer and spiced veggies at Amber India.
The Amber Standard
Amber India has built its Silicon Valley empire on the area's best Indian cuisine
By Stett Holbrook
AMBER INDIA pretty much owns the Indian food fine dining category in Silicon Valley. This area is awash in Indian restaurants, many of them are quite good, but Amber's combination of white table-cloth elegance, swanky cocktails and first-rate regional and contemporary Indian food has made its restaurants in Mountain View and San Jose must-eats in Silicon Valley.
The Santana Row location opened almost five years ago and it has emerged as the restaurant's flagship location. Today it remains as vibrant and exciting as ever. The colorful art on the walls, modern-looking bar and whimsical, twinkling-star ceiling above the front dining room set the restaurant apart from other Indian restaurants and create a spirit of magic and escape. But it's the food that really shines.
The lunch buffet is the workhorse of Indian restaurants, but Amber manages to enliven the self-serve steam table routine and serves what for $14.95 is one of the best all-you-can-eat lunches in Silicon Valley. The food is replaced frequently with fresh batches of food so dishes don't develop that been-there-too-long look. The lineup of food set into the gleaming brass urns changes daily.
One of the constants of the buffet is the butter chicken. Songs have been written about lesser dishes. The silky, spicy, aromatic sauce that cloaks the tender chunks of boneless, tandoori chicken is reason enough to visit Amber. The sauce is more than butter—almonds, tomatoes, ginger, garam masala, chiles and a host of other spices combine to create one of the restaurant's signature dishes. But be warned: The dish is located at the end of the buffet table. First-timers often come to the butter chicken with plates already dangerously overloaded. The only option is to eat up and come back for the butter chicken. I think the placement of the coveted dish is the restaurant's strategy to encourage patrons to eat other items in the buffet. If it were placed at the beginning of the buffet it's likely no one would eat anything else. And that would be a shame because there's plenty of good food.
On my lunch visit, the moong sabut (green lentils simmered with dried chiles and cumin) and the mirchiwale gosht (lamb curry seasoned with black pepper) were great. Standards like saag paneer (spinach and cheese) and light vegetable pakora also stood out.
Dinner is where Amber really cuts loose. I think the menu is too big by half, and all those dishes can make ordering daunting. But you could probably close your eyes and point and hit something good. The only dud I encountered was the crab "65" kulcha ($8.50), tandoor bread stuffed with curry-leaf-seasoned crab and pickled jalapeņo raita. The bread was warm and chewy, but I couldn't detect much crab. I expected something more. If it's bread you want, go for lacha paratha ($3.25) or garlic chive naan ($3.25).
An even better starter is murg yakni, a light, invigorating clear-broth chicken soup enlivened with black pepper and black cardamom. And don't miss the Karavalai shrimp ($11.95), delicious, plump, sweet shrimp stir-fried in a tangy glaze seasoned with curry leaves and black pepper.
Seafood dishes fare particularly well at Amber. Take the Madras scallops ($20). The fat mollusks are marinated in sambhar powder—a brilliant mix of coriander seeds, cinnamon, chiles, dried coconut, mustard seeds and other goodies—and pan-fried and tossed in a sticky and delicious caper, tomato and tamarind sauce. The dish is a wonder of layered flavors.
I love the variety of things Indian cooks do with eggplant. Vankaya pulusu ($12.95) is my new favorite. The dish simmers baby eggplant in a spicy, tamarind sauce that leaves a warm glow after each bite.
Vindaloo dishes often come hot, but don't offer much else in flavor complexity. That's not the case with the nalli vindaloo ($20.50). The slow-braised lamb shank burns with a smoldering, flickering heat, but the tangy kick of vinegar rounds it out.
Desserts are Amber's Achilles' heel. Indian food has such a huge repertoire of sweets and desserts that I expected something special from the kitchen. But the molten chocolate cake ($7) was pasty and gummy and the mango and strawberry kulfi ($7) just tasted like mediocre ice cream.
Amber's culinary empire continues to grow. It opened Amber Cafe in Mountain View, a more casual, small-plates place, and now the restaurant is poised to open in San Francisco this spring.
The risk is that as the restaurant expands to pull in more diners, it can overreach and lose the people who helped make it a success in the first place. The chef who once oversaw one kitchen now has to manage others, and it's easy for quality to slip. But for now the food is as good as ever. Let's hope it stays that way.
---
Amber India
Address: 377 Santana Row, San Jose
Phone: 408.248.5400
Hours: Lunch 11:30am–2:30pm Mon–Fri and noon–3pm Sat–Sun; dinner 5:30–10pm Mon–Thu and Sun and 5:30–10:30pm Fri–Sat.Cuisine: Regional and contemporary Indian
Price Range: $12–$34
Send a letter to the editor about this story.