02.27.08
home | metro silicon valley index | columns | live feed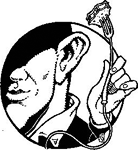 Live Feed
High on Pinot
By Stett Holbrook
EARLIER THIS MONTH I attended a tasting of some 30 pinot noirs from the Santa Cruz Mountains appellation. The event was put on by the Santa Cruz Mountains Winegrowers Association and held at Los Gatos' Burrell School Vineyards high atop Summit Road. The purpose of the tasting was to taste wines that will go into a five-liter cuvée to be auctioned off at next month's Pinot Paradise event March 29-30. A second bottle will be auctioned off later at another event.
Tasting my way through that many wines and three vintages (2006,2005 and 2004) with a couple dozen winemakers and wine writers was a great opportunity to take the pulse of pinot noir in the Santa Cruz Mountains and taste what this region is capable of when it comes to one particular grape. While there were a few stinkers in the mix, the tasting revealed some really great wines. Some of the stand-outs were Black Ridge Vineyards, Storrs Winery, Hallcrest Vineyards, Alfaro Family Vineyards and Santa Cruz Mountain Winery.
What also became clear was how diverse the Santa Cruz Mountains appellation is. An appellation, or more specifically an American viticultural area (AVA), is a federally recognized term that defines the geographic boundaries of a particular winegrowing region. It is essentially a marketing tool to define one area from another, but for consumers it can help them zero in on the kinds of wine they like.
Stretching from Half Moon Bay to the hills above Watsonville and the eastern and western slopes of the Coastal Range, the Santa Cruz Mountains AVA naturally produces a wide range of wines, even those made from the same grapes. There are three distinct regions within the Santa Cruz Mountains appellation: eastern slope, western slope and ridge top. Because of variations of weather, soil and topography, wines from each region will often taste quite different from the other regions. A Windy Oaks pinot noir from Corralitos is quite distinct from, say, a Thomas Fogarty pinot produced from grapes grown above Portola Valley. All of which leads to the question: what good is an appellation if it is so broad that wines vary widely?
That is just the question many Santa Cruz Mountains winegrowers are asking. There is already an effort to create an AVA for the Corralitos area, but the Treasury and Tax and Trade Bureau, the federal agency that grants AVA designations, has put a freeze on new applications—a policy seen by some as favoring big brands that might be affected by new AVA designations over consumer-friendly information and geographical distinction.
So for better or worse, the sprawling Santa Cruz Mountains AVA isn't about to be partitioned into subappellations any time soon. In the meantime, it is up to consumers to discover whether they prefer their pinot noir from the foggy ocean side of the mountains or from other microclimates. With more than three dozen wineries out there, that is a lot of wine to taste. It could be worse.
Send a letter to the editor about this story.