02.27.08
home | metro silicon valley index | movies | current reviews | film review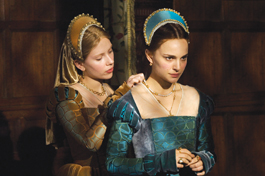 Photograph by Alex Bailey
GASPING FOR HEIRS: Scarlett Johansson (left) and Natalie Portman compete for Henry VIII's attentions in 'The Other Boleyn Girl.'
The Tudors
Battling royals Scarlett and Natalie duke it out in 'The Other Boleyn Girl'
By Richard von Busack
THERE IS a satisfying actor's duel in The Other Boleyn Girl between Scarlett Johansson's Mary and Natalie Portman's Anne of the Thousand Days. And that's the most of it. Corsets grievously squash Johansson' curves, and her golden hair is either besnooded or covered with those little birdhouse-roofs the fine English ladies of the Tudor era chose to wear on their heads. Portman wins handily, making a fine Vulcan scowl in the latter half of the film to indicate her embrace of power politics. And Eric Bana has more stomp in his step as Henry VIII than he had playing the Hulk; the castles seem to shake under his footfalls. (That particular king is a choice part for any actor; even Homer Simpson was once seen courting the blue-haired "Margarine of Aragon.") Bana's Henry is young and desirable, with good muscles under his ermines. But he is a monster of fickleness and not at all a subtle lover. Henry's courtship of Mary Boleyn consists of the single word "Tonight." Like a bull, he is not to be interfered with during rut. That interference is the essence of Anne Boleyn's mistake in this version of her story. Based on the novel by Philippa Gregory, The Other Boleyn Girl shows the problem with the principle "True Love Waits" (for marriage, that is). Certainly, the expression "Till death do we part" meant something different to Henry VIII than it did to most husbands. The film shows the background of the climbing Boleyns. Anne's uncle is the sinister Duke of Norfolk, Thomas Howard (David Morrissey, bouncing back nicely from some unfortunate work in The Reaping and Basic Instinct 2). He raises his niece Anne as a dainty dish for the king. His majesty is married, though, to a Spanish queen who won't come up with the requisite "heir and a spare." Ana Torrent makes a good Katherine–handsome but not haughty and correctly playing the queen as one of history's unfortunates. Not quite so watchable is Kristin Scott Thomas as the mother of the Boleyn sisters and as full of predictions of doom to come as all of the dowager queens in Shakespeare's Lancastrian cycle wrapped into one.
Director Justin Chadwick has been a longtime British TV director (Bleak House, etc.). The budget shortfalls show, particularly in an off-screen hubbub to represent how the people feel about the king getting rid of their religion. The scenes have enough clarity, though, and the cast overcomes most, if not all, of the slow-learners-class lines that pop up. I do think Chadwick has neglected the parvenu side of the Tudors. Henry's fretting about an heir makes a little more sense if you're reminded that decades of civil war had occurred over the line of succession, not long before this king's own birth.The camera work is the true drawback. Chadwick seems determined not to be Masterpiece Theatreish, even at the risk of visual illegibility. This is partially the fault of critics, who are always bemoaning Masterpiece Theatre compositions in costume dramas. At least those simple compositions are clear. Trying to avoid a static, too-formal world, Chadwick goes for an eclipsed lens, as if all the scheming was seen from behind a curtain or through leaded glass. The camera lurches from pillar to post. It always seems to have its hair in its eyes.

THE OTHER BOLEYN GIRL (PG-13; 115 min.), directed by Justin Chadwick, written by Philippa Gregory and Peter Morgan, photographed by Kieran McGuigan and starring Scarlett Johansson and Natalie Portman, opens Feb. 29 at selected theaters.
Send a letter to the editor about this story.