02.27.08
home | metro silicon valley index | music & nightlife | band review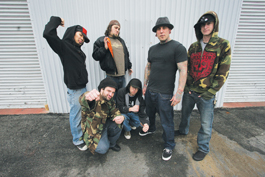 Muscle Men: While two of them may appear invisible in this shot, there are in fact six members of Insolence.
War on War
San Jose hardcore and reggae band Insolence fight the good fight with their newest release, 'Audio War'
By Garrett Wheeler
IT MIGHT seem surprising that a rock band from San Jose, Calif., would come to the aid of the Nagasaki City Peace Promotion Office, but when you consider the guiding principals of local rock outfit Insolence, it actually makes perfect sense. Listen to their first major-label album release, Revolution, and you'll hear songs blatantly challenging the status quo. Fierce lyrics and even fiercer melodies collide in a metal-meets-hip-hop explosion that could only be the result of utter frustration and a willingness to initiate change. So when you evaluate the decision to donate all proceeds from their recently released multiartist compilation, Making Beats Not Bombs, to the Nagasaki Peace cause, it's really less than astonishing.
"We were on tour in Japan and got the opportunity to go to the Nagasaki Atomic Bomb Museum," says lead singer Mark Herman. "We decided it'd be cool to do a project for them because they actually contribute to a number of peace organizations. It's pretty easy to see that the world's a fucked-up place, so I'd like to do my part in helping change that."
Being in a position to perform acts of charity on such a large scale didn't come easy for Insolence, who fought their way up the local band ranks in the mid-'90s. Not that they lacked skill as musicians or had trouble finding support, but hardcore rock mixed with reggae and hip-hop wasn't exactly an everyday commodity on the local circuit. "We had a new, fresh sound," Herman says. "Our style was out there way before bands like 311 were commercially exploited by MTV."
Luckily, Insolence found themselves part of a thriving local music scene, and the city of San Jose couldn't have offered more for up-and-coming artists. "The scene was really hot back then—there was no shortage of venues to play; overall it was a really good time for us to grow as a band." Insolence found Cactus Club promoter Calvin Trippet particularly supportive, and it wasn't long before the band routinely packed the house at the now defunct San Jose venue. "He'd let us open for national acts that would come through," recalls Herman. "And that's when we saw our fan base really start to grow. I remember showing up [to the Cactus Club as an unsigned band] in our U-Haul and going, 'Wow, all those people are here for us?'"
As success grew imminent, the band began attracting attention from major record labels offering one-way tickets to paradise. But the boys from Insolence stayed true to their musical roots, largely unfazed by the temptations of the mainstream. Eventually, the stubbornness paid off. After jumping from Madonna's Maverick Records to Warner Brothers, Insolence finally found comfort with the independent label, Powerslave Records. "Everyone wants a big record deal and a big paycheck, but what most people don't realize is that the music industry is all smoke and mirrors," says Herman. "One day they're telling you one thing, the next day it's something totally different. That's why we're on an indie label now—we were tired of the bullshit."
After aligning with Powerslave in April of 2007, Insolence released their latest album, Audio War, which found the band treading a slightly mellower path than previous efforts. But even with the laid-back approach, Insolence still managed to display plenty of contention, and a little punk attitude. "The new album has a real California style to it," says Herman. "We put in a lot of reggae and some good punk rock." Yes, reggae and punk rock do mix, as the opening track to Audio War, "Danger" clearly illustrates. "Everyone in this band has different influences, so our style is pretty diverse," Herman explains. "It used to be a lot more metal and hip-hop, but time went on and we started playing more reggae."
With the newfound artistic freedom and the induction of drummer Kevin Higuchi (Salmon, the Brownies, Neosoreskin), Insolence seem poised to continue the musical revolution they began as teenagers opening for bands at the Cactus Club. They return home from a West Coast tour for a release party show at the Voodoo Lounge on Feb. 29, but the homecoming will be brief. A week later they're off to Japan for another full-length tour, and for Mark Herman, the show must go on. "At the end of the day, all we can do is look forward to future growth and try to make better music. Sure, there's always gonna be bumps in the road, but we move on."

INSOLENCE perform on Friday (Feb. 29) at 9pm at VooDoo Lounge, 14 S. Second St., San Jose. Tickets are $5. (408.286.VODO)
Send a letter to the editor about this story.