02.27.08
home | metro silicon valley index | the arts | stage | review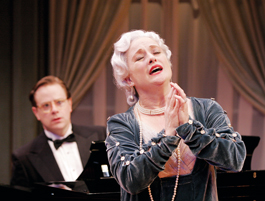 Photograph by Chris Bennion
PUT YOUR HANDS TOGETHER: Before embarking on next season, San Jose Rep gears up for its next production, 'Souvenir,' starring Patti Cohenour and Mark Anders and opening March 26.
Rep Revs Up
San Jose Repertory Theatre announces stage versions of Jules Verne and 'Kite Runner' for 2008–09 season
By Marianne Messina
WHAT DO Froggy LeSueur and Phileas Fogg have in common besides a lot of alliteration? They're both characters scheduled to appear onstage in San Jose Repertory Theatre's newly announced 2008–09 season. Fogg, you may remember, is that "most exact and settled gentleman," according to author Jules Verne, who takes up the challenge to travel Around the World in 80 Days. To bring this global undertaking to the stage, San Jose Rep's artistic director, Timothy Near, promises "an amazingly beautiful set," and a busy cast of five, rotating in and out of the story's two-dozen-plus characters.
Froggy LeSueur, on the other hand, is the friend who unwittingly embroils shy Charlie Baker in everyone else's troubles in Larry Shue's comedy The Foreigner. When he tells Betty Meeks, the overly friendly overseer of a fishing lodge getaway, that Charlie doesn't speak English, Froggy is only trying to help Charlie maintain some peace and quiet. Instead, Baker gets an earful of skullduggery as the proverbial fly on a wall among schemers.
According to Near, the Rep's central theme for the season is "the human hunger for knowledge." That makes Splitting Infinity, the tale of an astrophysicist trying to disprove the existence of God, an appropriate story for the season. The characters in Splitting Infinity (a mathematical impossibility) run into existential questions as they push on each other's values—science faith, family, career. And it's angst and identity issues that bump up against a group of exceptional adolescents in The 25th Annual Putnam County Spelling Bee.
The season also showcases the wealth of artistry in the South Bay with The Kite Runner, a play based on Khaled Hosseini's international bestselling novel. An Afghan native, Hosseini came to live in the valley at age 15, after his family was granted political asylum. In 2001, Hosseini wrote his novel about the friendship of two Afghan boys tested and torn by historical forces, and last spring, San Jose State University's Matthew Spangler adapted the book for the stage. A sixth play for the season will be announced later. For details, see www.SJRep.com.
Send a letter to the editor about this story.