02.27.08
home | metro silicon valley index | the arts | stage | review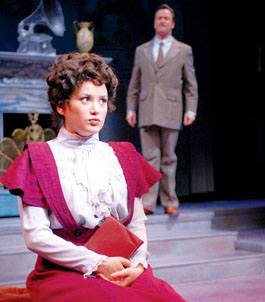 Photograph by David Allen
LOVERLY: Eliza Doolittle (Mindy Lym) engages in a battle of wills with Professor Henry Higgins (Kit Wilder).
High and Loewe
Foothill Music Theatre sings and dances all night in 'My Fair Lady'
By Marianne Messina
IN THE NEW Lohman Theatre, Foothill Music Theatre director Jay Manley's My Fair Lady fills the compact stage area with two grand pianos, toe to toe. Even so, pianists Sylvia Chen and Matt Hohensee (or Mark Hanson at some performances) proceed to whirl through a full and lively, if single-toned, orchestration of Frederick Loewe's well-loved score almost unnoticed amid the drama and ensemble numbers—except when Kit Wilder, a splendid Henry Higgins, toys with them in song. Wilder is at the top of his devilish, fun-loving game in this story of the English gentleman who makes a lady out of Cockney street vendor Eliza Doolittle (Mindy Lym). In the musical tradition of Rex Harrison and Richard Harris, Wilder executes the emotional zigzags of these songs with amazing creativity. All in a song, he fumes, pauses to reflect, whinnies a high register boast—"I'm a most forgiving man"—and makes a most enjoyably pompous Higgins.
As the Covent Garden flower hawker, heart-faced beauty Lym doesn't dirty up very well, but neither did Audrey Hepburn in the film version. Lym is everything you could want in an Eliza but crass—she's bright, cackly, proud, feisty, sensitive with a gentle but capable voice and dramatic skills that add to, rather than depend on, the powerhouse Lerner and Loewe songs (which include "With a Little Bit of Luck" and "Wouldn't It Be Loverly?"). Singing "I Could Have Danced All Night," Lym offers a sweet blend of blushy and giggly. And later, when Higgins ignores her to congratulate himself in "You've Done It," she circles the room, her face a quiet swirl of hurt and indignance.
Manley's lucid staging clarifies key transitions, like the moment—just before Eliza sings "The Rain in Spain"—that her elocution lessons suddenly start to click. Hepburn's dazzling black-on-white dress in the 1964 movie has nothing on Julie Engelbrecht's breathtaking costumes for "The Royal Ascot Races" number, in which the women are draped in couture artworks of amazing variation: ornate and elegant swoops of black on white, lacy parasols, fluffy fountains of plumes and matching hats that could pass for aircraft carriers or parade floats, or at least impaled swan wings.
Superb singing all around includes Mike Earley as Eliza's less-favored, overromantic suitor Freddy singing "On the Street Where You Live." Dan Mitchell makes a noteworthy Prof. Zoltan Karpathy (the imposter detector), ducking and slithering among the dancers at the ball as he attempts to break in for a dance with Eliza. Eliza's deadbeat dad (Todd Wright) heads an outstanding ensemble number "Get me to the Church on Time," which ends with a cast of ersatz pallbearers carrying Dad off to his wedding like a funereal stiff. It's a funny, charming show down to Higgins' outrageous epithets—"that toadying ignoramus" (Karpathy), you "creature," "thing," "insect" (Eliza). The moment of truth, which decides whether this couple will get together or not, provides the true proof of how captivating Wilder and Lym are together. They held the audience through an interminable (I daresay half a minute) pause in pin-drop silence.

MY FAIR LADY, a Foothill Muisc Theatre production, plays Thursday–Saturday at 8pm (plus 2pm March 8 and 15) and Sunday at 2pm through March 16 at Lohman Theatre, Foothill College, 12345 El Monte Road, Los Altos Hills. Tickets are $10–$24. (650.949.7360)
Send a letter to the editor about this story.