February 28-March 6, 2007
home | metro silicon valley index | silicon valley restaurants | review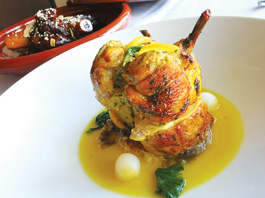 Photograph by Felipe Buitrago
Wake-up call: Cornish game hen gets a tasty upgrade at Zitune.
Signs Of Life
Zitune spices up Los Altos with the flavors of Morocco
By Stett Holbrook
NO ONE has ever accused Los Altos of having a lively restaurant scene. The city is an early-to-bed, early-to-rise kind of place where residents generally go elsewhere for a big night out. But lately there have been some signs of life.
There are now a handful of interesting restaurants in downtown Los Altos. Aldo offers decent Italian food and a festive atmosphere. Nearby Satura Cakes makes really good desserts. Minh's is the place for excellent Vietnamese food, and the oddly named Cravery sells some good-looking potpies. But the most exciting place to open is Restaurant Zitune, a modern Moroccan restaurant.
The husband-and-wife team of Chafik Larobi and Kim Auerbach runs the 7-week-old restaurant. Auerbach handles the front of the house while the bandana-wearing Larobi mans the kitchen. Larobi is a passionate, Moroccan-born chef with a résumé that includes experience at Gary Danko in San Francisco as well as high-end restaurants in Boston and France. He moved to the United States in 1988, working his way up from dishwasher to chef.
For Zitune, Larobi wanted to base his menu on the hearty, exciting flavors of Morocco but imbue them with a modern sensibility and use local ingredients. What he did not want to do is offer belly dancing. Larobi says too many Moroccan restaurants in the United States offer the same old belly-dancing, couscous and kebabs.
"There's a lot more to Moroccan food than that," he says.
Morocco was colonized by the French and has strong Mediterranean influences in its cuisine, so Moroccan food is familiar, but ingredients like preserved lemon, harissa and argan oil ring it in an exotic glow. Meals at Zitune start with a dish of harissa (a spiced chile pepper and garlic paste) scented hummus, olives and a light eggplant salsa. It's a great opener for what's to come.
The duck confit pastilla ($14) illustrates the westernized Moroccan food Larobi is aiming for. Wonderfully rich preserved duck and foie gras are layered between papery Moroccan pastry with caramelized onions and almonds. It's a heady, delicious starter.
I loved the rock shrimp m'chermel ($12). The plump shrimp are sautéed with square bits of chorizo and tomatoes and anointed with bright orange harissa aioli that had me mopping it up with the last slice of the zatar (a Middle Eastern spice mixture) sprinkled pita.
Over two visits, every entrée I tried hit the mark. Larobi makes great use of dried spices, and that's particularly evident in the excellent star anise sea scallops ($24). The fat, juicy scallops are dusted with just enough of the aromatic spice to contrast yet not overwhelm the sweet shellfish. The parsnip puree and creamy saffron sauce anchored the dish.
The roasted monkfish ($24) with braised, pleasantly bitter escarole, mussels and linguicia was one of best fish dishes I've had in a long time. The light acidity of the tomato sauce pooled on the plate brought everything into balance.
The interplay of savory and sweet in the hearty yet refined m'rouzia tangine ($23) is the go-to meat dish. Slow-cooked, flavor-filled lamb shank is served under the peaked dome of a tangine, traditional Moroccan earthenware crockery. The couscous topped with stewed prunes, raisins and almonds served on the side is a great match. Cornish game hen is too often a dry and boring dish, but here the garlic, parsley, cilantro and preserved lemon marinade wakes up the little bird ($19). Served atop thin-sliced potatoes with green olives and spinach in a light but aromatic broth, it's a wonderfully satisfying and surprising dish.
Because the restaurant is so new, servers are still getting comfortable with the menu, but they are generally professional and aim to please. Larobi had help with the wine list from a Gary Danko sommelier, and it shows. While not extensive, the list is attuned to the big, bold flavors coming out of the kitchen. Syrah and pinot noir are particularly suited to many of Zitune's entrees, but on one visit, there seemed to be a run on the pricey Silver Oak cabernet sauvignon. The full bar is popular too.
For all the intriguing ingredients used in the starters and entrees, desserts here are pretty tame. Morocco isn't known for its desserts, so the menu reads like a list of Western classics—pot de crème, crème brûlée, panna cotta. Although they are familiar, they are still pretty good. The pomegranate-syrup-drizzled panna cotta ($8) and hazel-nut-accented pot de crème ($10) are both winners. Be sure to try to try the Moroccan mint tea ($8 for two). It's not as sweet as what you'd have in a Tangier cafe.
While Los Altos will always be a sleepy Silicon Valley suburb, Zitune offers a welcome—and needed—taste of big-city dining.
---
Restaurant Zitune
Address: 325 Main St., Los Altos
Phone: 650.947.0247
Hours: Tue-Sun 5:30-10pm
Cuisine: Moroccan
Price Range: $19-$24.
Send a letter to the editor about this story.