February 28-March 6, 2007
home | metro silicon valley index | movies | current reviews | film review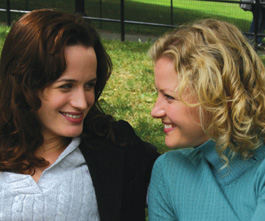 Manhattanites: Elizabeth Reaser (left) falls for Gretchen Mol in Maria Maggenti's 'Puccini for Beginners.'
Straight Time
'Puccini for Beginners': What would Woody say?
By Richard von Busack
THIRTY YEARS AGO, in late March 1977, Woody Allen's Annie Hall debuted at Filmex, the L.A. film festival, and I should know, because I was there holding a flashlight, guiding people to their seats. After that gulf of 30 long years, what Allen did with such insouciance and resilience has become fossilized. There are certain aspects that you can count on now in the Manhattan romcom—the jazz piano, the lit-up bridge, the bank-breaking restaurants. And in Maria Maggenti's Puccini for Beginners, one Allen joke is reprised with such monotony that Maggenti owes Allen royalties: the strangers commenting on the action as they pass by. It was so novel back in 1977. Here it is again, Manhattan as an island full of strangers kibitzing, chastising and advising. What once was energetic now seems like a princess fantasy. It's as if the self-declared greatest city in the world was revolving around one Allegra.
Allegra (Elizabeth Reaser) is a novelist who published an unsuccessful book years ago and coasts along. She is a declared lesbian who is dumped by her latest, Samantha (Julianne Nicholson). Shortly after the end of the affair, she falls into bed with a Columbia assistant professor in German philosophy, Philip (Justin Kirk). We know that he has studied Teutonic wisdom because, he informs us, "Freud said, 'There are no coincidences.'" Freud must have been right, because Allegra later meets Philip's discarded ex, Grace (Gretchen Mol, doing Diane Keaton), a ditzy investment banker who'd rather be an ornamental glass blower.
Allegra and Grace get involved, and the newly bisexual Allegra finds herself keeping both lovers in the dark, even after she faints from the shocking realization that she's dating both halves of a former couple. Maggenti opens with the climax—the thunderstruck three finally meeting at the same time—and then flashes back for more than an hour. Farce, of course, gets its tension from waiting for the explosion. To be fair, the plot isn't hopeless. A bisexual love triangle has plenty to offer either the comedian or the dramatist (or the soft-core porn maker, for that matter, as in Radley Metzger's Score). But Maggenti (The Incredibly True Adventure of Two Girls in Love) doesn't have the constant wit of Allen—the man who was a joker first and a romantic second. Phillip and Allegra don't show us any of the keen intellectual teasing that used to leaven Allen's films. And ultimately, this seemingly daring film goes as old-fashioned as it possibly could go.
Allegra wants to have it all, a lover of each sex. Perhaps you can, if you're honest, but the movie doesn't even admit the possibility of that kind of honesty. Though this is a film made after the director's 11-year absence from the screen, it lacks urgency. Worse, during those 11 years, Manhattan has become all the more tame, bland and monocultural. As Allegra, the love object on the loose, Reaser has a rich mane of hair and an expressive mouth but not much natural lewdness. The traces of sexual activity—the tangled sheets, the Hitachi wand vibrator and a pair of Trojan packets—all look like nothing but the props they were. And as for eroticism—well, if endless, boundless narcissism were attractive, the world would be a happier place.

Puccini for Beginners (Unrated; 82 min.), directed and written by Maria Maggenti, photographed by Mauricio Rubinstein and starring Elizabeth Reaser and Gretchen Mol, opens March 2 at Camera 7 in Campbell.
Send a letter to the editor about this story.