March 1-7, 2006
home | metro silicon valley index | movies | current reviews | film review
Cinequest Briefs
A critical look at the documentaries and features at this year's festival
By BYLINE
Screenings take place at Camera 12 Cinemas (C12), San Jose Repertory Theatre (REP) and the California Theatre (CAL) in San Jose. Tickets for individual films are $5 students and $9 general, with a few exceptions. For complete schedule details, see www.cinequest.org online. (Full Disclosure: Metro is one of the sponsors of this year's festival.)
Our reviewers are Metro staffers Richard von Busack, Michael S. Gant, Najeeb Hasan, Stett Holbrook, Steve Palopoli, Gary Singh and Claire Taylor, plus independent Bay Area critic Jeffrey M. Anderson. Stay tuned next week for even more reviews of Cinequest.
* = Recommended
The Ape (U.S.; 92 min.) Harry (James Franco, also the director and executive producer for the film and the star of recent big-screeners Annapolis and Tristan & Isolde) leaves his wife and son to pursue a writing career. He moves into his new pad, only to find a 7-foot-tall talking ape living there. The beast becomes both his best friend and worst enemy. The animal instincts of jealousy and desire for sexual conquest come out in Harry, and soon he has completely lost both his wife and his job. But with an ending lacking a clear resolution of the unusual setup, the film leaves you scratching your head (and possibly eating a banana or two), just like Harry's ape. (CT) (Mar 10, 7:30pm, C12; Mar 11, 7pm, C12)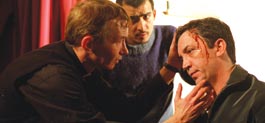 * Asylum (U.K.; 100 min.) Anyone can spout rhetoric about the war in Iraq—at this point, it's practically an official American sport enjoyed by all frequencies of the political spectrum. But those who would actually appreciate a window into the cultures of the Middle East and how they intersect and conflict with the ways of the West should check out Nigel Roffe-Barker's Asylum, which explores the troubles of the Kurds (who, let's face it, have been an invisible people in many countries since their usefulness in demonizing Saddam Hussein expired). When some Kurdish immigrants seek refuge in London, they're given the runaround in some scenes that, while fictional, provide an all-too-real insight into why many Iraqis don't buy the "Coalition"'s best-buddy act. With immigration police after them, two of the Kurds seek sanctuary in a Catholic church. The mistrust between the Muslim refugees and the parishioners is well-played. Despite some uneven acting and execution, this British film makes its point politically while also capturing some real emotional depth. (SP) (Mar 4, C12, 4:15pm; Mar 5, 12:15pm, C12; Mar 6, noon, C12)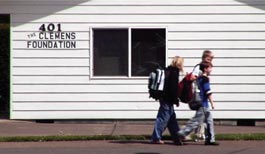 * Clear Cut: The Story of Philomath, Oregon (U.S.; 72 min.) Peter Richardson's incisive documentary looks at the dispute between conservatives and progressives, spurred by the decline of the local lumber industry and by a wave of high-tech immigrants to the HP plant and nearby Oregon State University. Local philanthropist Steve Lowther became a Fox News sensation when he threatened the college scholarships previously given to any Philomath High School graduate, on the grounds that the high school was indoctrinating the students with liberal-Nazi views. What resulted was a situation that even the mayor of tiny Philomath referred to as "a war." One look at the superintendent of schools, and you can see why the trouble broke out. He doesn't come off as a folksy man of the people, and being demonized as a left-wing tyrant didn't do anything to make him any less like one of the politically correct city-slicker villains on a King of the Hill episode. All you need is a contrast with the inflammatory clip from the Fox coverage of this town's schism to see how unbiased Richardson is. Talking-heads-heavy as it is, this extremely well-edited film counts as an indispensable dispatch from the front of the culture war. (RvB) (Mar 4, 11:45am, C12; Mar 5, 6pm, C12)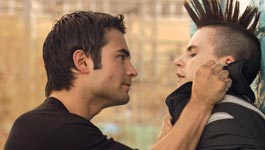 Fall to Grace (U.S.; 86 min.) Unfortunate, S.E. Hintonish teen drama set in Austin, Texas. It concerns a mixed group of high school students and their relatives: Kristopher (Gabriel Luna) is a Georgian immigrant with hoop dreams; his troubled crush Sarah (Kira Pozehl) is dabbling in drugs, as a relief from her toxic household (emasculated dad, whory mom, uncle in the unlicensed pharmaceutical business). Oddly, the aforementioned Uncle Auggie (Bill Johnson) keeps his stash in glass jars in the kitchen. This is one example of director Mari Marchbanks' speculative idea of how a life of crime works; a John Woo-style multigun standoff at about the 60-minute point is a later one. Technically proficient, the movie may serve as a launching pad for the Molly Ringwald-like Pozehl. And as the villainous Auggie, Johnson passes on the good time he is having playing a bastard. Unlike some of the cast I could mention, he looks like he knows how to handle a gun. (RvB) (Mar 2, 7pm, REP; Mar 3, 9:30pm, REP)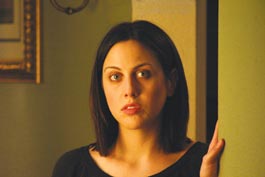 For Sale By Owner (U.S.; 81 min.) Billed as a psychological thriller, For Sale by Owner opens with a quote about the fine line between sanity and insanity. But instead of exploring this gray area, you get a rather predictable horror flick that is short on any such subtlety. The setting for the movie is a dark and stormy night. A serial killer is on the loose, a woman is home alone and a stranger comes calling. Sound familiar? Each of the three main characters is nuts in his or her own way, but it is pretty easy to guess who the really crazy one is. While filmmaker Pritesh Chheda weaves in a few interesting plot twists and makes clever use of flashbacks, the film offers no real suspense or payoff. (SH) (Mar 11, 9:15pm, C12; Mar 12, 2:15pm, C12)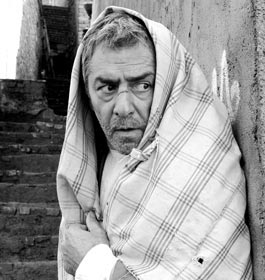 * The Forbidden Chapter (Italy, France, Iran; 90 min.) Based on a true story, The Forbidden Chapter takes place in the Iranian holy city of Moshad near the Afghan border. Habib, an old police investigator, returns to his hometown to track down a serial killer. Several prostitutes have recently fallen victim to the blade, and Habib soon learns that the killer may be a member of a cult of religious fanatics who have launched a jihad to cleanse the town of all sinners. Habib also must confront the city's government who seem to be behind the killer. The film provides a brutal and striking look at the inner workings of one particular group of Islamic extremists where any doubting of faith is equated with Satan. Juxtaposed against this is Habib, who interprets the Koran in a peaceful manner. A dark, dreary exploration of contradicting interpretations of the Koran set against the backdrop of a rundown poor city district, The Forbidden Chapter contains some powerful imagery and emotion. You'll root for the prostitutes. (GS) (Mar 2, 12:30pm, C12; Mar 6, 7pm, CAL; Mar 8, 9:15pm, C12)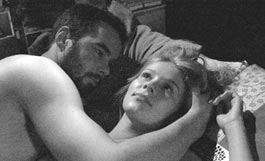 Frozen Land (Finland; 130 min.) A consistently impressive Finnish tag-team movie about the dominolike falling of a string of lives after the layoff of an English teacher, and a playful act of forgery that spreads an ever-widening circle of ruin. If Max Ophuls favored La Ronde (the merry-go-round) as a symbol of interconnected lives, director Aku Louhimies prefers setting up a bobsled ride into the abyss. Plummeters include a merry drunken thief who turns out not to be as messed up as a defeated, AA-meeting-attending vacuum-cleaner salesman; a burned-out female traffic policewoman; an angry punk; and a pair of kids planning a complex heist. The last duo is a way of giving this realistic Scandinavian film a big American finish. Perhaps that part is a crowd pleaser, but it is antithetical to the film's downbeat yet convincing look at urban hopelessness. (RvB) (Mar 2, 3:30pm, C12; Mar 6, 4pm, C12)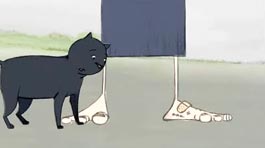 * Fumi and the Bad Luck Foot (U.S.; 7 min.) Something inconceivable, but this short (part of Shorts Program 4: Animated World) actually works. It is a gentle and sweet tribute to Tex Avery's catastrophically violent 1949 cartoon "Bad Luck Blackie." In this animated short by SJSU's David Chai, a little girl called Fumi has a left foot that attracts violent misfortune. Chai's animation is delicate without being insipid. His choice of composer, Chrystal Chan, suits his work well both in the gamelan-flavored sequences at the beginning and the more James Hornerish bits at the end. The references to King Kong and The Ten Commandments are adroit and funny. It is easy to see why this one made it to Sundance this year. (RvB) (Mar 6, 7pm, C12; Mar 7, 4:45pm, C12)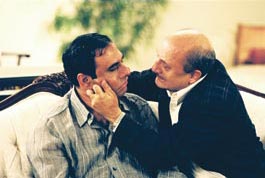 It's a Mismatch (U.S.; 97 min.) If Bollywood wasn't bad enough with its melodrama, pseudoemotion, macho heroes and annoying-enough-to-be-addictive songs for every occasion, now we have Bollywood spinoffs that are—believe it or not—even worse. How can it be worse? Bad acting, that's how. It's a Mismatch, a movie about desis set in the United States, offers a tired, Bollywood-esque plot (though, thankfully, without the infuriating songs): Boy meets girl; boy falls in love with girl; tension enters the relationship (this time, through the ethnic differences of the couple's families and an architectural competition that the boy has his sights on); things get rocky; and you can guess how it ends. You know it's bad when you start wishing for a Salman Khan cameo. (NH) (Mar 4, 9pm, CAL; Mar 5, noon, CAL)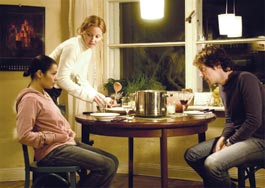 KussKuss (Switzerland, Germany; 95 min.) Director Sören Senn comes on like the Swiss Mike Nichols in this bitter look at relationships. The characters seem to communicate more through poignant silences and sarcastic looks than through words, but part of that is by design—the three pieces of this unusual love triangle don't always speak each other's language very well. One of them, Saida, is an illegal Albanian immigrant, almost picked up by the police before Katja invites her to come live with her and her partner, Hendrick. If you have seen anything at all like this before—even, say, Three's Company—you know this situation is a disaster waiting to happen. (Mr. Roper never does show up.) But the most interesting thing about the film is the way its portrait of Saida shifts over the course of the film, from dehumanized object (or perhaps even worse, walking "issue") to touchstone of a certain kind of awesome power. Whether it's a healing or destructive one is up in the air until the last few minutes. (SP) (Mar 9, 9:30pm, C12; Mar 10, 2:30pm, C12)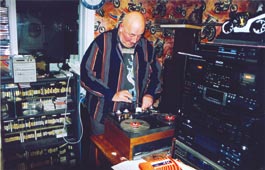 Lomax the Songhunter (Netherlands; 95 min.) A referential tribute to folk-song collector Alan Lomax, who took up the preservation cause of his father, John, in the 1930s and never stopped traveling the world's back roads capturing old laments, chants and ballads. The documentary includes visits to some of the people Lomax taped decades ago; they are still living in the same houses (which is either depressing or inspiring, depending on how you feel about globalization). The best parts are some original bits of footage from the 1940s and '50s, in which Lomax, smoking up a storm, introduces audiences to the groovy new phenomenon of folk music. Unfortunately, the film was made just before Lomax's death in 2002, after he had suffered a stroke, and so he is unable to offer any retrospective commentary of his own. (MSG) (Mar 2, 4:45pm, REP; Mar 5, 9:15pm, REP)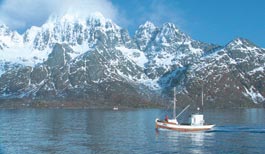 Loop (Norway; 90 min.) Oddly enough, there are two films at this year's festival that begin with the question "What makes us happy?" All the irony with which that issue is explored in the fictional killer-family flick The Hamiltons is directly counterbalanced by this brazenly sincere documentary by Norwegian director Sjur Paulsen—in a way, they'd make a fine double-feature. Paulsen follows several people in their pursuit of happiness, but whether or not you buy into Loop probably depends on what you think of philosopher Arne Naess, the 92-year-old whose ideas the film is built around. As a documentary think-piece, this doesn't have the teeth or the daring of, say, Werner Herzog's Grizzly Man. But those who were turned off by the grating New Age pseudoscience of What the Bleep Do We Know!? may find the salt-of-the-Earth tone of Loop to be a compelling antidote. (SP) (Mar 11, 3:15pm, C12; Mar 12, noon, C12)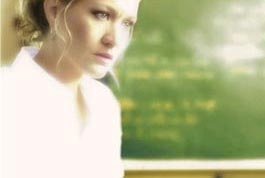 Loving Annabelle (U.S.; 90 min.) Sorry, fans of '70s soft-core girls-school flicks, but despite some explicit girl-on-girl action, there is no exploitation angle to this film about a love affair between a teacher and student at a Catholic boarding house. Loving Annabelle is more like a remake of the 1931 lesbian cult film Maedchan in Uniform, a dated but serious exploration of forbidden love. There is a touch of Girl, Interrupted as well, although there is far more tension between this particular group of teenage misfits. One of them, the troubled 17-year-old senator's daughter Annabelle (Erin Kelly), has a crush on her 32-year-old teacher Simone (Diane Gaidry). Turns out, the feeling is mutual. Guess whether this goes over well with the rest of the school. Despite the occasional chick-flick frills, writer-director Katherine Brooks, who will turn 30 during this year's festival, has crafted an honest and fascinating look at a subject few would dare to explore with this depth. (SP) (March 10, 7:15pm, C12; Mar 11, 2:45pm, C12)
* My Child: Mothers of War (U.S.; 89 min.) In the beginning of My Child: Mothers of War, filmmaker Angeliki Giannakopoulis lingers over baby pictures and military shots of upright young men, while their mothers digest the decisions and consequences made by their offspring to enter the military. But as the documentary unspools, what could be a tribute to the antiwar Cindy Sheehans of the world turns instead into a fair and balanced look at the heartache, patriotism and pride carried by mothers already burdened by a full pack of emotions on their heavy shoulders. (TI) (Mar 4, 6:30pm, CAL; Mar 5, noon, REP)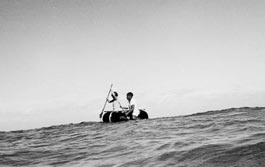 On the Other Side (Mexico; 89 min.) The view is breathtaking from this Mexican film that explores immigration from the perspective of the children left behind. In a trio of separate and alternating stories, three children from different countries brave "the other side" to search for the father who crossed the border. In the most visually remarkable and tense tale, a Moroccan girl tries to make her way to Spain. The fact that she doesn't even know she is practically falling into the hands of human traffickers trying to do so cuts through the cynicism of everyday geopolitics and lets the viewer look at a tragic world through innocent eyes. Boys from Mexico and Cuba try their own luck at the same quest, and writer-director Gustavo Loza, though sometimes overly sentimental, handles all of these stories with authenticity. (SP) (Mar 8, 7pm, CAL; Mar 11, noon, CAL)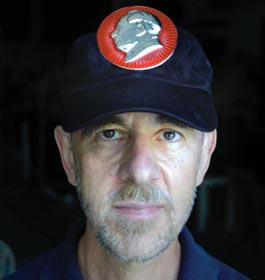 The Passion of the Mao (U.S., India; 90 min.) Not a bad idea, turning the triumphs and failures of Mao Zedong into a cartoon vaudeville. It is just the way Lee Feigon has carried out the idea that makes it so unnervingly tasteless. If Mao had a lecherous, scatological, peasanty streak, Feigon matches it by his leering exploration of the Great Helmsman's sex life. The movie is like a tabloid version of Jay Rosenblatt's Mortal Remains. More interesting than the coarse dialect humor and the PowerPoint-level animation is the history. That part works. To his credit, Feigon gives Mao his props for a five-year plan that worked, as well dinging him for his failures, like the Long March (more a trail of tears than a triumph) and the starvation caused by the Great Leap Forward. We also see extensive excerpts from a wide-screen propaganda movie made in the People's Republic. On the other hand, the soundtrack, which includes hits by the Lovin' Spoonful, gives the phrase "apropos of nothing" a new meaning. (RvB) (Mar 11, 2pm, CAL; Mar 12, 2:45pm, C12)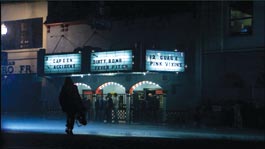 Punk Love (U.S., Italy; 104 min.) Ever since American Beauty came outseven years ago, everyone with a script and a camera thinks they can direct their own deathless version of the quintessential disenfranchised teenage love story. Punk Love represents one such attempt, and all the standard ingredients are clearly there: punk-rock, heroin, idiot cops and an abusive stepdad. Spike (Chad Lindberg) and Sarah (Emma Bing) are engaged in "unconditional love," as if that concept alone were enough of an idea to drive an entire feature film. They take off in search of something, although they don't know what. So it's no surprise that Spike and Sarah wind up in one of America's capitals of heroin and disenfranchised youth: Portland, Ore. Most of the film is built around the dark corrupted backdrop of that city, showcasing its constant rain, its concrete jungles and its flophouses. In the end, the film is exactly what it is: punk-rock love. To hell with your parents. (GS) (Mar 4, 9:15pm, C12; Mar 6, 9:30pm, C12)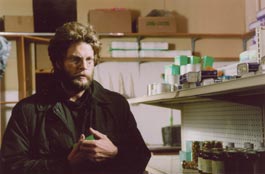 Puzzlehead (U.S.; 81 min.) Heavy on atmosphere, light on plotting robot-Frankenstein story from Brooklyn, with the Conrad Veidt-ish Stephen Galaida in the duel lead roles. Walter (Galaida), a citizen of a post-industrial cityscape, creates a "interactive humanoid life form" in his own image. The creature is called Puzzlehead for some reason. Soon this golem becomes Walter's rival for the hand of Julia (Robbie Shapiro), the depressed Eastern European cashier at the corner shop. The girl is kidnapped, becoming a pregnant pawn in the struggle between monster and man. Director James Bai doesn't bring a lot of new wrinkles to this age-old story, but it's occasionally effective. Hard work went into the effects, and a mood starts to grow despite the limitations of the script and the acting. (RvB) (Mar 10, 7pm, C12; Mar 12, noon, C12)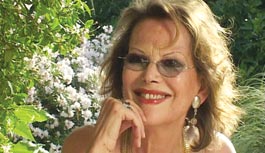 * Sergio Leone—The Way I See Things (Italy; 62 min.) Sergio Leone remade the Western as a an Italian movie-going myth built upon an American frontier-clearing myth. And when all the pieces came together—Ennio Morricone's music, Tonino Del Colli's cinematography, great casts with Clint Eastwood, Lee Van Cleef, Eli Wallach and Henry Fonda—the results were the masterpieces The Good, the Bad and the Ugly and Once Upon a Time in the West. When Leone, a bearded, bearish monomanical director in the Welles/Coppola mold, tried the same thing with the gangster movie (Once Upon a Time in America), the house of myth started to collapse. This fascinating documentary (a.k.a. My Way of Seeing Things) features interviews Leone's collaborators, who offer significant insights: Eastwood's Man With No Name character was based on a typical kind of Roman gangster/rogue; Leone's genius with actors was his ability to pantomime their roles. The talking heads are supplemented with glimpses of Leone's spectacular widescreen dementia, which should keep audiences in their sits for the showing of Once Upon a Time in the West that follows each screening. (MSG) (Mar 8, 7:30pm, C12; Mar 9, 7:15pm, C12)
States of Unbelonging (U.S., Israel; 63 min.) This experimental docu-diary is perhaps daunting to think about watching—the idea of trying to synthesize footage and voice-overs that are not directly related could be unattractive to the lazy viewer—but Lynne Sachs' attempt to understand the murder of a Jewish filmmaker at an Israeli kibbutz is well worth the effort. Yes, you sometimes see plastic dinosaurs as the image, when the film has nothing to do with dinosaurs or plastic, but you're also drawn into a compelling reflection about the Israeli-Palestinian drama, albeit from a strictly (moderate) Jewish perspective. Palestinians are almost invisible though discussed in the narrative with some sympathy, mostly by Sachs' partner, an especially thoughtful Israeli film student. In the end, Sachs wants to make sense of a tragedy an ocean away from her home; she succeeds in understanding that sometimes things don't make sense. (NH) (Mar 11, 5:30pm, C12; Mar 12, 4:45pm, C12)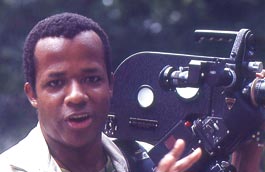 Symbiopsychotaxiplasm: Take One and Take 2½ (U.S.; 70 min., 100 min.) In 1968, William Greaves, a pioneering African American director and acting teacher, created a metafilm about the making of a movie. A series of actors (among them Susan Anspach: Five Easy Pieces and Play It Again, Sam) walk through Central Park repeating the same dialogue (a couple breaking up), filmed from multiple angles (and sometimes shown in split-screen). The movie includes lots of shots of Greaves directing the actors and conferencing with his young crew. Intercut are bull sessions in which the disgruntled crew members argue among themselves over whether the director has any idea what he's up to. The conceit is rich and multilayered. Greaves comes across as a master manipulator, capable of diverting even the most pointed question with a calculated fog of obscurantism. And you are never quite sure whether the crew has staged a real revolution or just participated in an elaborate gag. The film never got a theatrical release and languished for 35 years, until Greaves (with help from Steve Buscemi) went back to Central Park and filmed some of the same actors playing the same characters at the end of their lives, still trying to understand the same breakup. The effect of time on everyone is astonishing; Greaves (who is now 80) looks almost the same, while the actors and original crew have aged noticeably—the director's final joke, perhaps, on his creations. The look at improvisatory acting styles then and now is fascinating, but the two films do ramble excessively. (MSG) (Mar 4, noon/1:30pm, CAL; Mar 5, 2:15pm/3:45pm, CAL)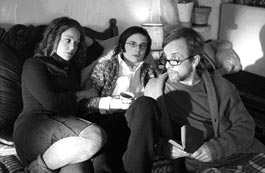 Whole New Thing (Canada; 92 min.) Thirteen-year-old Emerson (Aaron Webber), home-schooled by hippie parents his whole life in a backwoods cabin, is forced by his mom to attend a public middle school. He is bullied, wins over the girls with his long hair and glasses and impresses his new English teacher. This coming-of-age-tale-on-steroids explores how much of an outsider Emerson is, but it also shows how similar he is to his peers, taking him through physical discovery, a crush on his teacher, the threat of his parents' divorce and a close encounter with a sexual predator—all within a matter of weeks. (CT) (Mar 3, 7pm, C12; Mar 4, 9:30pm, C12)
Send a letter to the editor about this story.