03.04.09
home | metro silicon valley index | the arts | visual arts | review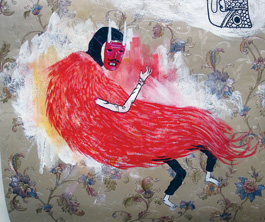 WHO WAS THAT MASKED MAN: Mexican artist Saner often adds an air of mystery to his paintings with the use of traditional masks.
Friday's Finest
By Michael S. Gant
THIS MONTH'S edition of the always provocative South First Fridays gallery walk in San Jose includes an unsettling show at Anno Domini by Mexico City artist Saner, "Confesiones de una Mascara." As is often the case with the artists at Anno Domini, the style takes off from graffiti impulses and heads for stranger points unknown. Saner uses pre-Hispanic graphic forms and lots of ritual animal masks in his works.
Down the street, it's nice to see the WORKS/San Jose space in use again, this time for a couple of shows: the paintings of Christian Midjo and Tarmo Pasto and an installation by Brande Barrett titled sub specie aeternitatis. The gallery will host acoustic sounds by Kid Nothing, Manigator, Dan Potthast and Hanalei. Caffe Trieste contributes "Mosaic Vacation," floral and geometric patterned works by Mariana Barnes, plus music by some of the stars at Opera San José.
MACLA and the San Jose Institute of Contemporary Art offer a second chance to catch up with two fine shows: "Another Country," featuring the paintings and installations of Eugene Rodríguez, and "Before After," the Lewis deSoto midcareer retrospective. In between on the same block, the San Jose Museum of Quilts & Textiles showcases several score contemporary Chinese fiber artists. Slave Labor Graphic's Art Boutiki highlights the "Famous Drunkards" portraits of Karl Christian Krumpholz; music by Vinnie and the C-List. South First Billiards displays pieces by Michael Foley; there will be live music by Blank Manuscript and Ben Henderson, and some demos of live painting. Space 47 welcomes Owen Schuh and his new exhibit of painting, "Morphogenesis." And on South Fourth Street at Kaleid Gallery, there will be a reception for Eddie Flores and Jeremiah Kille. Check out www.southfirstfridays.com for late-breaking extras.
SOUTH FIRST FRIDAYS takes place Friday (March 6) all evening till late along South First Street in San Jose. See www.southfirstfridays.com for details.
Send a letter to the editor about this story.