03.04.09
home | metro silicon valley index | music & nightlife | band review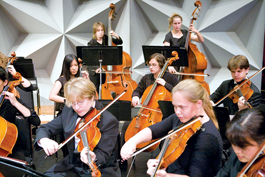 FELIX FELICITIES: The Palo Alto Chamber Orchestra salutes Mendelssohn on his 200th.
Classical Moves
By Michael S. Gant
TWO HUNDRED YEARS ago, Felix Mendelssohn started a short but highly productive composing life. He was, as Alex Ross points out in a recent New Yorker appreciation, a prodigy every bit as astonishing as Mozart. To celebrate that annus mirabilis (Happy birthday, Edgar Allan Poe, Charles Darwin and Abraham Lincoln while we're at it), the Palo Alto Chamber Orchestra presents "Mostly Mendelssohn" with violinist Kay Stern from the San Francisco Opera Orchestra. Stern will perform Mendelssohn's Violin Concerto in E Minor; the program also features the composer's Italian Symphony. The concert takes place Sunday (March 8) at 3pm at Dinkelspiel Auditorium at Stanford; tickets are $6–$15; 650.856.3848.On Saturday (March 7), the Silicon Valley Symphony presents "2009 Arabian Nights." Khori Dastoor, the breakout new star at Opera San Josť (who made a memorable debut last season in Lucia di Lammermoor) will sing selections from Verdi and Puccini as well as "Glitter and Be Gay" from Bernstein's Candide. Also on tap are some quality chestnuts: Barber's Adagio for Strings and Copland's Fanfare for the Common Man. The show starts at 7:30pm at the Presbyterian Church of Los Gatos. Tickets are $15 and $20; www.siliconvalleysymphony.net.
"The Glory of Russia" sounds like a Putin five-point plan, but the New Century Chamber Orchestra has a musical imperium in mind for its Saturday (March 7 at 8pm) concert at First United Methodist Church in Palo Alto. Prokofiev's Visions Fugitives will be showcased along with Shostakovich's Piano Concerto no. 1 and Tchaikovsky's Souvenir de Florence. Guest artist Annie-Marie McDermott plays piano on the Prokofiev and Shostakovich. Tickets are $32–$54; 415.392.4400.
The Leipzig String Quartet rolls into town on Friday (March 6) for a San Jose Chamber Music Society concert. Mindful of the significance of this year, the group will perform Mendelssohn's Quartet in A Major, as well as Beethoven's Quartet in A Minor and an early-16th-century work by Heinrich Isaac. The music begins at 7pm at Le Petit Trianon in San Jose; tickets are $37–$50; 408.286.5111.For its one-nighter (March 7 at 8pm) in Saratoga, at the McAfee Performing Arts Center, Nova Vista Symphony presents harpist Anna Maria Mendieta of the Sacramento Philharmonic in Rodrigo's Concerto de Aranjuaz. Guest conductor Anthony Quartuccio will also lead the symphony through Rimsky-Korsakov's Capriccio Espagnol and Tchaikovsky's Symphony no. 4. Tickets are $13/$16; 408.624.1492.
And finally, on Sunday (March 8) at 7pm, for a concert called "Strings Plus," the San Jose Chamber Orchestra welcomes the Ives Quartet for a premiere performance of Hyo-shin Na's Not the Object Alone. The other half of the program is devoted to Dvorak's American. It happens at Le Petit Trianon in San Jose; tickets are $35/$35; 408.295.4416.
Send a letter to the editor about this story.