03.04.09
home | metro silicon valley index | silicon valley restaurants | review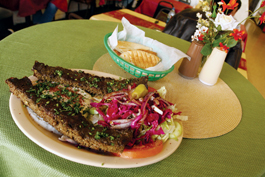 Photograph by Felipe Buitrago
TASTY OPTION: The kofta kebab can be ordered as a sandwich or a plate.
Falafel Fulfilled
Rick's Cafe in the movie never served a falafel deluxe as good as the one at Willow Glen's Casablanca's Cafe
By Stett Holbrook
CASABLANCA'S CAFE in Willow Glen is not going to win any awards for atmosphere or restaurant design. It's a big, plain box of a restaurant with cheap chairs and tables topped with fake flowers. The dark-blue industrial carpet covers a plain beige tile floor that slopes noticeably to the south wall. The other wall is fronted by utilitarian metal shelves stacked with a hodgepodge of Middle Eastern food products like olive oil, pita bread and jarred pickles.
The open kitchen is long on function and short on fashion. There is no stovetop, just two vertical broilers for gyros and chicken shawarma and two propane tanks running to a pair of heavy duty sandwich presses.
Fawaz Hamad is the restaurant's owner, and he does everything. He cooks, washes the dishes and waits on customers seven days a week. His wife and five children live in his native Jordan, and he says he doesn't have much else to do but work, so he spends his time at the restaurant.
"I'm a soldier for work," he says. "It makes no sense to take off. Where should I go?"
He's a world-weary man who goes about his work with a quiet solemnity that probably puts some people off. All of which is fine with me as long as the food is good. Casablanca's doesn't aspire to fine dining, but what it offers instead is some truly great sandwiches, including one of the best falafel sandwiches I've ever had.
Hamad says he developed his style of falafel as a teenager working in a deli in Jordan. It's unlike any other falafel I've had in Silicon Valley. For starters, he grinds garbanzo beans with onions, garlic, pickled chile peppers, fresh cilantro and parsley and various spices, most noticeably cumin. As a result, the fried garbanzo balls are much more moist and flavorful that your typical falafel. At $5.50, the falafel deluxe is only 50 cents more than the regular falafel sandwich, and it's the sandwich that you must get because of everything that's packed into it.
In addition to wonderfully creamy hummus, tangy tahini sauce and pickled red cabbage, the falafel deluxe is gilded with strips of baked eggplant, fried cauliflower and fried potatoes. If you like it spicy, the ribbon of shatta (hot sauce) delivers a blast of chile pepper heat.
All the above is wrapped up in a wide piece of lavash that Hamad toasts on a burly sandwich press that makes the George Foreman grill look like a Barbie toy. The result is a kind of falafel panini that's shaped into a hulking square, bricklike shape instead of the typical cylinder.
The sandwich probably weighs in at well over a pound, and in spite of its sauciness and abundance of ingredients it holds together well. I thought there was no way I could eat the whole thing, but I did. Gladly.
The gyros sandwich ($5.95) and chicken shawarma ($6.50) sandwiches come in close seconds. They're just as big and loaded with tomatoes, cucumbers, onions and more of that tangy pickled cabbage.
The kofta kebab sandwich ($5.95) was delicious, too. Eventually, that is. When my sandwich first arrived, the ground beef and lamb kebab was stone cold. That means Hamad cooks the kebabs in advance, refrigerates them and then heats them up to order. I sent mine back, and it was returned smoking hot. It was quite good, but would undoubtedly have been better if it had been grilled or baked to order.
The hummus is great, but the babaganouj ($6.75 for a plate with Lebanese bread) is superb. The baked eggplant is puréed as thin and creamy as hummus and has the sharp tang of lemon juice and tahini.
The Persian-style rihan salad ($6.50) is another standout, even though it is doused with about a gallon too much balsamic vinaigrette. Fortunately, because of the listing floor, the dressing pooled to one side of my plate. The chopped salad combines bits of fried eggplant, green onions, feta cheese, tomatoes, cucumbers and parsley.
Hamad takes cash and debit cards, but on my first visit when I paid with my card he gave me an irritated look and asked if I had cash. I didn't and almost never do. On my second visit, when I handed him my debit card, he did the same thing. I suggested he go to cash only and stop giving customers a hard time. He replied that he didn't want to make it harder for customers to pay, but it takes a long time for him to receive payment from the card processing company and times are tough. So the next time I came in I paid in cash. A good sandwich is worth a special trip to the bank.  
---
Casablanca's Café
Address: 1185 Lincoln Ave., San Jose.
Phone: 408.993.8636.
Hours: 10am–9:30pm daily.
Cuisine: Middle Eastern.
Price Range: $6.50–$11.99.
Send a letter to the editor about this story.