03.04.09
home | metro silicon valley index | movies | current reviews | dvd review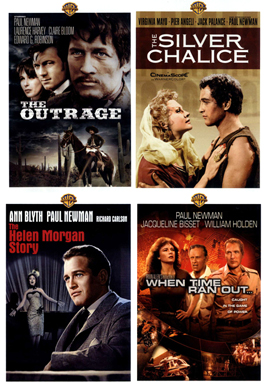 Paul Newman DVDs
Five discs; Warner Home Video: $19.97 each
By Michael S Gant
In a career as long as Paul Newman's, every Hud is counterbalanced by a When Time Ran Out ...; every Hustler must be weighed against The Helen Morgan Story. Warner Home Video has just released five Newman features designed for mostly for completists, although the inclusion of the Newman-directed Rachel, Rachel makes it all worthwhile. The four acting vehicles show the impossibly handsome actor testing his chops in a variety of genres.
In 1954's The Silver Chalice, Newman looks no better or worse in a toga than his other Greco-Roman-biblical compatriots of the decade. A richly ridiculous cast includes Virginia Mayo, Pier Angeli, Lorne Green, Natalie Wood and Jack Palance as Simon the Magician.
Michael Curtiz (Casablanca) directs The Helen Morgan Story (1957), a speedy Roaring Twenties biopic about Broadway star Morgan (a miscast Ann Blyth) and her undying love for rakish but undependable bootlegger Larry Maddux (Newman). Newman is irresistibly caddish, but this is Blyth's movie and she turns it into A Star Is Born, rising to the heights of Ziegfeld stardom and then plunging into alcoholism (most amusingly, she ends up wandering penniless through the dive bars of Paris).
The Outrage (1964) is an interesting reshifting by director Martin Ritt of Kurosawa's Rashomon to the American West, with Newman's cowboy subbing for Mifune's samurai; co-stars Laurence Harvey, Claire Bloom and, wait for it Trek fans, William Shatner.
When Time Ran Out ... (the ellipsis is a nice touch) is a late (1980) entry in the 1970s Irwin Allen disaster-movie cycle. Newman plays a rugged wildcatter in Hawaii who's not so sure that drilling next to a live volcano is such a great idea; meanwhile, his partner (James Franciscus) believes, a la Sarah Palin, in "Drill, baby, drill." Jacqueline Bisset tousles her voluminous mane of hair, while William Holden collects one of his last paychecks. Burgess Meredith, Ernest Borgnine, Red Buttons and Valentina Cortese must flee to safety across a molten river of back-projected lava (high point: Meredith tightrope-walking over the abyss), while the stubborn refuseniks stay behind at a luxury hotel that is bombed into submission by flying fireballs.
Based on a novel by Margaret Laurence, Rachel, Rachel (1968) is a study in small-town repression and rebellion larded with odd references to the social ferment of the late '60s. Newman's wife, Joanne Woodward, plays a 35-year-old spinster school teacher who lives a life of quiet desperation taking care of her chatty, oblivious, bridge-playing mother (Kate Harrington). When a high school acquaintance (James Olson) puts the moves on, Rachel falls fast and hard for the joys of sex. Naturally, she gets unceremoniously dumped, but a newfound resolve leads her out of her small-town trap. In one odd sequence at a fundamentalist, tongue-talking church service, Rachel encounters a stereotypical flower child of the day—he even hands her a flower to cement the point. Also a bit surprising is the lesbian advance another schoolteacher (Estelle Parsons) makes toward Rachel. Although the film hints in flashback at some childhood trauma Rachel suffered because her late father was an undertaker, the psychological underpinnings never really exceed the old truism that a good orgasm solves a lot of problems. Woodward gives a remarkably nuanced and appealing performance, and the film shows the obviously emotional and intellectual collaboration that marked the couple's long marriage. (MSG)
Click Here to Talk About Movies at Metro's New Blog
Send a letter to the editor about this story.