03.04.09
home | metro silicon valley index | movies | current reviews | film review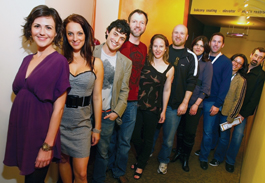 Photograph by Felipe Buitrago
THE WATCHERS: The cast of 'Two Million Stupid Women' at the film's Cinequest premiere
Still Questing
Cinequest Week II: D.W. Griffith, Diablo Cody, screenwriting maven Lew Hunter and a Christian rocker's life
By Richard von Busack
BETWEEN TRYING to watch The Watchmen and coming in on the second week of Cinequest, local cinéastes will have their hands full. It's almost a good thing that Gabriel Byrne canceled to make room for everything else. This weekend, look for second screenings of some of our previously recommended films like Canary (March 7, 4pm, S.J. Rep), Johnny Cash at Folsom Prison (March 6 at 12:15pm, Camera 12) and Witch Hunt (March 7, 6:30pm, S.J. Rep).
March 6 also brings "The World of the Writer"—a dark, troubling planet. The 9:30am–3pm seminar includes a menu of two alternatives: De Anza's own Barak Goldman on "The Writer's Mindset" or a two-part presentation on film noir by Cinequest Day of the Writer creator Robert G. Phelps. 
On the panels are some top-shelf scriptwriting teachers, most of them veterans of the UCLA film school. Phelps notes, "Lew Hunter, Hal Ackerman and Richard Walter are three of the most famous screenwriting teachers in the world. They're top-notch educators, passionate about screenwriting and sharing what they know. We're fortunate to have them coming in."
Both seminars fold into one do the Diablo (Juno) Cody Maverick Spirit event (March 6, 3pm, S.J. Rep). There, Hunter (author of Screenwriting 434) will interview Cody about her métier and her upcoming werewolf movie.
The Panasonic-sponsored Film Innovation Forum on March 7 demonstrates the newest breakthroughs in P2 High Definition, as well as providing a seminar afterward on "The Business of Art." Now that boutique studios are folding like Chrysler dealerships, learning some guile and distribution techniques is essential.
Also worth checking out:
Fallen Angel: The Outlaw Larry Norman is David Di Sabatino's study of the pale, pioneering Christian rocker, who died last year after a multitude of illnesses. Norman has—and had—his fans. And he got his share of ink. In 1971, Billboard deemed Norman "the most important singer/songwriter since Paul Simon," and the Pixies' Frank Black claims that Norman's music was formative for him.
Norman was an area man, as they say in The Onion. He attended both Leigh High School and San Jose State University. Norman's first band, People!, had some success in the 1960s with a cover of the Zombies' "I Love You." A parting of the ways from People! came after cloudy circumstances. If you asked Norman, it was because Capitol Records refused to change the name of their first album to We Need a Lot More Jesus Around Here and a Lot Less Rock and Roll. Band mates Geoff Levin and Denny Fridkin recall a different story for Di Sabatino's camera: they claim Norman had a tantrum after a minor accident onstage and decided to go solo.
Soon, Norman was one of the first to sing Christian rock—not the first, as he often claimed. With lyrics like "No more LSD for me/ I met the man from Galilee," he addressed a national subculture of Jesus Freaks. These were blissed out, unbelievably pesky proselytizers, embraced with both arms and one leg by a grateful media terrified by atheist dope-smoking bomb-throwing youths.
Unfortunately, the preponderance of the evidence is that Norman was no more moral than any other easily tempted, world-famous musician. The charges against him, among others: fathering and abandoning a child in Australia and blaming this child (or a similar happenstance) on seduction by satanic witchcraft. He also reneged on a handshake deal with his dear friend Randy Stonehill over the rights to Stonehill's music publishing. Finally, Norman nearly ruined the career of the band Daniel Amos by sitting on its first record for three years before releasing it. 
This is bad news for Di Sabatino to deliver, because he is a fan. Similar fans of Norman (and Stonehill) present a huge selection of Norman's music in the film, sometimes animated with paper-doll cutouts. But Norman's post-People! music is representative of its lazy, unedited early-1970s singer/songwriting epoch: sub–Leon Russell in the rocking-out mode, banal in sub–Three Dog Night pop mode; and in ballad mode, even more infernally spineless than Dan Fogelberg's diary entries set to music. Among the universally worshipful evaluations of Norman by contemporaries, I'd love to hear what, say, Randy Newman thought of Norman's stuff.  (Norman actually covered Newman more than once.)
Considering Norman's often disagreeable character, and his—I thought, anyway—really dreadful post-People! music, the movie may be most interesting as a survey of the roots of Christian rock and as a kind of companion piece to Eileen Luhr's new book Witnessing Suburbia.  
The devout Di Sabatino worked very hard on this documentary, just as he did on his fascinating Frisbee: The Life and Death of a Hippie Preacher. He must be considered an expert on the Jesus Freak epoch, and this warts-and-all study of Norman must be considered definitive. (Shows March 4, 9:30pm, and March 6, 4:30pm, both at Camera 12.)
In the historical perspective, perhaps the biggest event in Cinequest's last week is the screening of the silent Intolerance (see page 58) on March 6 at 7pm with Dennis James at the California Theatre's Wurlitzer. Since D.W. Griffith's masterpiece can be regarded as a full-throated cry of horror against the dawn of Prohibition, it's good to know that the local alehouses can fortify you beforehand for a cinematic experience you won't be getting elsewhere.
CINEQUEST runs through March 8 in San Jose at Camera 12, the San Jose Repertory Theatre and the California Theatre; see www.cinequest.org for details.
Click Here to Talk About Movies at Metro's New Blog
Send a letter to the editor about this story.