03.04.09
home | metro silicon valley index | movies | current reviews | film review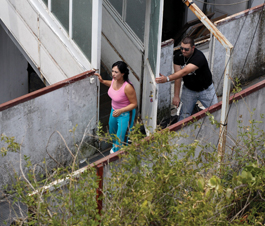 AERIAL SURVEILLANCE: Life is hard, very hard in Naples in 'Gomorrah.'
Thug Life
'Gomorrah': the shame of a nation
By Richard von Busack
MANY FILMS are made about slums, but it's rare to see a film that's in open crusade against them. Slumming directors (and Slumdog Millionaire falls into this category) often just get a big charge from the squalor. The Italian film Gomorrah chronicles the poisoning of Italy by high-level grafters and small-time criminals alike. As presented by Martin Scorsese, this import seems to have been made by someone who wants to clean up the sewer instead of standing around gaping at it. It took a great deal of bravery to make Gomorrah, and director Matteo Garrone (who co-wrote with reporter Maurizio Braucci and others) is, in a sense, going up against his entire country. In this fictional film, every class of person is implicated in the overload of crime in the Naples region—a nasty slum that's been a nasty slum for centuries.
Most of Gomorrah unfolds in a grandly designed yet utterly shabby housing project, a concrete wedding cake. It looks like an immense Cancun luxury hotel after a dozen hurricanes. Essential to its design are those old Bauhaus "sidewalks in the skies," raised concrete corridors where the dispossessed mill around like prisoners. The place leaks like a sieve, and constant waterfalls drain everywhere. The film weaves together a quintet of stories out of this battlefront. Young Toto, a delivery boy for his mom's closet-size convenience store, is tired of running errands for coins. He gets a job with the local drug dealers, first as a lookout, later as a distributor for drugs. In another plot, two young antic idiots, addled by visions of Pacino in Scarface, take up some stolen guns and go on a minor crime spree. They're the story's clowns—crying clowns by the end of the film.
Don Ciro (Gianfelice Imparato) is in some ways my favorite character, since he has the least appetite for the criminal life. Ciro is a clerk for the local mob. In a dancing anxiety of tension, he brings money to the wives of those who took the rap or the widows of those who took the bullets. Everyone believes that they are being underpaid, and the rival gang is watching Don Ciro. The subplot about the rag trade is underwritten. You have to be on your toes to parse the action.
Garrone is outraged, but it hasn't made him inarticulate. He presumes the viewer is not a thug, and not in the mood to watch torture. When it comes, the violence arrives out of nowhere, and it's scary and it hurts. The film draws a contrast between Italy as it was and Italy as it is now: a land that once gave a living vs. a land that now gives you tumors. The mozzarella buffalo paddocks and the orchards are still standing, but they are surrounded; the noble marble quarries are being filled up with barrels of unnamable toxic waste. In making that contrast between fruitfulness and desolation, Gomorrah could have been as self-important as the top man in this pyramid, the unsavory waste-removal magnate Franco (Toni Servillo); at the end of the film, the capitalist boasts, "I helped bring this shitty country into Europe!" But there's a peculiar serenity to Gomorrah. The filmmakers have this faith that exposure of corruption will change things. How very old-fashioned.

GOMORRAH (Unrated; 137 min.), directed by Matteo Garrone, written by Maurizio Braucci and others, photographed by Marco Onorato and starring Gianfelice Imparato, opens March 6 at Camera 7 in Campbell.
Click Here to Talk About Movies at Metro's New Blog
Send a letter to the editor about this story.