03.04.09
home | metro silicon valley index | music & nightlife | band review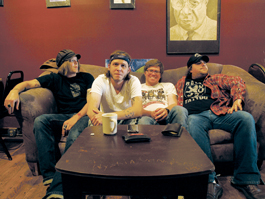 AND A CHICKEN IN EVERY POT: Two Cow Garage take a sofa break.
Won't Be Cowed
Two Cow Garage refuse to live up to their name
By Steve Palopoli
TWO COW GARAGE have the perfect name for an alt-country band. The problem is, they don't think they are one.
But most everyone else does. That's sort of a problem, too, for a band who think they're pretty much straight-ahead rock & roll.
But it should be understandable. And not just because of the name. There's a gravelly weight to guitarist-vocalist Micah Schnabel's voice, and a rootsiness to the sound that invites the comparison. Like Drag the River, Two Cow Garage walk a line between rock and something more brutally country.
Schnabel understands, he's just glad people see them as something apart from "stuff like Kings of Leon, this fashion-first bullshit." And he realizes that their songs dig a little deeper than people expect.
"That why people want to put the alt-country tag on it," he says by phone. "It's hard to pin down."
But for the Columbus, Ohio, band, who play the Caravan Lounge on Saturday, March 7, that's too easy. They prefer to align themselves with classic rock, perhaps the least fashionable genre they could have chosen.
"That's not very cool right now," admits Schnabel.
But one listen to the new album, Speaking in Cursive, and the depths of the band's loyalty become obvious. "Sadie Mae" references Led Zeppelin, while "Swingset Assassin" goes off at length about the significance of hearing the The White Album and Rubber Soul at age 13, and how the age came when a Black Flag rebellion was mandatory. However, Schnabel sings, "in the end punk rock just left me empty and alone."
And in that confession, risky for any indie band, he nails a truth that way too many hipsters can never bring themselves to face: we are all the music we listened to before we were cool. For those of us who grew up when John Cougar Mellencamp was on the radio, for instance, it was embarrassing for at least 10 years to admit that "Little Pink Houses" is a brilliant song.
Schnabel had the same problem with another classic rock icon.
"We came up in the days when Born in the USA was Bruce Springsteen, kind of this cheesy stuff," he remembers. "Then you go back and you end up listening toNebraska."
But even more important, he admits, is that after that, you go back to Born in the USA and realize it's a pretty damn good album. Of course, in between he had to listen to basically nothing but punk music for five years.
"I think that's the natural progression for everybody," he says. "I think all music lovers go through that."
In the end, though, he was able to embrace his roots, even if it means not getting to play with the cool kids in the alt-country class. The music is where he's from.
"Growing up in a small town in the Midwest, you're surrounded by classic rock," he says.
There's another interesting classic rock sighting on the song "Folksinger's Heart": "It was arrogant to think from the start/You were the only backyard Dylan with a folksinger's heart."
Schnabel admits he had a touch of that when he started Two Cow Garage at age 19.
"I thought I was going to be the next Kurt Cobain," he says. He and co-writer, bassist and vocalist  Shane Sweeney basically have been able to chart their growth over the last several years through the band's very different four albums.
"We started making records pretty young, so it's like hearing us grow up," he says.
Now he doesn't care what people call what he plays, or whether it's in fashion.
"Right now I've got a thing for a sugar sweet pop song, but played as hard and loud as possible," he says. "Just destroy it."
 TWO COW GARAGE play Saturday, March 7, at 10pm at Caravan Lounge, 98 S. Almaden Ave., San Jose. (408.995.6220)
Send a letter to the editor about this story.