02.04.09
home | metro silicon valley index | columns | silicon veggie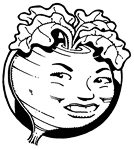 Silicon Veggie
Vegan Travel Tips
By Elisa Camahort
AS I WRITE THIS, I am packed for a 10-day trip overseas, starting tomorrow. I actually travel quite a bit for my business, but I would not call myself a particularly savvy and well-prepared vegan traveler, meaning I'm often landing somewhere hungry and cranky. That's happened a few too many times to count. It's one thing to do so after a five-to-six-hour cross-country trip, but the trip I'm starting tomorrow kicks off with what I estimate will be 36 hours of travel door to door.
And where I'm headed isn't exactly the kind of urban center where a veg*n restaurant might readily available or where restaurant chefs with creative streaks are ready and waiting. Even I, with my blasť attitude that I'll survive, realized I needed to do a bit of planning ahead on this one.
Of course, the planning starts with requesting a vegan meal from the airline. While domestic flights don't bother to feed us regular folk anymore, there is still food to be had on international flights. I've requested and double-checked that the request was "in the system," but as I'm sure any of you who regularly do this can attest, it's a bit shocking how often such "confirmed requests" don't actually make it to the airplane galley. So it's not enough to count on plane food. That means packing food to tide me over, and in this case, not just for the flight itself, but in case the vegan options at my ultimate destination are severely lacking too.
Depending on where you're going, don't think you can pack yourself fruit and nice baggies of fresh veggies. A lot of foreign countries don't want produce to be brought in from another country. Focus on dry goods, packaged goods, sealed goods. My kit bag is packed with the following goodies: instant oatmeal packets, almonds and an actual jar of peanut butter. Of course, you can never forget that stalwart: the protein bar. Finding one without whey or honey can sometimes be challenging, but when you do, stock up.
I certainly don't hope to be living off my secret stash of vegan food for 10 days. But it's good to know I probably could. (Risk of scurvy aside.) I don't have to starve, no matter how little or much vegan food I encounter along the way. So bon voyage to me and all the other brave vegans who venture out, dietary requirements and all!
Send a letter to the editor about this story.