03.05.08
home | metro silicon valley index | columns | silicon alleys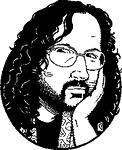 Silicon Alleys
Wrestling With Suburbia
By Gary Singh
PRETTY SOON, you'll be seeing a book titled Beer, Blood & Cornmeal: Seven Years of Strange Wrestling, penned by Count Dante, who was a high flyer during those rocking days when people in Sasquatch costumes appeared in the ring and also shared gigs with punk bands and started riots.
Dante hails from them thar wastelands of the S.F. peninsula, and he has quite a lot to say about the suburban droopiness of growing up around such locales as "Shallow Alto." It just makes you want to don a leopard skin and get paid 20 bucks to go in the ring and beat up a dude in a chicken suit. In fact, this book is probably one of the best descriptions I've ever read of what I myself was like as a teenager in the suburbs: collecting action figures, watching wrestling on a Saturday morning, driving beater cars and going to gigs in San Francisco.
Throughout the book, Dante, a.k.a. Bob Calhoun, takes readers into a world they most probably never knew existed, unless they're the type who naturally enjoy bouts between the Christians and the Abortionists. In Chapter 7, Calhoun refers to the "force field" complex that prevents people from finally leaving the suburbs for good. Instead, they wind up at rock & roll bars all over San Francisco instead and then drive back home to their mom's house afterward.
"I was captive of apathy and chickenshit fear," he explains in the book. "I was going on five (or was it six?) years at a two-year college. Sooner or later, you actually take those statistics and math classes you were avoiding and transfer to State. You finally have decisions to make. You don't really want to just manage the Kinko's copies or sling coffee at the local bookstore/espresso house. You want to be somebody and a dirtbag in the city seems so much more spectacular that a loser in the 'burbs. I didn't have an Obi-Wan Kenobi to deactivate my own personal tractor beam, but eventually, the city exerted a far greater gravitational pull on me than suburban security, sterility and convenience."
Aside from the raucous wrestling tour tales, which chart his saga up through the Vans Warped sideshow in 2001, the book also sheds light on a lot of forgotten San Francisco rock joints like the I-Beam, the Farm and the Paradise Lounge. Those of us who drove up to those places during our teenage youth in the '80s tend to get a little starry-eyed when it comes to that stuff.
And speaking of things "Incredibly Strange," V. Vale from RE/Search wrote the foreword for this thing and I agree with him when he says his favorite low-budget musical film is The Incredibly Strange Creatures Who Stopped Living and Became Mixed-Up Zombies by Ray Dennis Steckler. Vale kick-started the whole "incredibly strange" phenom with his books, Incredibly Strange Films and Incredibly Strange Music, Vols. One and Two. So someone made the right move by asking the dude to write the foreword.
Dante himself was also managed for a time by legendary San Jose disc jockey Dennis Erectus, who is also a wrestling connoisseur. In fact, in the book there's a great photo of him smashing a chair over Dante's back. Man, what a show.
Contact Gary Singh or send a letter to the editor about this story.