03.05.08
home | metro silicon valley index | the arts | stage | review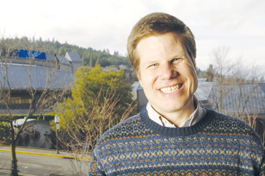 Photograph by Dixie Sheridan
Northern LIght: Oregon Shakespeare Festival new artistic director Bill Rauch looks forward to taking some chances.
Acting Gambler
Ashland's Bill Rauch takes about the beauty of risk in staging everything from Shakespeare to Sanskrit epics
By David Templeton
MY POINT OF VIEW about Shakespeare," says Bill Rauch, "is that—and maybe I'm a crazy person for saying this—I just want the artists who are interpreting the play to show me that there is risk being taken. I love risk. ... I don't want safe, comfortable, recognizable Shakespeare, at least not all the time."
For the record, Bill Rauch is not a crazy person (not yet, anyway), but as a stage director at some of the best and boldest stage companies in the country, he has proven that he is a risk-taker. As the new artistic director of the 73-year-old Oregon Shakespeare Festival in Ashland, he plans to continue taking risks.
The truth is, Rauch has already taken significant risks in the 12 months leading up to this opening month of his first full season in the captain's seat, which he takes over from the equally iconoclastic but increasingly predictable Libby Appel. Since winning the appointment last year, Rauch has made significant changes in the festival's personnel. Most importantly, of course, Rauch has pushed the envelope in programming the current season of 11 plays, four of which opened in late February, with the rest opening over the next several months and running all the way through Nov. 2.
This year will see a number of new things on the three festival stages, including a new staging of Thornton Wilder's Our Town, marking the first time an American classic will be performed on the outdoor Elizabethan stage, which has traditionally been used for plays by Shakespeare and European playwrights. There are a number of new plays, including Welcome Home, Jenny Sutter, a world premiere by Julie Marie Myatt, an imaginative drama about a returning Iraq soldier that will move, OSF cast intact, to New York's Kennedy Center later this year.
Also new is the comedic Further Adventures of Hedda Gabler by Jeff Whitty (he wrote the Tony-winning Avenue Q), a play that Rauch directed an earlier draft of two years ago at Southern California's South Coast Repertory theater, and which he will be directing again this year. Though it happens to be the oldest, perhaps the freshest thing onstage this year is the Sanskrit epic The Clay Cart, which marks OSF's first presentation of a classic from the non-Western world.
As for works by Shakespeare, Rauch has programmed a balance of rarely performed plays and beloved crowd pleasers (we said he wasn't crazy), including the just-opened Midsummer Night's Dream (with A Comedy of Errors and Othello in the summer), and the bloody and brooding Coriolanus (which opens next month).
About this new season, Rauch says, "One of the things I'm most excited about is that we do a combination of classics and new work, and so to be able to invite so many of the writers that I've worked with over the years, to create work for Ashland or to do existing plays of theirs here, is very exciting to me."
Coriolanus is a play that is rarely performed, partly because of the intensity of its themes: war, political duplicity, inanity in leadership. "Coriolanus is one of my favorites," Rauch says. "It's such a constantly relevant play, especially right now. It feels very important."
"I do have a commitment to doing the whole Shakespearean canon," Rauch adds. "Given that Shakespeare is our middle name and given that we do an average of four Shakespeare plays a year, I think that one of the things that's exciting is that we can tackle not only the plays that are crowd pleasers ... but also tackle the more difficult texts. That's really important to me."
Rauch concludes, "I believe that, on one level, we all want to be comforted by what's familiar. But I've also realized that, ultimately, people come to OSF for more than comfort. They are OK with the idea that the only thing that's going to be familiar from year to year is the quality of the work. But the actual artistic experience can be completely surprising. Beginning this year, I plan to start offering a lot of surprises."

For information on the 2008 Oregon Shakespeare Festival, go to www.osfashland.org.
Send a letter to the editor about this story.