03.05.08
home | metro silicon valley index | movies | current reviews | film review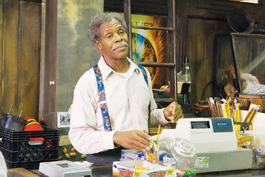 Abbot Genser/New Line Cinema
MOVIE MASTER: Danny Glover plays the owner of a movie-rental shop in his latest film, 'Be Kind Rewind.'
Glover's Maverick Thoughts
By Richard von Busack
THE POLITICAL angle of Danny Glover's career is as important as the artistic. Glover was an economics major at San Francisco State in 1968 when he turned to acting, and he still considers his career a direct result of being a child of the civil rights movement. Interviewing him quick between planes via telephone, I ask him what he's reading, and it turns out it's Fidel Castro's autobiography, Dr. Martin Luther King Jr.'s Where Do We Go From Here? and Gorky's The Lower Depths. Glover has just written an intro for a book by one of his friends, former Black Panther Minister of Culture Emory Douglas; Douglas' political art is currently on display at the Richmond Art Center. More recent aspects of the hard-working Glover's career will come up when he shows up March 8 at the California Theatre in San Jose to receive the Maverick Spirit Award from Cinequest. He's got two films on the big screen right now: Be Kind Rewind and the new John Sayles film, Honeydripper, in which Glover plays the lead. He also has a recurring part in ABC's Brothers and Sisters.
Glover was one of five children, the son of two San Francisco postal workers. Raised for most of that time in a housing project, he also lived with his grandparents in rural Georgia. He says he used that time in the country as background in one of his finest roles, the troublesome Harry in Charles Burnett's To Sleep With Anger. Glover talks of a kind of "psychic memory" he used during the making of that film: "When I read the script, it all came rushing back." He's also seen the recent rerelease of Burnett's not-to-be-missed Killer of Sheep: "Jesus, I love that film," he says.
Some things may have changed during the past 40 years, but when I mention that no one refers to an Eddie Murphy movie as a "black" comedy, he mentions his concern for "the resegregation of the audience," in connection, for example, with an entertainment phenomenon like the Tyler Perry movies. Glover also notes that many film commentators don't make their critiques of film as a "discourse on an industry that has a vast impact on people's imagination." So when he talks about film that influenced him, Glover mentions world cinema as much as the work of Sidney Poitier: "What I saw coming of age in San Francisco was the films of Satyajit Ray and Ousmane Sembene, Pontecorvo's Battle of Algiers, Godard, Louis Malle ... they all impacted the way I looked at films."
Currently, as producer and actor, Glover is bringing a slate of movies to birth. The largest in scale is Toussaint, a biopic of the Haitian national liberator Toussaint L'Ouverture, with Don Cheadle in the title role, a film partially financed by the Venezuelan government. (Glover, who is slated to make his directing debut, has played the role of L'Ouverture live at Carnegie Hall.) It's actually shocking that no one has filmed L'Ouverture's story, a grand Spartacus-like account of revolution and betrayal. "The closest thing to it was Burn!, the movie Marlon Brando called his best film," Glover says, noting that everyone from Brecht to Ossie Davis had wanted to stage the L'Ouverture story at one time or another. "The script is great, and if the winds blow favorably, we'll be able to do it."
DANNY GLOVER receives a Maverick Spirit Award on March 8 at 5pm at the California Theatre. Tickets are $15.
Send a letter to the editor about this story.