03.05.08
home | metro silicon valley index | movies | current reviews | film review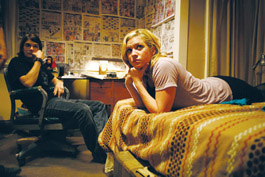 Shock Tactics: 'On the Doll' is both explicit and strangely Puritanical about sex.
The Innocents
Cinequest feature 'On the Doll' straddles the line between thriller and message movie
By Richard von Busack
THE Cinequest offering On the Doll comes with a good pedigree. San Jose State University grad Ryan Harper produced it, working with the noted video director Thomas Mignone, who is making a break for feature films after a successful career working with everyone from Mudvayne to David Hasselhoff. In his feature-film debut, Mignone stands at the border line between adult thriller and serious message movie about the aftereffects of child abuse.
In On the Doll, Mignone uses what is now the standard framework for an L.A. indie movie. Just as L.A. was once maligned as a series of towns in search of a city, filmmakers now seek the connection of a seemingly mixed group of people suddenly intersecting, usually through an act of random violence. And that's what happens here.
On the Doll wraps up with a well-directed happenstance, certainly. One element of the finale is a pit bull escape, and it's a pity that this quite competently directed chase came out the same year as a truly classic dog attack in No Country for Old Men.
The title, a dire one, refers to the dolls that therapists use to allow molested children to show where they were inappropriately touched. A history of molestation links the characters here. One is a dollar-booth hostess at an adult book store. Another is her regular patron, a suffering young man named Jaron, derisively nicknamed "Jizz" (Josh Janowicz), who lays out hooker ads for an adult newspaper.
At his office, Jaron meets a dominatrix who calls herself Balery (Brittany Snow, late of the 2007 version of Hairspray). Her name is a half-joke about a misspelling that she liked so much she kept it. Mignone has a good idea here, bringing a boy and a girl together because they are both called by other than their proper names.
Subplots abound. There is a deluded rock musician who is actually more like a pimp. His girlfriend is a fetish model and the unwilling singer in his band. A pair of high school girls (Angela Sarafyan and Candice Accola) are about to become the latest victim of a predator.
The first image in the film is a close-up of a tube of novelty lipstick shaped like a circumcised penis. The girls primp with it; they are like harsher versions of the two teens in Me and You and Everyone We Know. They end up getting far more than they bargained for when they monkey around with their health and hygiene teacher (Eddie Jemison), who is hot for them.
They think they can tease him into giving them better grades, but he's ahead of their game. Where that game is heading can be glimpsed from Mignone's repeated image of a dead baby bird pulsing with maggots: a emblem of innocence squandered.
A lot of minor characters don't really add up to the impact of one major one. Only Theresa Russell—a veteran of this kind of material, from her days with Nicolas Roeg and Ken Russell—seems to make an impression as the crabby voice of an adult, claiming it's time for Jaron to grow up and get over his past.
The material is provocative, and the scenes are staged with acceptable style, considering the budget; the director and his team thriftily made a hospital out of an ordinary office corridor, and there's a restaurant scene that's staged in a living room, if you look closely.
This is filmmaking on the cheap and on the fly, and Mignone had either no budget or no taste for making On the Doll more sexually explicit. Skin costs money. On the other hand, skin is the way you sell a film like this to, say, Cinemax. However, On the Doll does have gore, which might make it more viable. And of course filmmakers are on safer levels when they just come up with blood instead of sex.
What goes right here? Mignone has some inside-sounding stories about the sex trade. He mentions the headaches one supposedly gets from adult-store disinfectant and the nature of a "live nude girl" scam: $1 to talk to her, $10 to get her to answer back.
It would seem that he's done some research into popular and unpopular fetishes. The most flamboyant moment is a nut-busting scene, with Snow's Balery walloping a tied-up trick right in the plums. (Afterward, she's enraged: "That's the last time he'll ever make me do this," she snarls. It's almost comic—how much of a victim can you be? She's the one who was punching the poor jerk in the balls.)
In On the Doll's circles of lonely and degraded people, there's something like an algebra of need, but violence, not sex, brings everyone back to humanity. The tricks, as well as the pathetic, teased hygiene teacher, who turns out to be in on some kind of exploitation-movie sex-ring, are all, essentially, slime.
For its shock value, On the Doll is strangely puritanical. It conceives of a sex industry riddled from top to bottom with the walking wounded; at the center is one Mr. Big so Mr. Biggly that all the vice in the city comes down to him. And there's the disadvantage of shooting in L.A.—it's too big a city for these damned coincidences that the post–P.T. Anderson filmmaker insists upon.
To let us know we're through, one surviving character asks the other, "Do you want to see a movie?" What ought to be an endorsement of the cinema-watching experience sounds, in this case, like an admission of failure.
ON THE DOLL shows March 7 at 9:30pm and March 9 at 5:15pm, both at the San Jose Rep.
Send a letter to the editor about this story.