03.05.08
home | metro silicon valley index | movies | current reviews | cinequest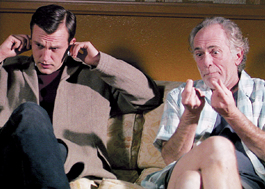 The Metrosexual
(U.S.) "I just love this movie!" chimes Rex Reed, giving Adam Kaufman's sitcomish hookup film perhaps less cred as an indie than it would have had already. Still, the title, as well as the laurel wreaths from many different film fests, tells you that this is the high-mileage subcompact version of The 40-Year-Old Virgin. Meet (or avoid) 33-year-old nonvirgin Eric (Shaun Benson), a finicky bachelor in L.A.'s Toluca Lake area. He's looking for love in all the wrong places, while dealing with his dotty senescent father. His steadfast fussiness is contrasted with the proactive sex lives of his gay buddy Kurt (Vic Chao, not so bad) and studly buddy Leo (Nick Paonessa). On the principle that you'd rather watch a movie about a rogue than a wuss, you wish the camera would follow those two. No dice. The jokes about our perfumed and powdered urban males are few and off-target, and ignore the fact that dressing up for the frauleins is a time-proven mating strategy. But the girls can't buy a thrill in this one: the women are furniture, and the extensive (and no doubt expensive) soundtrack uses moldy '80s dance hits as wallpaper. (RvB)
March 5 at 9:30pm at San Jose Rep and March 7 at 1:45pm at Camera 12.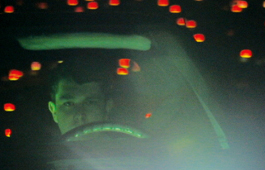 Oceania
(U.S.) Again with the Crash structure of separate but intersecting lives. Local director Harpreet Dehal delves into a lot of teenage angst, with disaffected youths battered, emotionally and physically, by parents, stepparents and authority figures in general. Although Dehal has trouble clarifying his characters, his visual skills are impressive. Also the cinematographer, Dehal bathes his scenes in moody blues and other dominant single colors. The camera moves restlessly (sometimes too restless) in and around the characters. Frantic close-ups alternate with occasionally steady long shots in a rhythm that favors poetry over narrative. In one of the finest scenes, a lonely, distressed boy drives into the hills. We see him, cast in a greenish tinge, through the windshield; behind him the lights of suburban sprawl glow like tiny red fires. His vehicle appears unmoored from the road, hovering almost, underscoring the sense that this boy feels like an alien visitor on Earth. According to the program notes, Dehal was only 17 when he made Oceania; the kid has a real future. (MSG)
March 6 at 7pm at San Jose Rep and March 8 at 7:30pm at Camera 12.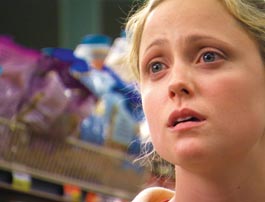 *Suspension
(U.S.) Alec Joler and Ethan Shaftel's finely made science-fiction/tragic-monster story takes a well-worn gimmick—a device that can freeze time—and comes up with an intelligent new angles on it. Dan (Scott Cordes, sort of a portly version of William H. Macy) loses his family in a traffic accident. After he recovers, he discovers a supernatural quality to the family's video camera that allows him to stop the world around him. What first seems like a Shyamalan-style study of mourning shifts into Cronenberg terrain; Dan becomes romantically obsessed with Sarah (Annie Tedesco), whose husband was at fault in the collision. She is only one who senses (painfully) the stopped time: an effect indicated by a uniquely eerie image, the slight stuttering of the pupils of her eyes, throbbing in an otherwise frozen face. Here is some of the most imaginative use of 3-D stop-time since The Matrix. The picture is soulful in addition to being technically adept. Shooting in east Kansas, photographer Ben Van Cleave finds fresh locations, big skies and a sense of vastness and stillness, all befitting a horror story of a man who is one moving figure in a motionless landscape. (I guess the jerky thing to say—and allow me to be the first jerk to say it—is that every 50 years you get a great horror film out of Lawrence, Kan., and it's almost been that long since Carnival of Souls.) (RvB)
March 7 at 9:30pm, March 8 at 9:30pm and March 9 at 10:30am, all at Camera 12.
*Who Is K.K. Downey?
(U.S.) "He said, 'Hey, kid. Do you want to snort some China?' I liked the way it sounded, like I could fit an entire country up my nose. It was my eight birthday." The excerpt comes from a book called Truck Stop Hustler by K.K. Downey. In this brilliant, scuffling comedy, Downey bears a haunting likeness to defrocked literary lot-lizard JT LeRoy, author of a book titled The Publicist Is Deceitful Above All Things, or something similar to that. Terrance (co-writer and director Darren Curtis) is a whiner, a stalker and a punching bag for even bigger post-punk blowhards in Montreal's cramped music scene. His band Black Guts has just imploded. He's separated from the love of his life, the performance artist Sue (Kristin Adams). And she has treacherously taken up with Connor Rooney (co-director/writer Pat Kiely), vicious critic-at-large from Gaze magazine. (The swine is seen literally whacking off over a picture of Voltaire.) In such a scene, Terence's best pal forever, Theo (Matt Silver), can't hope to get his novel Truck Stop Hustler published. To fool the public into thinking they're getting the real thing, Terence is talked into posing with fright wig, fedora and shades as the author of a hard-hitting, no-holds-barred, all-expenses-paid journey through the underage truck-stop sex trade. ("I licked places nobody should have to lick!") The only one unconvinced by the charade is Rooney, who is determined to undo "this no-talent she-man." All of this would make for an amusing sketch if it weren't for a fine third-act surprise and the superior comic timing of the leads. Silver's Theo, for instance, makes a fine pop-fly-size arc from bleating alterna-schlub to a figure of Tony Hendra-esque malice. Curtis could be the Buscemi for a new century, and Adam's cozy Drew Barrymore silliness is endearing. By far the funniest film I saw at this year's Cinequest. (RvB)
March 6 at 7pm, March 8 at 7:15pm and March 9 at 3pm, all at Camera 12.
Shorts Program 1: Pas De Deux
The theme, "dance for two," is a natural for short films, which are usually wise to keep their character count low not only for reasons of story economy but also actual economy. In this case, the centerpiece is a half-hour film from Miles Hubley and Tom White, Folly of Two. The setup is fantastic, a mystery so artfully doled out that the audience can't even figure out what genre we're working in here for most of the film: is it crime drama, science fiction, religious fantasy, what? The directors suck us in deeper and deeper with an old cynic and a nervous newbie on an unexplained mission that involves instructions from "the note guy," playgrounds at night and waking up in a baby crib. But what separates a great short film from a failed one is whether it delivers when it comes time to provide some kind of payoff—not necessarily a straight answer but some raison d'être. Folly of Two feels like a cheat, and it's a shame. Hirsute is a time-travel tale with a similar problem, toying with interesting possibilities before conceptually throwing its hands in the air helplessly. Ironically, the most satisfying film of this batch, Personal Spectator, doesn't have a great setup—it seems clichéd at first. But it turns into an interesting comment on the nature of watching. It's the one that steps outside convention and recognizes there are only really two characters—the film and us. (SP)
March 6 at 6:45pm and March 7 at 4pm, both at Camera 12.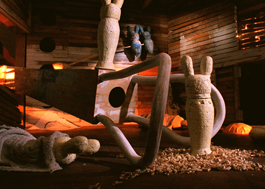 Shorts Program 6: What Was Lost
Jim Blashfield's claymation short Bunnyheads creates a lot of menace in a few minutes. In an automated factory, wriggling, tuber things are squashed, stamped and milled into stripped-down rabbit forms. For what purpose, we are not privy; the factory seems to be feeding on itself. Joey Grossfield's Kaleidoscope weaves together—in confusing fashion—romance and regret for a man who can't get over the horrors he saw working for an NGO in Africa. The intermittently funny This Is My Friend follows the misadventures of two slackers who cook up an "educational" skit for Native American Awareness Day at some local schools. Ed Flaherty (Guy Caballero of SCTV fame) makes a cameo as a double-talking principal. Alexandre Phillipe's The Spot is an impressionistic documentary about the exact spot when JFK was assassinated, marked by a white X in the street. Tourist gape and run into traffic to get their pictures taken; tourist trappers sell maps and conspiracy newsletters. Most of the film is done in long shot with overheard snippets of dialogue. The cumulative effect is strangely elegiac. Brett Wagner's Chief, about a Samoan tribal leader who runs away to Honolulu to forget his past, depends largely upon a terrific performance by Sielu Avea, who is a real-life Samoan chief. Plainview by Scott T. Jones takes place in a fast-food joint where a prank caller plays a cruel trick on two employees, one of them socially challenged. A lesson in treating people with respect is taught, but the plunge into humiliation necessary to get there is extremely uncomfortable. (MSG)
March 7 at 9pm and March 9 at noon, both at Camera 12.
Our critics are Michael S. Gant (MSG), Steve Palopoli (SP) and Richard von Busack (RvB).
Full Cinequest coverage can be found at www.metroactive.com with updates on www.metroactive.com/moviesandtvblog/; see www.cinequest.org for schedule and ticket into. Full Disclosure: Metro is the official print-media sponsor of Cinequest.
www.metroactive.com
Send a letter to the editor about this story.