03.05.08
home | metro silicon valley index | music & nightlife | band review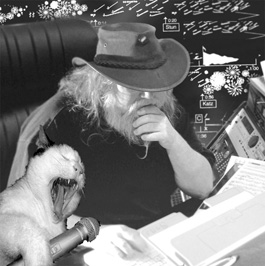 Audio Outlaw: New Music Works presents the premiere of a piece by the late composer Allen Strange.
Classical Moves
By Scott MacClelland and Michael S. Gant
New Music Works By a sudden twist of fate, the annual New Music Works "Night of the Living Composers" concert has found itself in mourning. Allen Strange, a longtime pioneer of electronic music and teacher at San Jose State University, departed this mortal plane two weeks ago. He will be fondly remembered by his living colleagues at New Music Works, this Saturday night, when they perform the already planned world premiere of Allen's Wynken, Blynken and Nod and The Duel. Jon Scoville is likewise represented by a world premiere, Angles of Repose, plus works by Roscoe Mitchell and Barry Phillips. The winning entry from this season's "Sound Horizons" program of student compositions also gets a second hearing. Audrey Stanley and Tom Graves are guest readers, and Phil Collins conducts the NMW instrumental ensemble. Saturday (March 8) at 8pm; Kuumbwa Jazz Center, 320 Cedar St., Santa Cruz; $10–$18; 831.421.9200.
The Choral Project The vocal group moves "Heaven and Earth" this Saturday at Santa Clara Mission Church with John Rutter's uniquely haunting and consoling Requiem. An orchestra joins Daniel Hughes' acclaimed 48-voice chorus for this single performance, which is tied into a narrative thread by Emily Dickinson's famous, "I never saw a moor." The program also contains such settings as Alberto Ginastera's O vos omnes, Arvo Pärt's ... which was the son of ... , René Clausen's In pace, Paul Basler's Alleluia, Rutter's Hymn to the Creator of Light and Der tod Jesu by Anna Amalia of Prussia. This is music of circumspection and elevated spirit, a consciousness-raising experience of rare quality and expressive beauty. Saturday (March 8) at 8pm; Mission Church, Santa Clara University, 500 El Camino Real, Santa Clara; $18/$25; 408.279.0161.
San Jose Chamber Orchestra Eric Kujawsky, who usually handles the baton duties for the Redwood Symphony, joins the San José Chamber Orchestra for a guest stint. The centerpiece of the program is modern composer John Corigliano's Symphony no. 2 for Strings. The orchestra will also perform Schnittke's Moza-Art a la Hayden and Nielsen's Little Suite for Strings. The last seems especially well timed coming on the heels of a major appreciative essay on the composer by The New Yorker's Alex Ross. Sunday (March 9) at 7pm; Le Petit Trianon, 72 n. Fifth St., San Jose; $30–$45; 408.295.4416.
California Youth Symphony Leo Eylar commands the California Youth Symphony in two afternoons of music by Shostakovich, Prokofiev and Gershwin (An American in Paris). The guest soloist will be violinist Vivian Fu, winner of the symphony's Young Artist Competition. Sunday (March 9) at the San Mateo Performing Arts Center, 650 N. Delaware St., San Mateo, and Sunday (March 16) at 2:30pm at Flint Center, 21250 Stevens Creek Blvd., Cupertino; tickets are $6/$12; 650.325.6666.
Silicon Valley Symphony For a concert titled "Soli & Sorcery," the symphony (not to be confused with Symphony Silicon Valley) performs Sibelius' Finlandia and opera selections from Verdi and Rossini, with tenor Christopher Bengochea from Opera San José. Christine Chon will solo on Sibelius' Concerto for Violin and Orchestra in D Minor. Saturday (March 8) at Presbyterian Church, 16575 Shannon Road, Los Gatos; $15/$20; see www.bamusic.org for info.
Send a letter to the editor about this story.