03.05.08
home | metro silicon valley index | silicon valley restaurants | review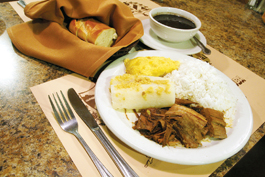 Photograph by Felipe Buitrago
PLATO REPUBLIC: Cuba International's Plato Cubano.
International Flight
The closest you can legally get to Cuba in Silicon Valley is a trip to Japantown
By Stett Holbrook
I PREDICT that one day in the not-so-distant future, Americans will once again flock to Cuba for fun, sun and lots of mojitos, joining all the Canadian and Germans already there.
While I doubt the island will return to the rowdy, anything-goes-to-please-the-gringo days of pre-revolutionary Cuba, the country will be a magnet for vacationing Americans because of its beauty, proximity and storied past. But first the U.S. government has to lift its ineffectual travel ban and sanctions against the country and allow Americans to make the short hop to the island. And that will only happen when Washington deems Cuba's government sufficiently democratic. (Funny, isn't it, that it's OK for Americans to visit and do business with China and Vietnam, two other big bad communist regimes?)
By some twist of fate, I scheduled a visit to San Jose's Cuban International Restaurant the day after Fidel Castro stepped down as Cuba's presidente. While some see thin rays of light emerging from Cuba now that younger brother Raul Castro has been named president, no one is holding their breath for a democratic opening, least of all the U.S. government. So in the meantime, the closest you can get to Cuba from Silicon Valley is a trip to Cuban International, curiously located in Japantown.
Cuban International has been around for nearly 20 years and has an air of benign neglect about it. The restaurant's sign and facade are peeling sun-bleached paint. Step inside and the dimly lit entryway reveals a little lounge area that's as cold as it is empty. The wood-paneled walls and thin carpet look like they were installed during the Ford administration. The décor-that-time-forgot theme continues as you walk upstairs to the restaurant. Brown and beige are the dominant colors. Salsa legend Celia Cruz belts out tunes from a single speaker as big as a washing machine. The other speaker is broken. The yellowing tourist posters of Cuba and Puerto Rico and wall-mounted air conditioner add to the throwback feel of the place.
While the 1970s aesthetics might turn me off in another restaurant, I found the out-of-step décor charming. The place is clean and tidy enough, but clearly is not interested in keeping up with the times. The food is the same way.
It's easy to imagine eating this hearty, home-style food in Cuba before food became so scarce there. It's Cuban grandma food, soupy, stewy, slow-cooked food that can be as satisfying as it is filling. The menu is quite large and after three visits I had barely dented it. What I had was a mixed bag, but when it's good, it's quite good. All entrees are served with black bean soup and rice, and you'd leave happy and full if that's all you ate. The inky black soup is long on pork and salty flavors and finishes with a curious tang. Spoon it onto the rice for the complete experience. Add a plate of the delicious, garlic-infused lechon asado ($10.95) and you've got a heaping helping of Cuban comfort food. The hunks of marinated roast pork are juicy and full of flavor.
Ropa vieja ($10.95) is another Cuban food classic and it's great here. The strands of tender shredded beef, onions and bell peppers bathe in a rich, tomato-enhanced sauce. The side dish of fried sweet platanos (plantain) completes the experience.
Interestingly, Cuban sandwiches aren't on the menu, but if you call ahead you can get one ($8.95). I wouldn't bother. The French roll is piled high with roast pork, sliced ham, jack cheese and tomato, but it doesn't quite add up to the hand-held meals I've enjoyed elsewhere. It's OK, but not the ticket to Miami I was looking for.
Cuban International also serves a few Brazilian and Puerto Rican dishes. The Brazilian chicken stew (9.95) combines white and dark pieces of chicken and yucca that have been slow-cooked in a thin but deeply flavored tomato-based sauce. It's a simple but enjoyable meal. Arroz con gandules (pigeon peas and rice, $2.75) is one of Puerto Rico's national dishes but it's uninspired here. In spite of its orange color (food coloring), the rice is rather dry and the pigeon peas are few and flavorless. Mofongo ($4.25), mashed and fried green plantains and garlic formed into a big ball, is another Puerto Rican dish that's also a dry disappointment.
There are beer and wine available, but I went straight for a bottle of Malta ($2.25 large, $1.50 small), a soft drink that tastes like a slightly sweeter version of Guinness stout, minus the alcohol. It's delicious stuff.
I tried to order dessert (what's "almond joy?") but they were out of everything but the flan ($3.25) which was too eggy and curdlike.
Service is slow. Get over it. The same woman who takes your order also cooks the food. If you're in hurry, this place probably isn't for you. No one ever said Cuban grandma food had to be quick.
---
Cuban International Restaurant
Address: 625 N. Sixth St., San Jose
Phone: 408.288.6783
Hours: 11am–9:30pm Mon–Thu, 11am–10:30pm Fri, noon–10:30pm Sat and noon–9:30pm Sun.
Cuisine: Cuban, Puerto Rican and Brazilian
Price Range: $9.95–$27.95
Send a letter to the editor about this story.