03.05.08
home | metro silicon valley index | movies | current reviews | film review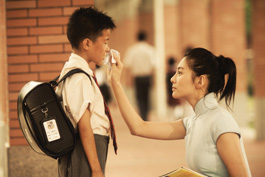 ©2007 Star Overseas Group, Courtesy Sony Pictures Classics
GROWING UP IS HARD TO DO: Xu Jiao gets some comfort from Kitty Zhang in 'CJ7.'
E.T. Goes East
Stephen Chow's odd-duck extraterrestrial movie 'CJ7' is for eclectic kids
By Richard von Busack
STEPHEN CHOW brings to his subtitled kid's movie CJ7 some of the same qualities he brought to his better films. Oddly sweet moments contrast with a plot that is pretty much standard kid fare, despite the numerous writers. Ti (Chow) is a harried stevedore—"coolie" is the word used in the subtitles—at a construction site. He's starving himself to send his child Dicky (Xu Jiao—the actress is a girl playing a boy, incidentally) to a private school. At the dump, looking for discards, Ti finds a yellow-green vinyl ball. Through the magic of really second-rate animation, the ball turns into an alien toy, with a wooly doggy head and large bright eyes. The robot toy has some magic to it; it can play tricks and imitate a real animal. But it has mortality, as indicated by a glowing but ever-dimming light in its quail-like crest. Dicky presumes that this alien robot/pet will fix everything in his life, such as his low grades. When this plan fails, the boy has a bad fight with his father. In an American children's movie, poverty is indicated by an off-brand MP3 player, not, as in CJ7, with a dump-salvaged electric fan that sends out a swirl of sparks and smoke when you turn it on. And not with scads of cockroaches in a one-room apartment. Dicky practices his boxing skills, plastering them with his fists and feet—no easy task when dealing with mankind's wiliest adversary. The class-struggle-in-the-New-China subtext is very tangy, right from the fine first contrast: Ti's needle darning Dickey's battered shoes, contrasted with the tires of a Rolls Royce prowling a city street. As the poorest kid in the private school, Dicky is treated like an untouchable; fortunately, there's little pathos about this.
Speaking of appearances, Chow subscribes to the idea that slapstick cinema demands physical grotesques. In America, that means umpteen thousand dollars for a fat suit. Chow, by contrast, seems to have access to the finest selection of physical grotesques since Mack Sennett. The crowd in CJ7 is a banquet of the funny-looking, decked out with bad glasses, high-waisted pants and unusual teeth. There's a wonderful mountainous woman here, posing as an elementary school student. She plays a shy, true-hearted girl, but she's as huge and immobile as a 900-pound Buddha. The picture's villain is a snotty rich child who looks exactly like a dwarf J. Edgar Hoover.
I don't know Mandarin, but I can hear the tones of the voices, and Chow seems to have picked children who aren't professionals in the American sense. Their speech sounds artless, uninflected, like real little kids, or like the actors who did the voices in the Peanuts TV specials. Maybe this is another reason CJ7 didn't seem depressingly calculated or cooked up. Chow, as the amazing Kung Fu Hustle proved, is a lover of baroque computer-animated effects. Behind these new gimmicks, he's clearly connected to the most elemental, 100-year-old sense of how cinema comedy works. Even if I don't know how many children would be eclectic enough to enjoy CJ7, it's good to see a children's movie made by someone who isn't choking to death with the terror of not being hip enough.

CJ7 (PG), directed and written by Stephen Chow, photographed by Poon Hang Sang and starring Xu Jiao and Kitty Zhang, opens March 7 at Camera 3 in San Jose.
Send a letter to the editor about this story.