03.05.08
home | metro silicon valley index | music & nightlife | band review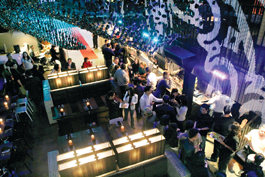 Photograph by Felipe Buitrago
ROCK WITH YOU: Eight thousand stones form the wavelike moonscape hanging inside Motif Lounge.
Naked Elegance
Motif Lounge shows off its subtle flair
By Mike Connor
EATING a tender and delicately prepared piece of sushi off of a naked young woman's body is not, for most people, an everyday practice. According to many popular accounts, using women (and sometimes men) as exotic sushi platters, or nyotaimori, was something the Japanese mafia took to when they were flush with money in the '80s. "Naked sushi" made its way to the West via sensational headlines and, later, the 1993 film Rising Sun starring Sean Connery and Wesley Snipes, which propelled it into hot L.A. restaurants and nightclubs. Très chic.
But to feel the uncanny thrill of unthinkable decadence doesn't require familiarity with the Yakuza, Sean Connery films or L.A. clubs. All it takes is a visit to Motif on the right Friday night of the month, when Project Heaven hosts its naked sushi party there.
As a venue for this type of spectacle, Motif has a lot to offer.
It's located on South First Street across the street from Glo and next-door to Agenda, set back far enough from the street to allow for a large outdoor courtyard outfitted with luxurious couches and cabanas.
The lower level, which serves as the dining area before 10pm and an extended dance floor thereafter, is decorated with an astonishing "chandelier," which is actually 8,000 black stones hanging individually by threads strung from the second-story ceiling, rising and falling across the room like crashing waves. A wrap-around upstairs balcony overlooks the downstairs floor through a chain-link veil swirling with patterns in black and white, affording an excellent view of the naked women covered in sushi below.
To get up to the balcony, you walk up the stairs to Motif's most surprising secret: a large bar area and dance floor the wraps around the back of Agenda in an L-shape, making what seems from the street to be a smallish restaurant into a full-fledged nightclub, complete with VIP sections and bottle service.
The decoration throughout is artfully minimal—modern European furnishings done mostly in black and white with subtle Asian accents—a simple canvas on which a complex array of LEDs project a range of colorful moods. Cinder-block walls are softened with an array of thick black ropes hanging from the ceiling, and the flooring is stark cement and stone, which has the effect of chilling the venue out both literally and figuratively.
According to Nathan, operations manager at Motif, the owners prefer not to be known and generally keep a low profile, but it's clear that a lot of money went into retrofitting the space, which was decorated by Mr. Important Design and chandelier designer Eva Menz.
Nathan professes a long history of working in San Jose clubs, from Hamburger Mary's and Club Echo to Polyester's, Spy and Palermo. Most recently he served in Iraq as an infantryman in the Army and was released from active duty in October of last year. Less than a week after he returned home, he had a job working at Motif, and shortly thereafter was hired as the operations manager.
"I like their concept here," says Nathan. It's subtle—the logo, the advertising, the décor, the furniture, the lighting—it's not bright and in your face."
The food, like the décor, is mostly European with an Asian influence, with entrees ranging from $15 to $25, and plenty of appetizers to nosh on to soak up a night's worth of cocktails, which are moderately to expensively priced, but feature brand name booze like Finlandia vodka, Seagram's gin and Jim Beam whiskey. Last Friday night, a waitress walked around serving sake bombs for $8 to go with the sushi theme of the evening—a clever way to both deepen the experience and recoup some of the costs of the sushi, which was free. Unlike their Yakuza counterparts, Motif patrons were treated to almost naked women, clothed only in underwear and banana leaves strategically taped over their breasts. The women were, unsurprisingly, attractive and fit, and the spread distracted from the flavor of the sushi, which may or may not have been delicious. While the underlying motif of Motif may be subtle, the presentation of their sushi is anything but.

MOTIF is located at 389 S. First St. in downtown San Jose. Call 408.279.1888 or visit www.motiflounge.com for more information and a full schedule of upcoming events.
Send a letter to the editor about this story.