03.05.08
home | metro silicon valley index | the arts | stage | review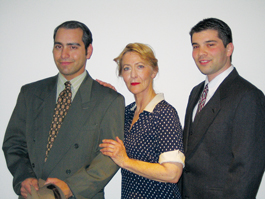 WAR AND REMEMBRANCE: Jake Vincent (left), Patricia Tyler and Jeff Brown star in 'All My Sons.'
Miller Time
New Filbert Steps company delves into Arthur Miller's 'All My Sons"
By Marianne Messina
THANKS TO some miraculous stage business, a tree falls during the opening thunderstorm in the Jim Kohlberg–directed production of Arthur Miller's 1947 play All My Sons. Mrs. Kate Keller (Patricia Tyler) expects the son commemorated by that fallen tree, a World War II pilot who went missing three years earlier, to return alive. Sitting in the Keller back yard, Joe (Mark W. Jordan) and Chris (Josh Sigal) Keller, greet visiting neighbors, chat and tread gingerly around the topic of Kate's delusional angst. Chris, we learn, intends to marry his missing brother's fiancee, Ann (Kaytie O'Hara). Slowly, the question of whether Kate will accept Chris' marriage to Ann peels away, like the facade of civilization during a war, to reveal a nastier question. How culpable is Joe Keller in the criminal negligence for which Ann's father, Joe's former partner, is still serving jail time?
This Filbert Steps (Kohlberg's company) production spreads the action out over a sitting-porch and an expanse of green turf dotted with outdoor furniture all under the shadow of an imposing two-story house (Ron Gasparinetti, set design). Cutaway chunks at the top of the house echo the breaks in this neat Keller neighborhood, which first show up in the form of neighbor Sue Bayliss (Lisa-Marie Newton). Sue, steely auditor of her husband's every movement, tells Ann to take Chris far away so Chris' idealism won't rub off on Jim Bayliss (Jeff Brown, a quite agreeable cynic), who impractically dreams of leaving his medical practice to do research. Newton is a perfectly icy Sue. She lets dirty secrets and vicious truths fall off her tongue without innuendo or anger. Meanwhile, as Ann suffers Sue's surgical strikes, O'Hara is a study of poised veneer—blue satin single-chic dress and pearl necklace (Mary Cravens did the costume design)—gradually blistering into a subdued fluster.
Miller's story brings each character to an ethical dilemma between pragmatism and idealism, a choice, Miller suggests, between mutually exclusive options that is a matter of life and death. "Only the dead ones weren't practical," Chris (also a war veteran) says of his war comrades. "The compromise is always made," Sue's husband admits to Kate.
Tyler's intelligent Kate shows us a natural—not teeth-gritting—strength tempered by past decisions. Her social mask is breezy rather than cheery; angry rather than spiteful, and most of all, pragmatic right down to her hostessing—one must divert the conversation around land mines. The end of the play involves grown men crying—a kind of simpering tears from Jordan's Joe to Chris' tears of disillusionment. The scene can be overpowering, even distanced by a proscenium stage, and here (at the SecondStage at Mountain View Center for Performing Arts), with a three-sided, in-your-face audience, the emotion could probably benefit from some pulling back. On the other hand, before truths start outing, the production's tone is disarmingly relaxed—all this lazy Sunday afternoon sipping and lawn-chair slouching. Apart from that being Miller's point—the seeds of war are planted in our own nice back yards—the relaxed effect seems to enhance an undercurrent of isolation, even when the stage is full of people.
ALL MY SONS, presented by Filbert Steps Productions, plays Thursday–Saturday at 8pm and Sunday at 2pm through March 9 at the Mountain View Center for the Performing Arts, SecondStage, 500 Castro St., Mountain View. Tickets are $15/$20. (650.903.6000)
Send a letter to the editor about this story.