03.05.08
home | metro silicon valley index | the arts | stage | review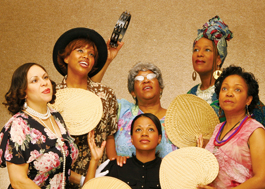 Photograph by Maarten van Dijk
TALE TELLING: The cast of Tabia's 'Shaking' the Mess Outta Misery'
Feisty Females
Strong women sing and tell stories in Tabia's new production
By Marianne Messina
AS Tabia African-American Theatre Ensemble revisits the Shay Youngblood play Shakin' the Mess Outta Misery, many former cast members have returned, 10 years later, and graduated to older-generation roles. Opening night, the show played to a lively, vocal audience, primed to egg on Youngblood's feisty, unique women. The only character without a name—presumably representing an essence, like the hero of an African folk tale—Daughter (former Miss San Jose, Briana Swann) comes out in her white ankle sox and black patent-leather shoes (Gloria Grandy, costumes) to reflect on her indebtedness to the late aunts, friends, sisters and grandmother ("Big Mama," played by Adaku Davis) who raised her.
Swann is a mixture of confident, childlike and gleeful as the girl approaching adolescence in the early Civil Rights era. On the stage, a row of chairs and a rocker represent the lineage as well as the now-empty places. The minimal set design never seems empty, because it's always filled with the memorable personalities, superbly acted, of women "who gave stories as gifts." Many times these colorful personalities are all going at once, like music.
At the Number 2 Mission prayer meeting, some women are hollering, others praying, others singing in a kind of multipartite chorus. Surprisingly short on clichés, this genial, strong production is full of little ironies—like the catfight that breaks out at the prayer meeting. In this fluid scene, the fight seems to grow out of the swaying and praising, simply its musical climax. It's at one of these meetings, when prayers led by Big Mama over a tumor are followed some weeks later by a "miraculous" remission, that Big Mama earns her reputation for "shakin' the mess out of misery."
The cast creates great chemistry among the women, especially when the sparks fly between the regal Miss Lamama (Sharon Moore) and the mouthy, self-supporting Aunt Mae (Sonya Stamper), whose charms and homegrown liquor business seduce Miss Lamama's husband every Sunday afternoon. Sister Mae's ideas on the necessity (or not) of men folk were cause for most vocal audience support. "Like my Mama told me, if it get hot," Mae says, flapping the skirt of her dress, "fan it." Mae later responds to a question, "Why I get married? Why anybody else would—for security." "I hear you," a woman blurted from the audience.
The telling of these stories is slow and suspenseful, because, as Big Mama explains to Daughter, "a story's like a map—you follow a line and it takes you somewhere." But slow doesn't mean dull. Stories of racial tension ("the maid's bus"), first dates, murderous retribution (Miss Shine's tale), unfold in the drawled cadences of the Deep South, promising and tasty. As the ghost of Daughter's biological mother, Fanny Mae (Monique Warren), in gossamer white, flows through the scenes, her expressionistic dance infuses the down-to-earth bonding with an airy force of beauty. Having left Daughter and home behind to become a dancer, Fanny Mae embodies the spirit that Corinne (Debra J. Crenshaw) is advising Daughter to follow, no matter what, as she says, "We all got a dance to do."
SHAKIN' THE MESS OUTTA MISERY, a Tabia African-American Theatre Ensemble production, plays Friday–Saturday at 8pm and Sunday at 3pm at the Mexican Heritage Plaza, 1700 Alum Rock Ave., San Jose. Tickets are $25/430. (408.272.9924)
Send a letter to the editor about this story.