03.05.08
home | metro silicon valley index | columns | silicon veggie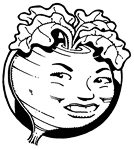 Silicon Veggie
Are You Being Served?
By Elisa Camahort
IN KEEPING with my recent theme that service matters, and that movements that want to go mainstream need to make sure quality is as high a priority as ethics, I'd like to review a restaurant that really doesn't offer me too many vegan choices—but keeps me returning anyway.
E&O Trading Company in downtown San Jose is not a vegetarian restaurant, and it's not like they even have a wide variety of veggie options. But every time I go there and tell the server that I'm a vegan I am met with an attitude that is both welcoming and knowledgeable. I've been there three times in the last couple of months, with three different servers, so I have to think it's good training, not just luck, that the service was uniformly excellent.
Good service means not shooting me a doubtful look the moment I ask for guidance. Good service means knowing what ingredients are in the dishes. Good service means actually admitting when they don't know, saying they'll check with the chef—and then making it easy for me to believe they've actually done so. (Of course it's easy to believe it at E&O since you see the kitchen area from most parts of the restaurant, but it's also easy to believe when a server comes back with specific information, not just a "Yeah, yeah, it's fine." Good service is when the server comes back to see if we want dessert and starts off with telling me, unasked, what I can have on the dessert menu.
Believe me, I've been to enough restaurants, from low-brow to high-brow, that act like I'm a real pain in the ass for wanting to spend my money there that I've learned to appreciate any nonveg*n restaurant that takes my dietary requirements in stride, with the kind of can-do demeanor that others take for granted.
You may be wondering: But what do you actually eat there? Well, I'm fond of edamame and portobello satay to start. Their butter lettuce salad, without the cheese but with toasted pumpkin seeds, is great. And then I've typically had some kind of spicy stir-fried rice or noodle dish made with a variety of seasonal vegetables. I've had some strongly and unusually flavored sorbets for dessert. Their menu occasionally changes, but the ability to have a tasty meal served with hospitality and grace does not.
And that is what creates a loyal customer.
E&O Trading Company
96 S. First St, San Jose; 408.938.4100
www.eotrading.com/restaurants/sjose/gallery.html
Send a letter to the editor about this story.