03.11.09
home | metro silicon valley index | silicon valley restaurants | review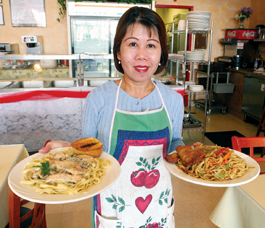 Photograph by Felipe Buitrago
CHOICES: Manager and co-owner Grace Trost serves up chicken marsala (left) and pansit canton (right).
Quirky Fusion
BB's Small World Cafe in San Jose bridges the gap between Filipino and Italian cuisines
By Stett Holbrook
AS A suburban metropolis, one of Silicon Valley's defining architectural features is its strip malls and shopping centers. They are everywhere. Minimalls are where we shop for groceries, pick up our dry cleaning, get coffee and, especially, where we eat.
There's a lot of good food to be had in these shopping centers, but you have to know how to separate the good from the bland. Shopping-center owners love renting space to restaurant chains and franchises because they're known quantities and perceived as a lower risk. But predictability doesn't make for very interesting eating, so I avoid these places. Instead, I look for independently owned restaurants that bear the personal tastes and quirks of the people who run them. BB's Small World Cafe definitely falls into that category.
The first tip-off was the name. Any place named BB's Small World Cafe has got to have a story behind it. BB are the initials of owner Grace Trost's son, Brian. As for the small-world part, half of the menu comes from her native Philippines, and the other half is Italian-American with a few American dishes thrown in to.  
It's not quite international cuisine, but Trost thought "small world" would cover it. Works for me. As for the unlikely blend of cuisine, Trost says she simply likes Italian food and wanted to offer a broad selection of food to the many office workers who descend on the minimall for lunch at the corner of North First Street and Trimble Road.
The restaurant has a homespun quality. There's a leather couch with a coffee table in one corner, and tidy glass-topped tables spread about the dining room. A big TV is tuned to sports or news, while light rock fills the room and calls into question the term "easy listening."
The real hominess comes from the food. There's no effort to be trendy or fancy. This is the kind of food you could imagine your grandmother serving if she happened to be Filipino and had an affection for Italian food.
BB's is open for lunch and dinner, but lunch seems to be the bigger draw. Prices are low, and the many steam table items mean the food is ready right away. You can get three items and a side dish for $8.95. A 10-spot gets you all-you-can-eat access. The Italian-American dishes like chicken marsala ($8.95) and spaghetti with meat sauce ($7.95) didn't draw me in, but I'm a sucker for a good sandwich and went for the grilled chicken panini ($6.95). The plump chicken breast was grilled and still juicy and pressed between a good roll and done up with fresh mozzarella cheese and a creamy sun-dried tomato aioli sauce.
I'm not sure how to classify it since it's neither Italian nor American nor Filipino, but the chicken curry ($7.95) is a homey dish that won me over. The creamy sauce is a curiously bright orange and moderately spicy. Trost wouldn't tell me what's in it, but she did say it doesn't contain coconut milk. I guessed cream or yogurt.
For me, the best part of the menu is the Filipino offerings. If you've never had Filipino food before, BB's is a good place to start. The menu avoids some of the more aggressive shrimp paste– and fish sauce–based flavors that might put off first-timers. Best of all is the chicken and pork adobo ($6.95 and $7.95, respectively). Adobo is a Spanish-influenced dish that gets its signature flavor from a tangy, savory combination of vinegar, garlic, black pepper and, usually, soy sauce.
At BB's, Trost lightens up her chicken adobo by removing the skin and trimming the fat, but the dish is still wonderfully flavorful and great over steamed rice. The pork is just as good. Chunks of pork shoulder are slow cooked in the adobo sauce to produce piquant, juicy bites of tender meat.
Lumpia ($5.95) is the classic Filipino eggroll and quite good here. Made with beef instead of the typical pork, the little, finger-size rolls are more flavorful than other versions I've had because the ground beef filling is mixed with eggs, red bell peppers, carrots and onions.
Beef mechado ($8.95) tastes like a classic pot roast with hunks of tender beef, potatoes and bell peppers in a thick, tomato-based gravy. Good, too, in a quick, grandma's kitchen kind of way, is the pancit bihon ($6.95). The dish combines thin rice noodles with celery, cabbage, carrots, bell peppers, green beans and your choice of chicken or pork tossed with a little oil and light soy sauce. Think Filipino chow mein. While they're only available on Thursday and Friday, the sweet and sourish pork ribs ($9.95) are easy to like, too.
For dessert, try the halo-halo, the Philippines' take on an ice cream sundae. The halo-halo supreme ($3.95) loads gummy, sweet palm fruit and other bits of fruit with shaved ice, sweetened milk, chunks of flan and vanilla or mango ice cream into a tall parfait glass. It's enough for two and a sweet ending for a sweet little place that defies strip mall homogeneity.
---
BB's Small World Cafe
Address: 2561 N. First St., San Jose.
Phone: 408.383.9135.
Hours: 11am–3pm and 5–8pm Mon–Fri; 11am–4pm Sat.
Cuisine: Italian and Filipino.
Price Range: Most entrees are $6.95–$8.95.
Web: www.bbs smallworldcafe.com.
Send a letter to the editor about this story.