03.11.09
home | metro silicon valley index | movies | current reviews | dvd review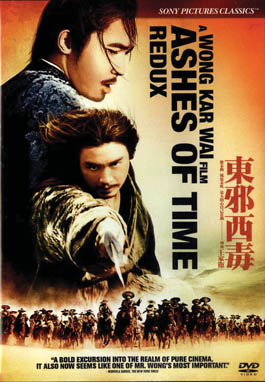 Ashes of Time Redux
One disc; Sony Pictures; $28.96
By Richard von Busack
(R; 93 min.) The recut and restored version of Wong Kar-Wai's 1994 Hong Kong martial-arts film, with computer-toasted cinematography by Christopher Doyle, is beautiful yet almost completely incoherent. This bewildering film glows with saturated blues and peach-colored deserts, and the emphasis is on fateful yearning and betrayal, not swordsmanship. Leslie Cheung anchors the multistrand narrative as a swordsman avenger for hire. Both Tony Leungs (Ka Fi and Chiu Wi) play the Lord of the West and a Blind Swordsman; Brigitte Lin is both halves of a pair of royal siblings. Maggie Cheung plays the Girl; i.e., an impossibly beautiful woman staring off into space. Tight close-ups of hair-covered faces are sometimes all you have to go by to figure out who is who. The film boasts hyperartistic effects, like the shadow cast on a woman's face by spinning bamboo bird cages. It also displays instances of ardent poetry: the film is held together by a jug of wine that has the power of the river Lethe. Clearly, Kar-Wai's heart belongs to Maggie and not to the confusing fight scenes. Based on Louis Cha's four-volume novel The Eagle-Shooting Heroes, in this rejiggered form, Ashes of Time Redux is apparently not for made people who didn't read the book. An interesting remaking-of documentary explains how a deteriorating master print led to the project. The director and cinematographer Doyle recall some of the arduous aspects of the shoot.
Click Here to Talk About Movies at Metro's New Blog
Send a letter to the editor about this story.