03.11.09
home | metro silicon valley index | movies | current reviews | dvd review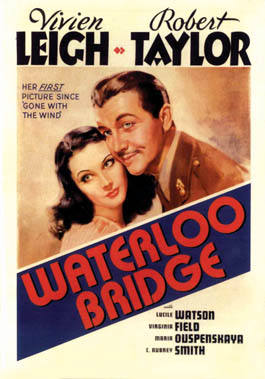 Waterloo Bridge
One disc; Warner Home Video; $19.97
By Michael S Gant
Robert Taylor, burdened with some bad old-guy makeup, wanders about the bridge of the title at the beginning of World War II and reflects on the love of his life, Vivien Leigh, whom he met, courted and lost during World War I (the time-travel gap can be confusing; the film isn't precise about its period details). This 1940 adaptation of Robert E. Sherwood's play founders on the lack of chemistry between stolid leading man Taylor and mercurial Leigh. Looking almost schoolgirlish, Leigh plays Myra, a so-so ballet dancer who falls hard for Roy, a handsome if shallow British military officer. When Roy disappears in the trenches in France, Myra, cashiered from her dance troupe, sinks to the depths of, gasp, streetwalking because Roy's snooty, upper-class family never fancied their son hooking up with a theatrical type. Tragedy ensues. Taylor's Roy remains a clueless son of privilege throughout; his love for Myra never seems to be anything more than a fling, no matter how much he professes otherwise. Leigh, fresh off the tempestuous set of Gone With the Wind, is stunningly beautiful but evinces none of the complexities and will power of Scarlett. Director Mervyn LeRoy, more of a man's director really (Little Caesar, I Am a Fugitive From a Chain Gang, Quo Vadis, Mister Roberts) doesn't achieve the level of soap-opera intensity the material demands. Imperious Maria Ouspenskaya gives a vivid small turn as the hard-nosed mistress of the ballet corps.
Click Here to Talk About Movies at Metro's New Blog
Send a letter to the editor about this story.